2011 Photo Blog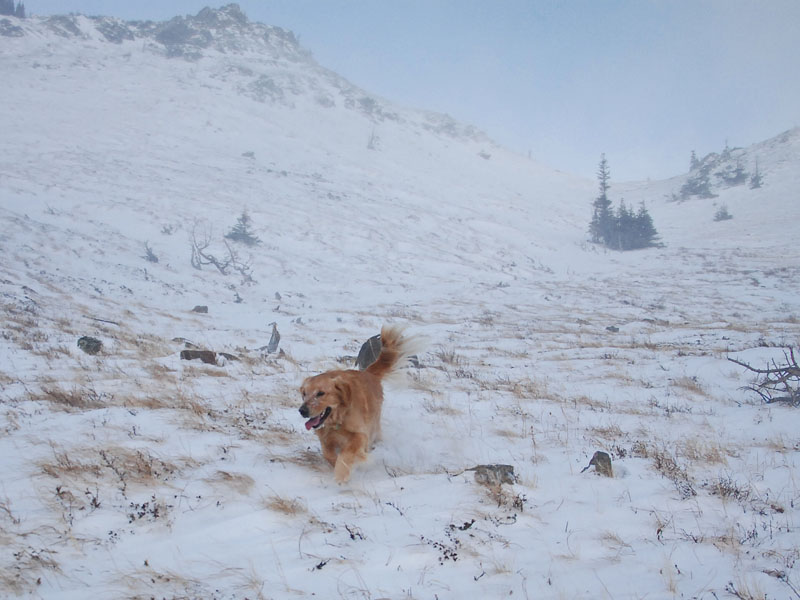 Pete weathers the storm on a climb . . . . gusting wind and blowing snow.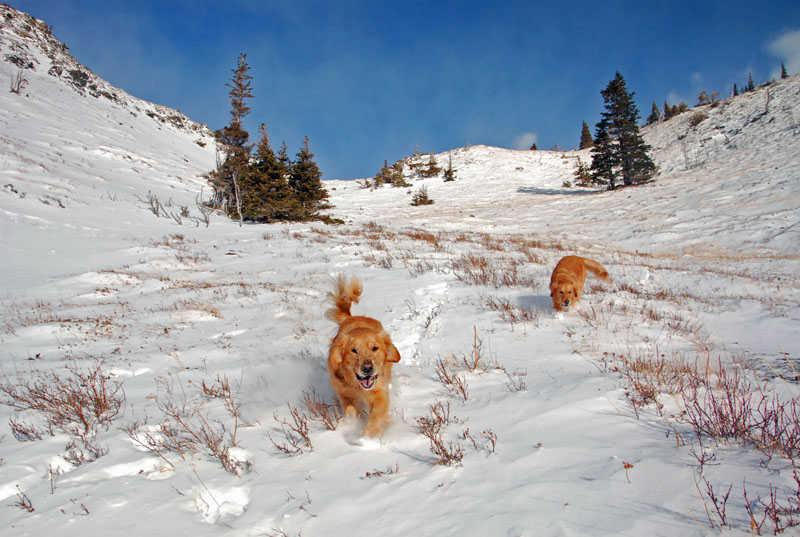 The weather cleared for a second . . . .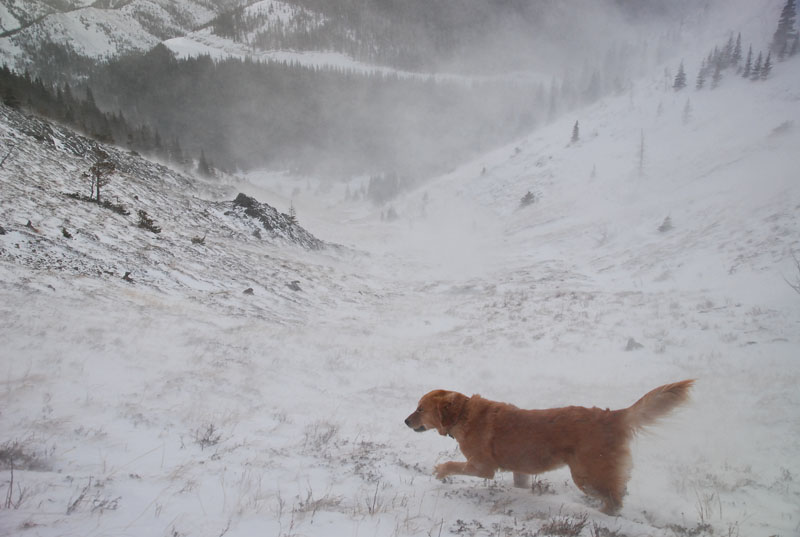 . . . . . and closes in on Ruby once again . . . .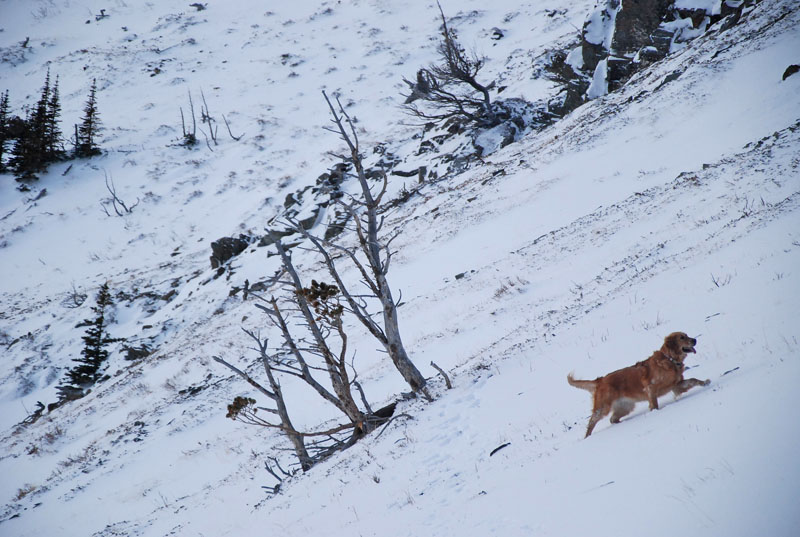 It was a tough little climb but Ruby was all over the place exploring . . . .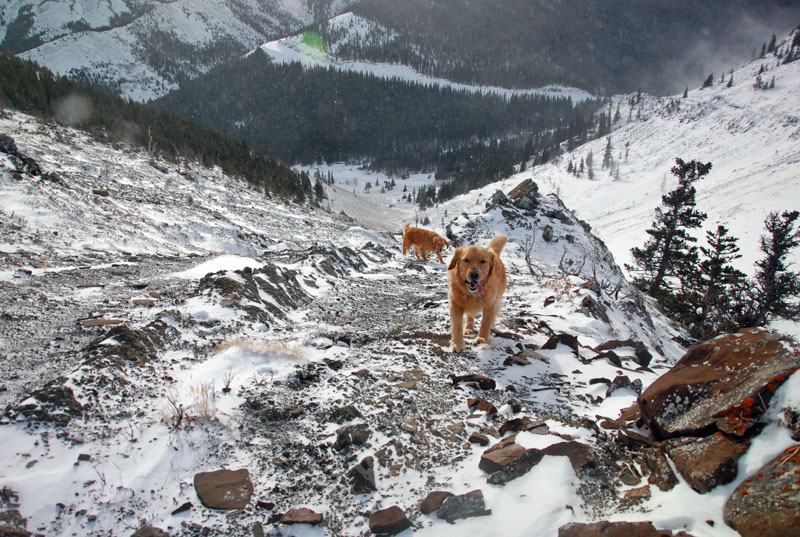 . . . . but Pete was leading as we neared the top . . . the last climb of 2011.
Late December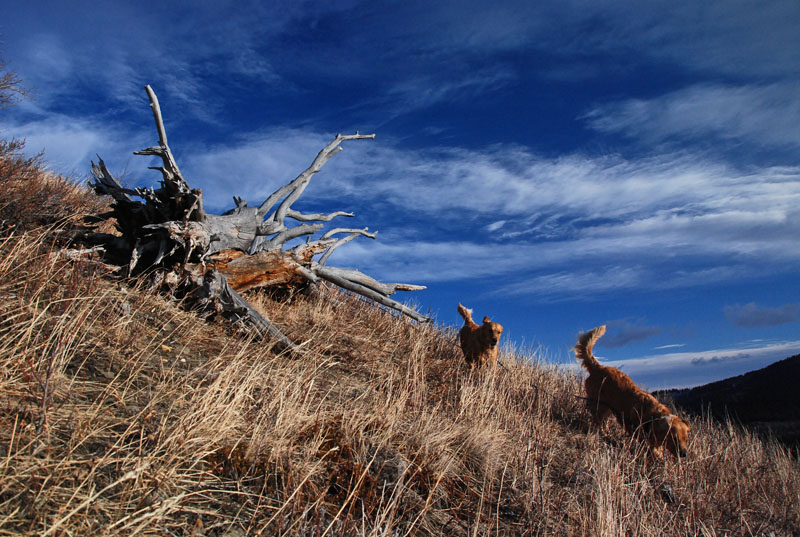 Pete & Ruby exploring the high country west of Chain Lakes . . . . . wind-blown but snow free in this spot . . .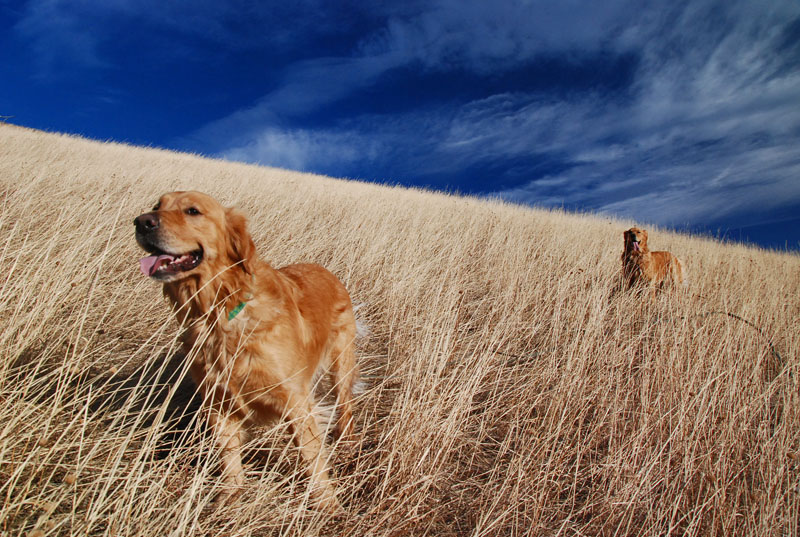 Pete leads the way . . . .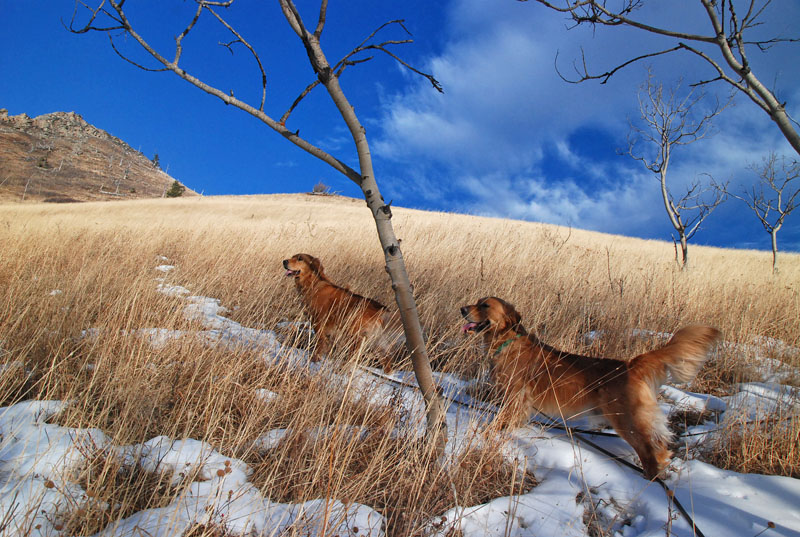 Out of the trees and into the hills . . . .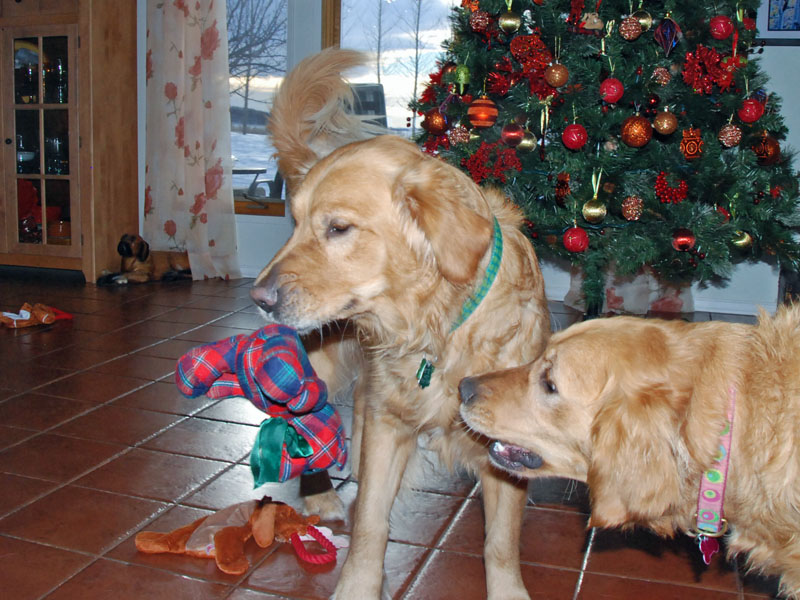 On Christmas Day, Pete nabs a woobie while Ruby looks on in consternation . . .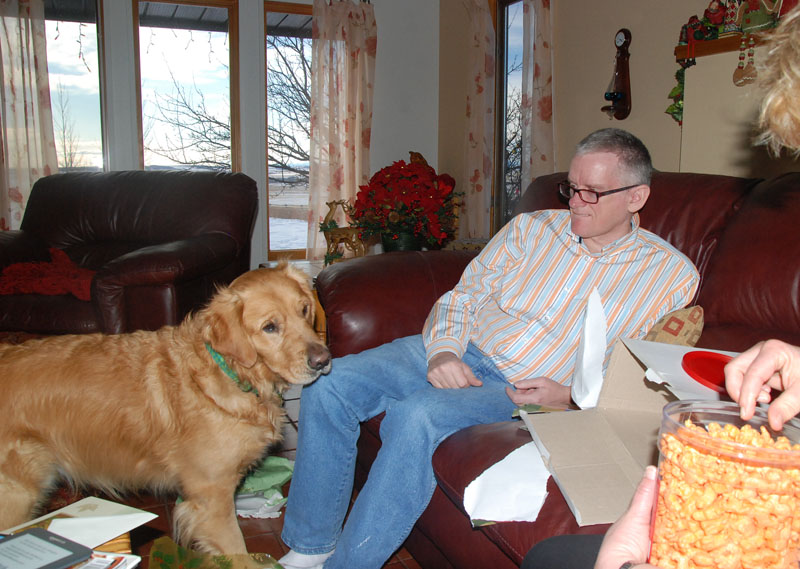 Pete knows where the food is, the popcorn-like doggy biscuits brought on Christmas by Kenn . . .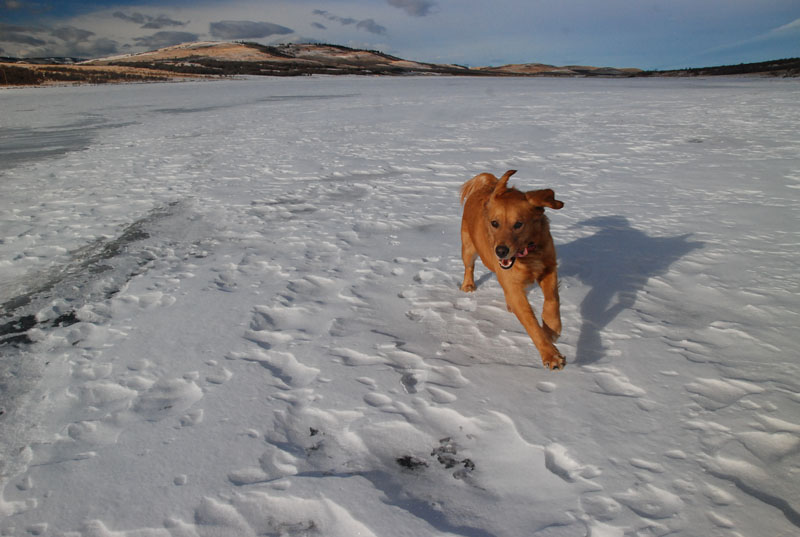 Ruby . . . . . born to run . . .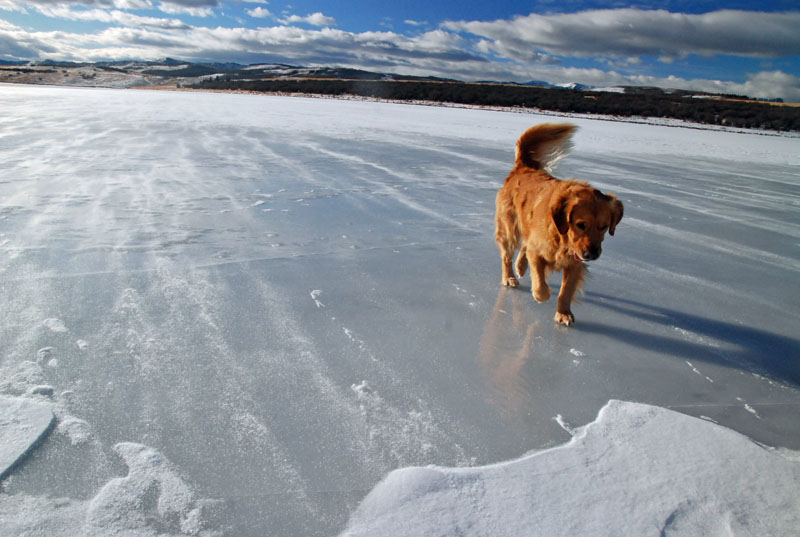 Pete on the ice . . . .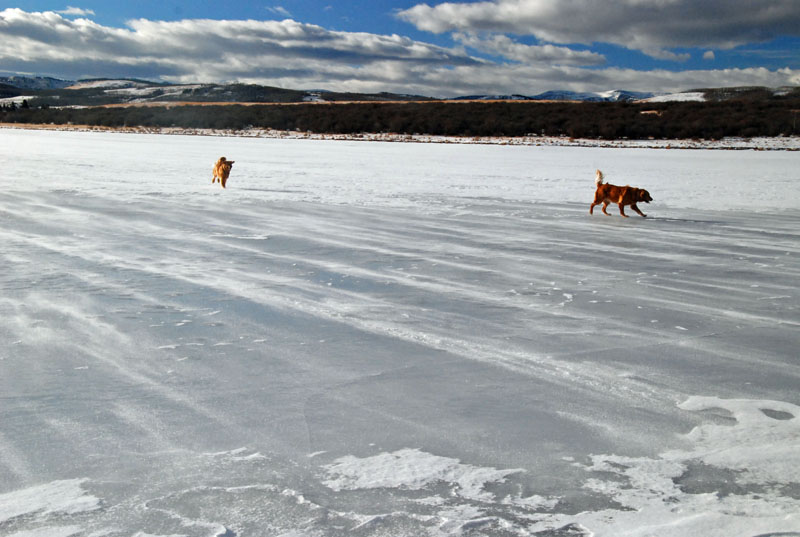 Running on the windy ice . . . .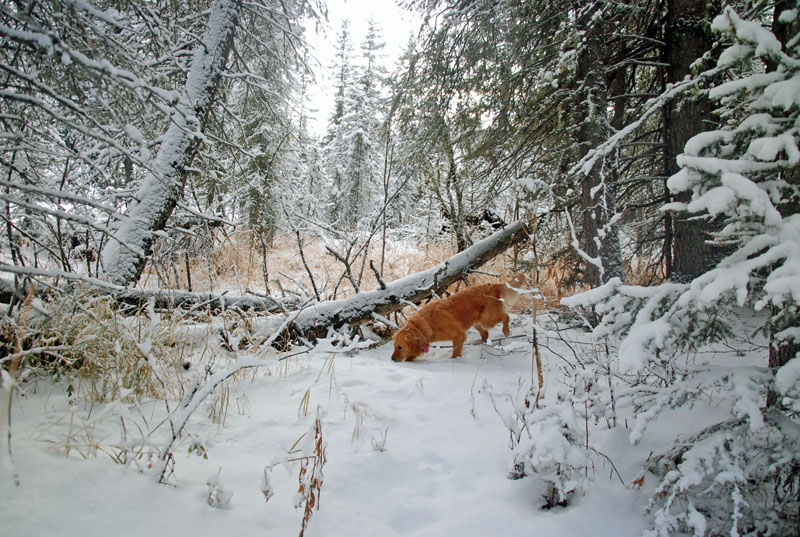 Ruby explores a snow-blasted forest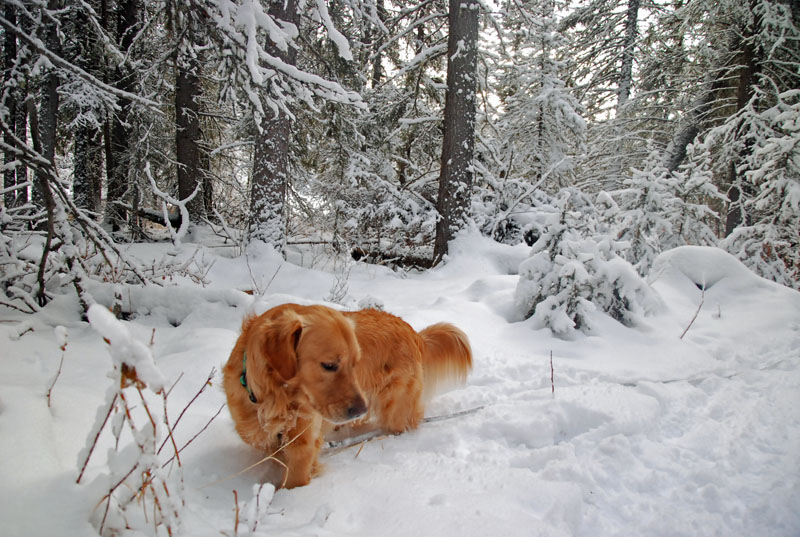 Pete in the forest . . . .
Mid December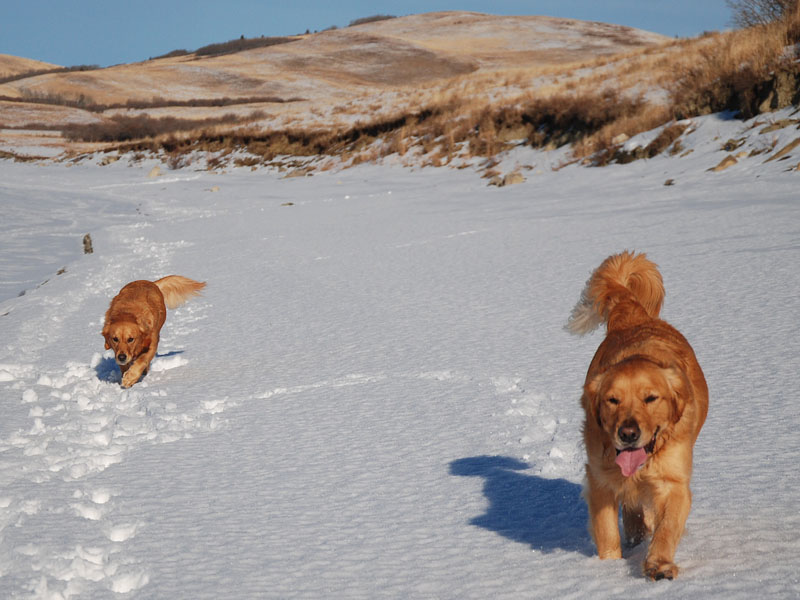 Pete leads the charge at Chain Lakes . . . .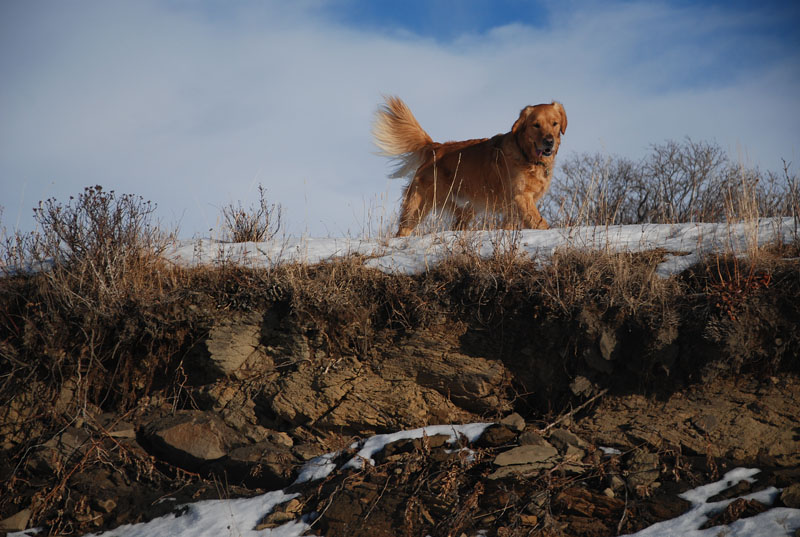 Pete investigates . . .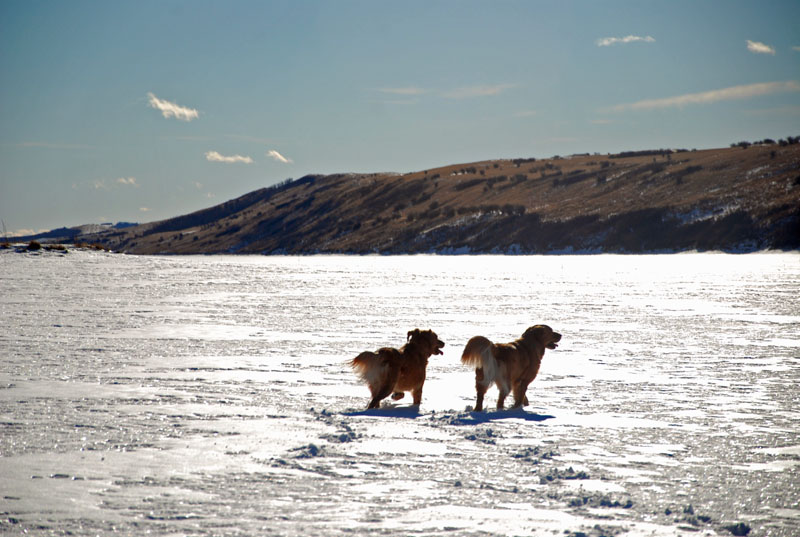 Hot day . . . . new tracks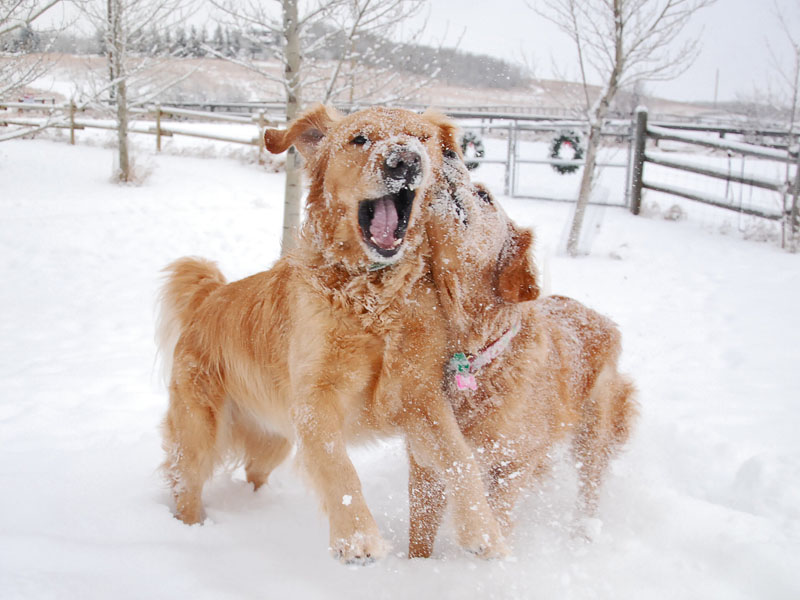 Aaaacccckkkkk . . . . . . Pete gets a snowy pinch from Ruby . . . .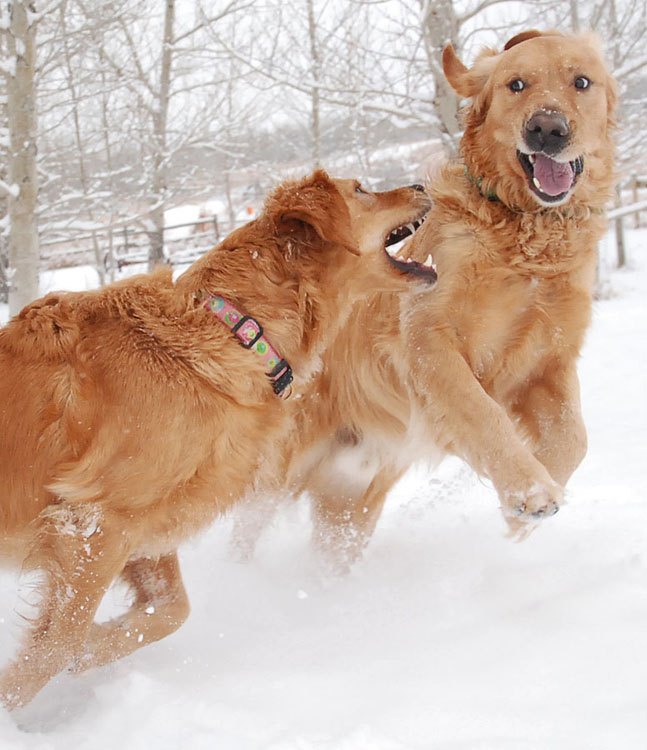 Another ambush from Ruby . . .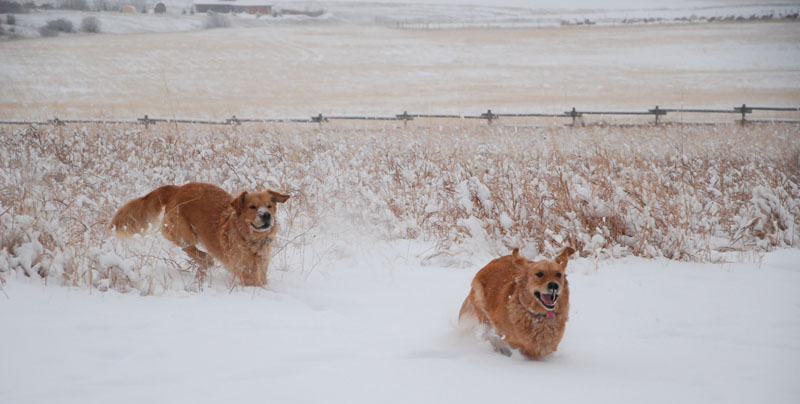 . . . . before the tables turn and Ruby runs for the hills . . . .
Pete in the storm . . .
Early December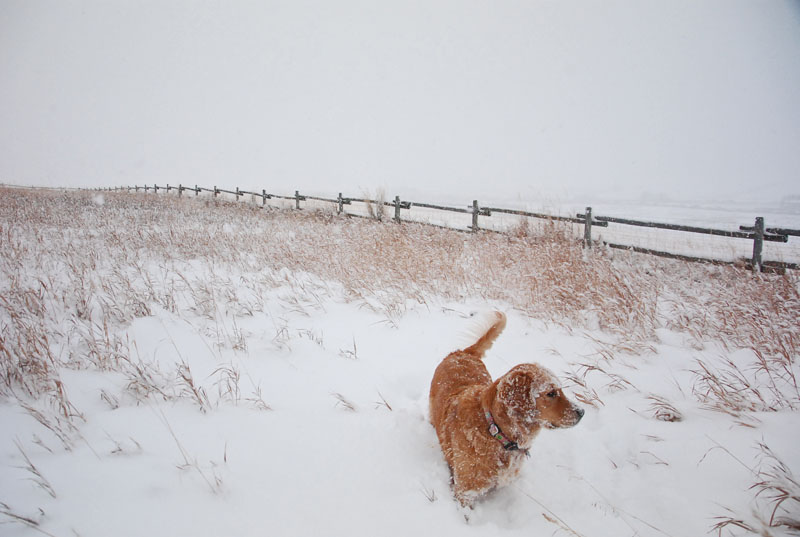 Winter settles firmly on Ruby . . . .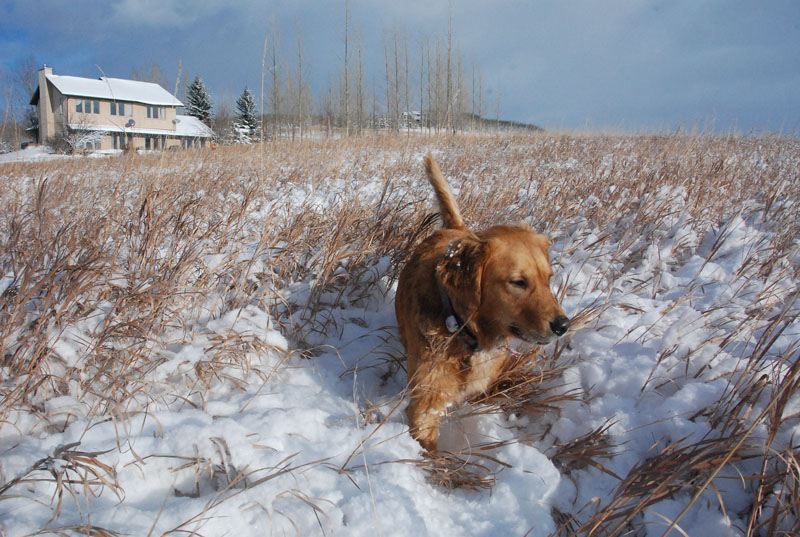 . . . . and, later, the sun comes out . . .
Deep snow for Pete too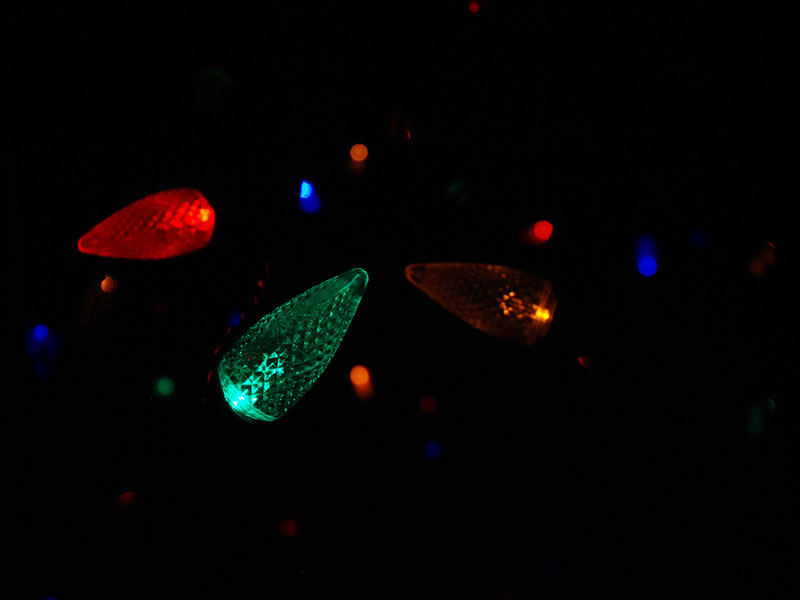 Christmas is coming . . . .
Mid November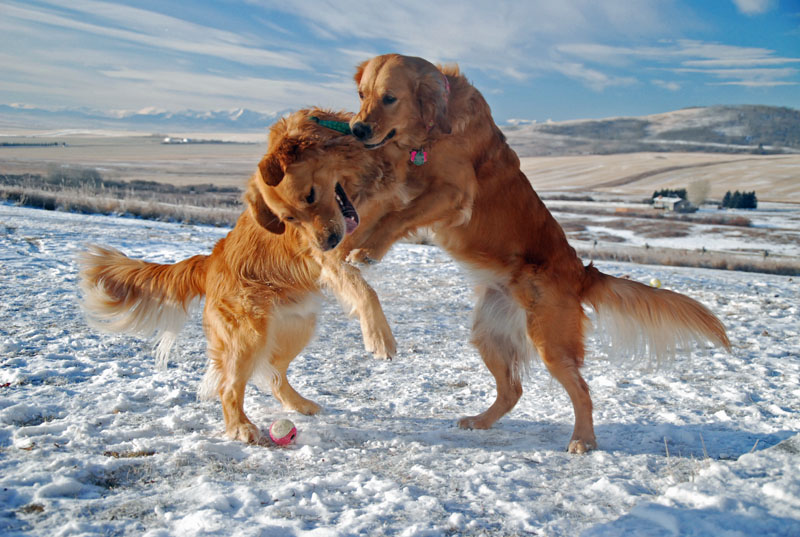 Pete and Ruby . . . . wrestlin' in the morning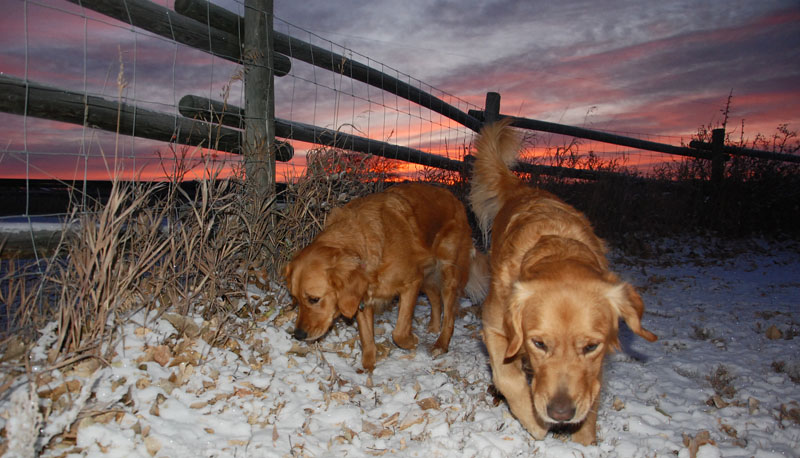 Intrepid explorers before sunrise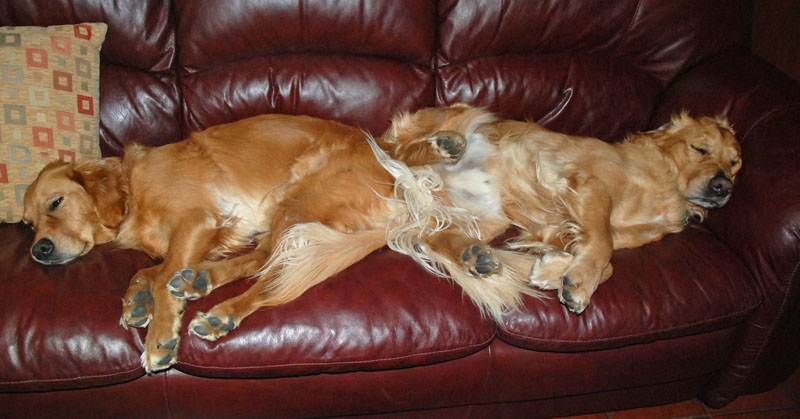 Done for the day . . . .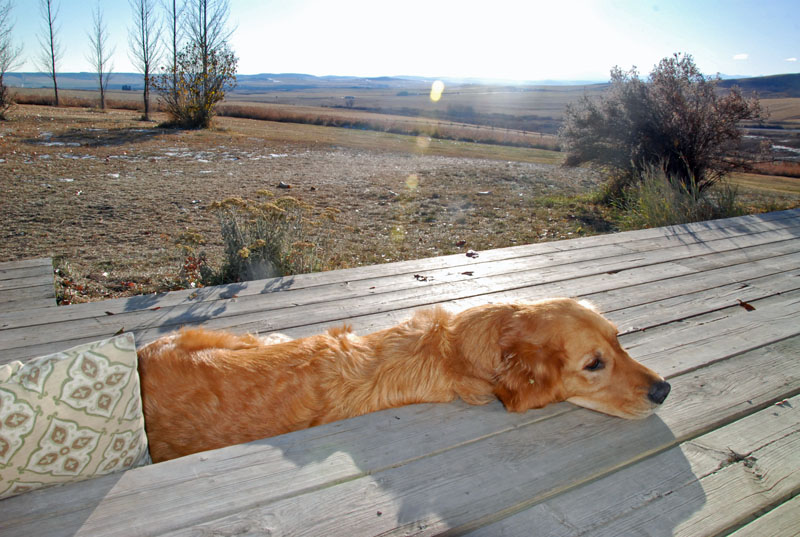 Ruby chilling out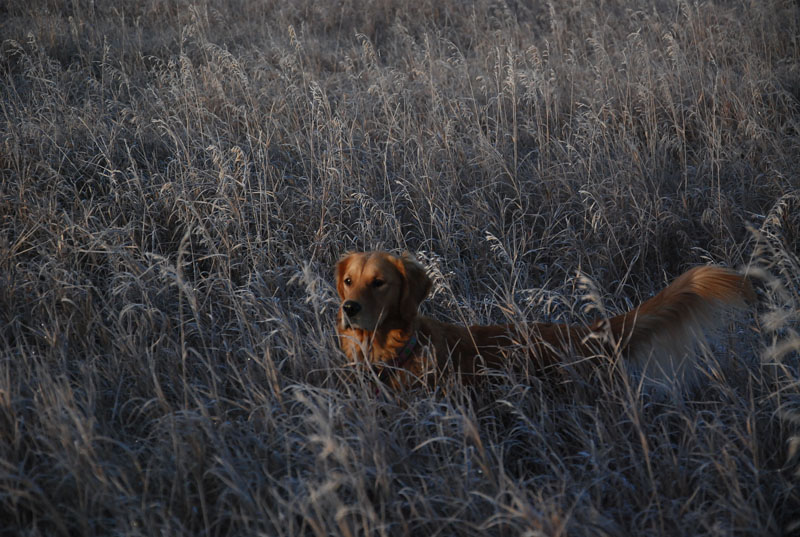 Ruby on a frosty morning
Late October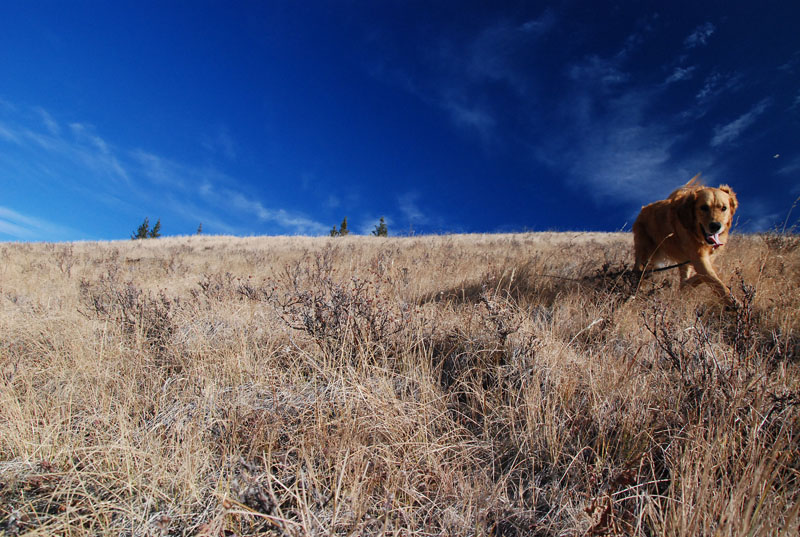 Ruby on the move . . .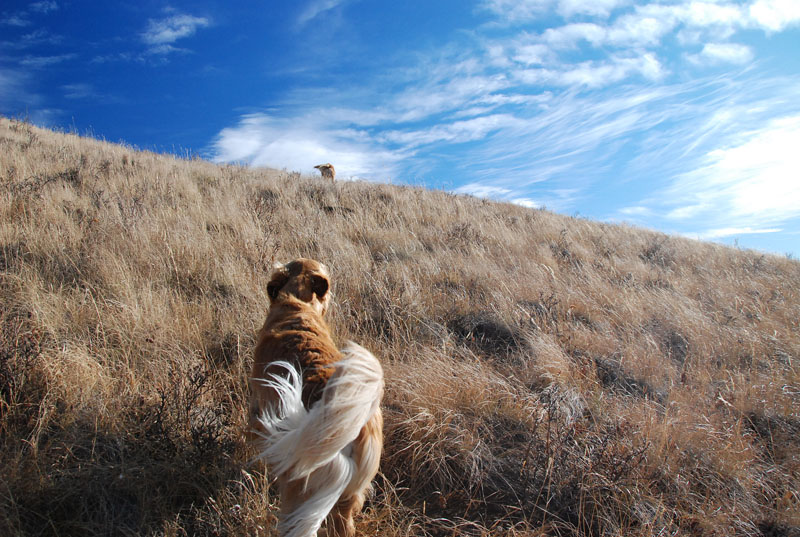 Reaching for the top . . . .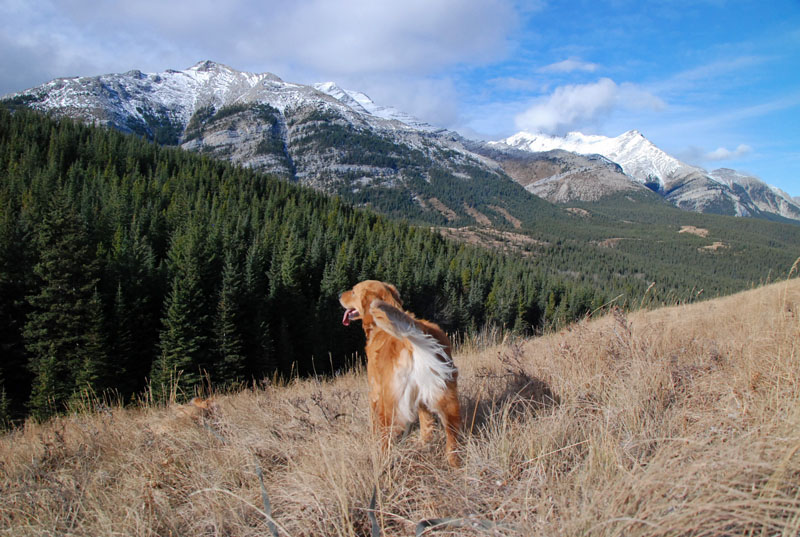 . . . . . to look over the other side . . . .
. . . . and having fun . . . .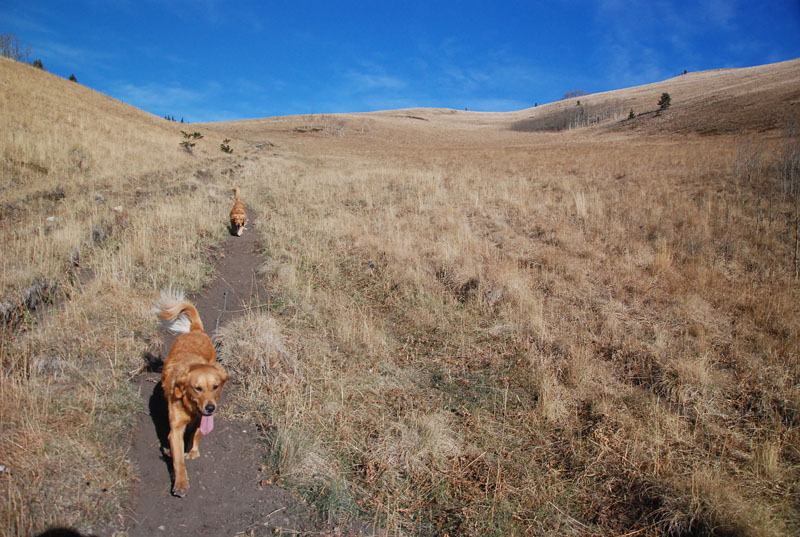 Ruby and Pete . . . . room to run
. . . . in a windswept place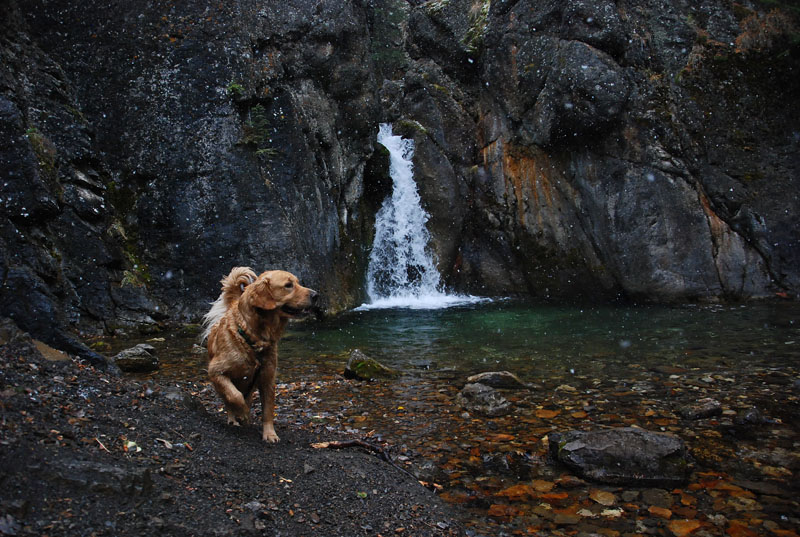 The week before, light snow falls around Pete as he visits Cat Falls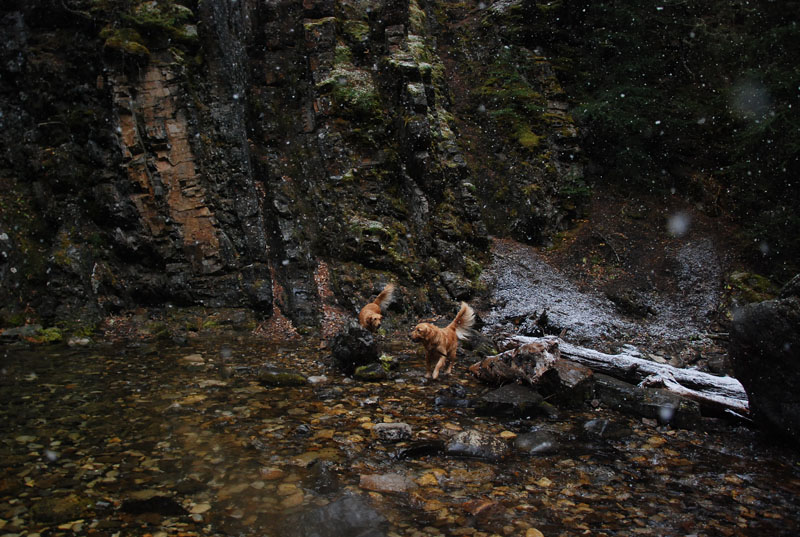 Exploring Cat Canyon with Ruby and Pete as winter arrives . . . .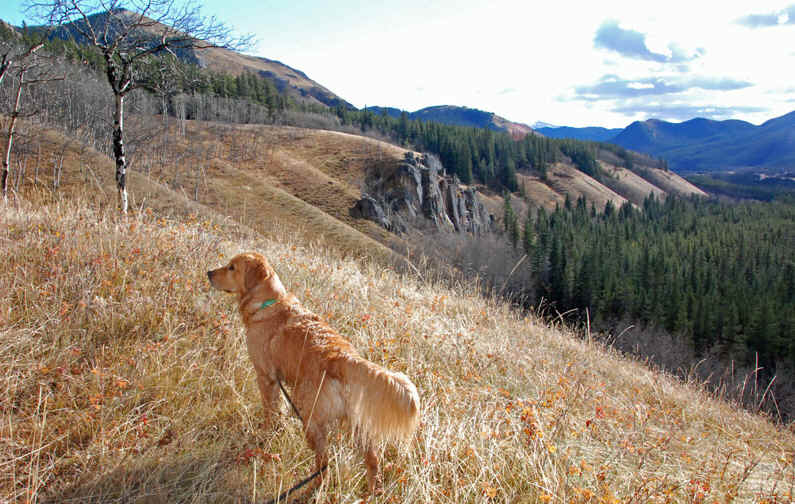 . . . . but out of the canyon, on the other side of Cat Creek, the weather clears for Pete . . . .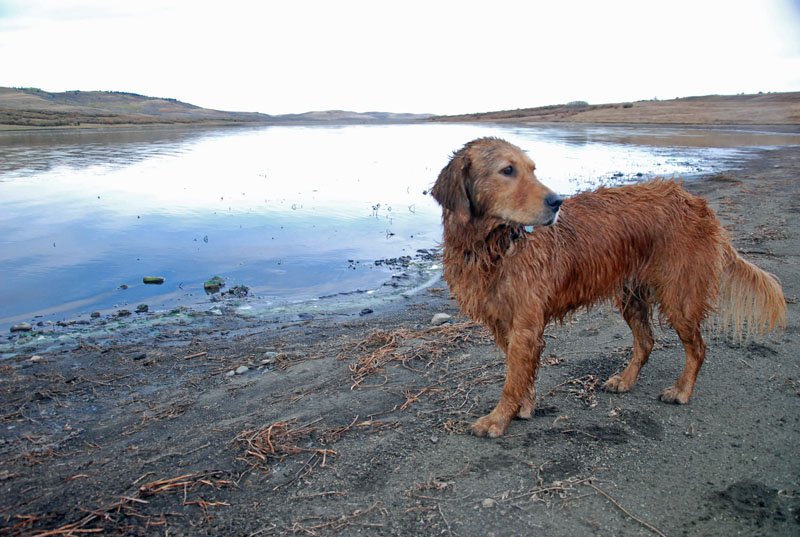 And how did Ruby get so dirty surrounded by so much water? Wrestling with her brother on the beach.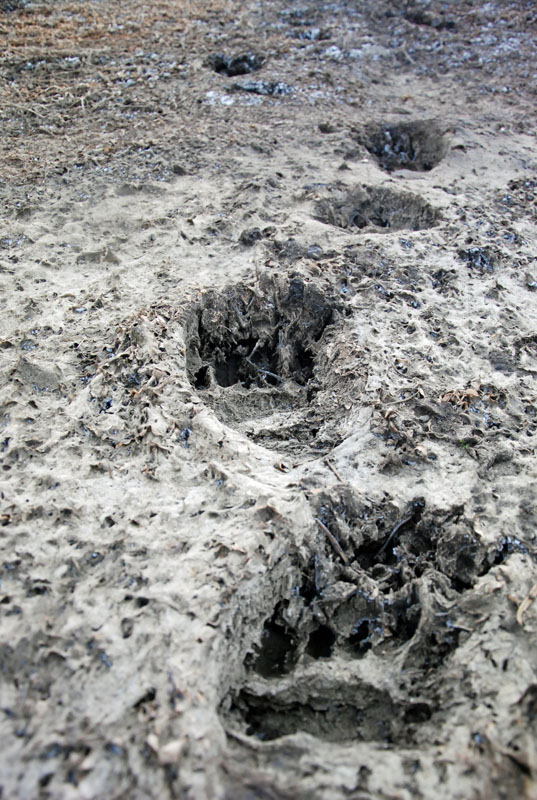 Bear tracks on the beach
Ice in the shallows . . . .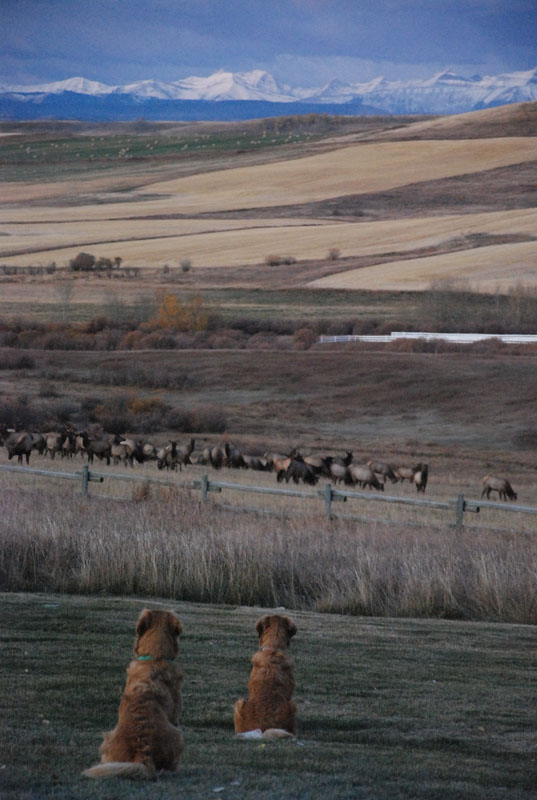 Very low-light picture, before daybreak, finds Pete & Ruby watching a herd of about 150 elk with great interest. They'd alredy panicked the herd when they chased some deer out of the yard, something Ruby wouldn't have done even a few months ago. Their confidence is growing.
Early October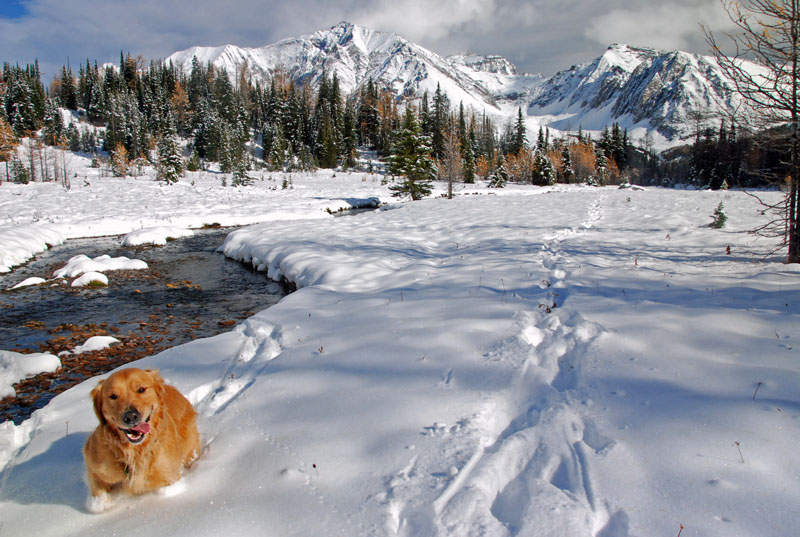 Pete loves the snow where it's already deep up in the Highwood Pass area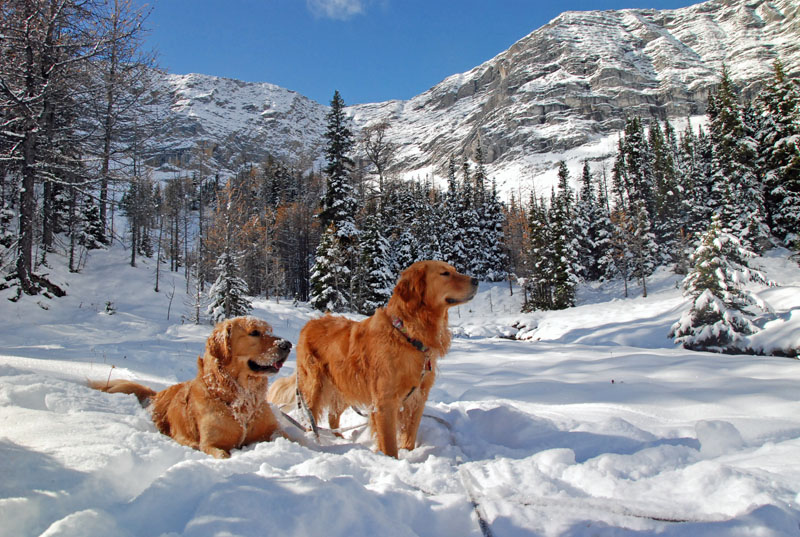 Pete and Ruby, sharing adventures . . . .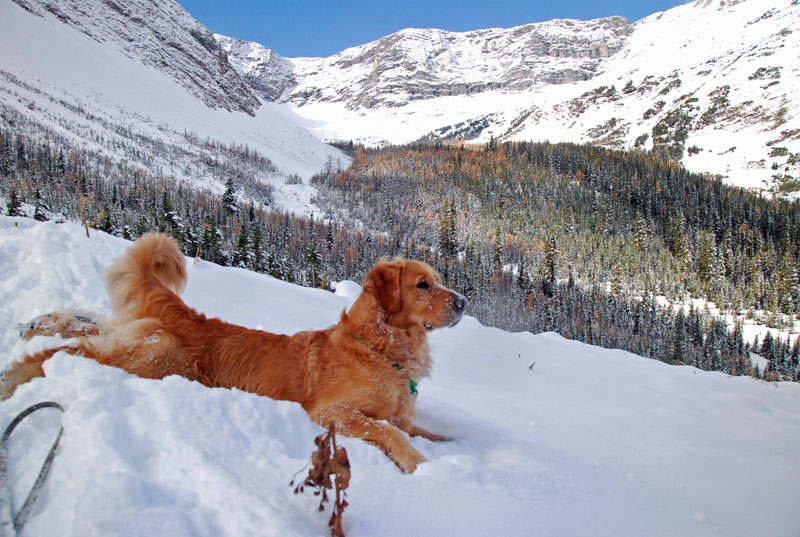 Pete relaxes on the way up . . . . we would climb above the golden Larch in the distance, where the pictures above were taken.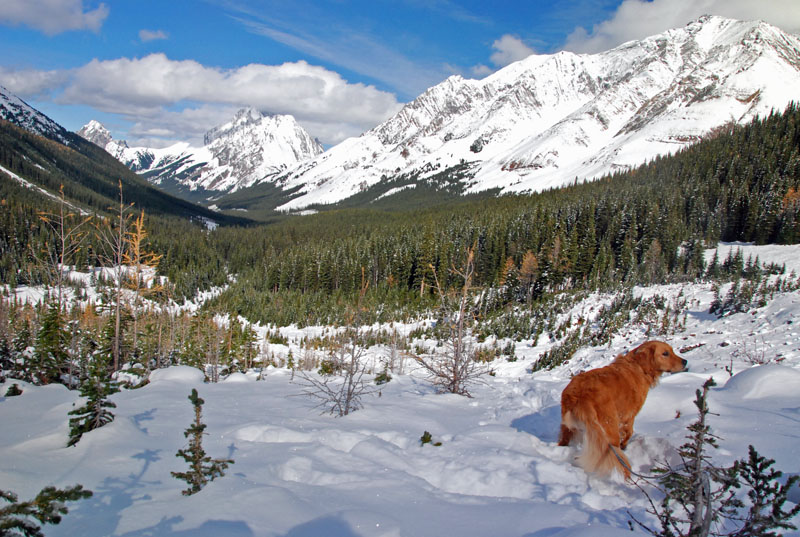 Ruby, on the way home . . . . the valley opposite this had been closed to hikers because of a Grizzly mom and her two kidlets who were hanging out there.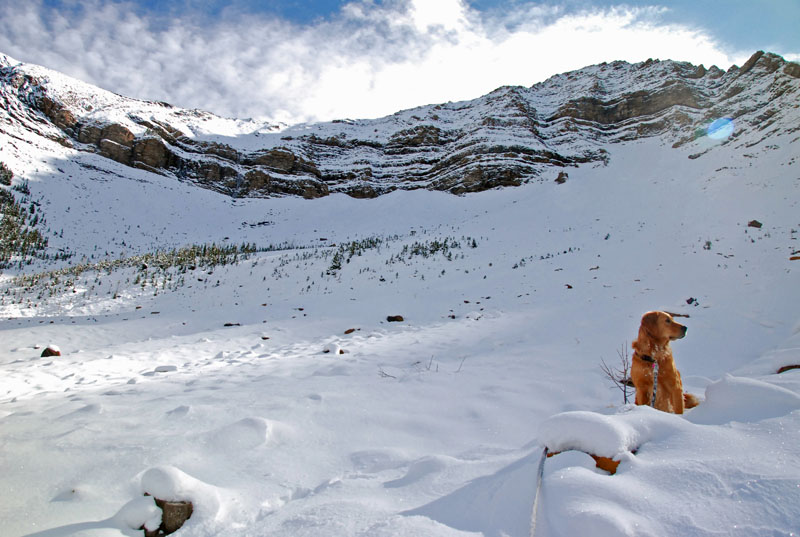 Watch out for avalanches Ruby!!! Still too early for that. As the winter progresses, this area will be thoroughly buried in snow.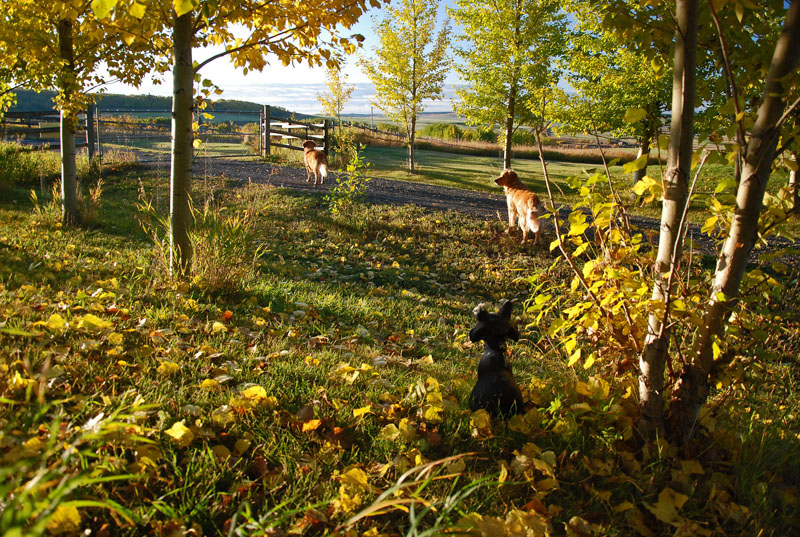 Back at home a few days earlier, Ruby and Pete wait at their gate early in the morning, summer fading ever so quickly, with the ever present "Kitty" watching placidly in the foreground . . . .
Kitty, missing part of an ear courtesy Keeper and then Ruby more recently, with Ruby . . . .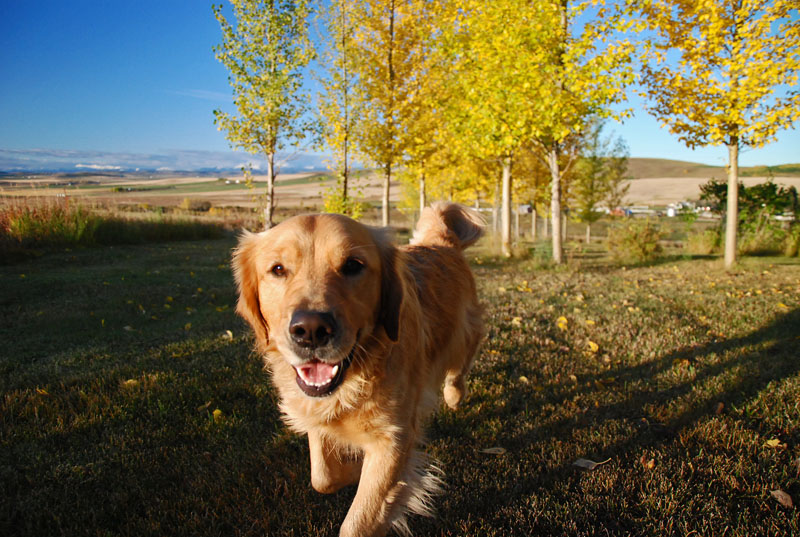 A happy Pete on the prowl, the snow capped Rockies in the background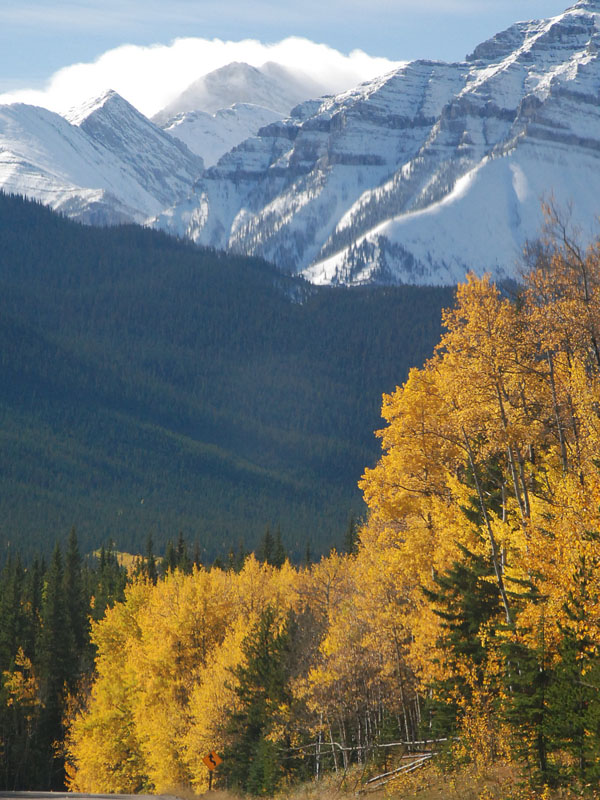 The view out west of Turner Valley, a little blurred through the windshield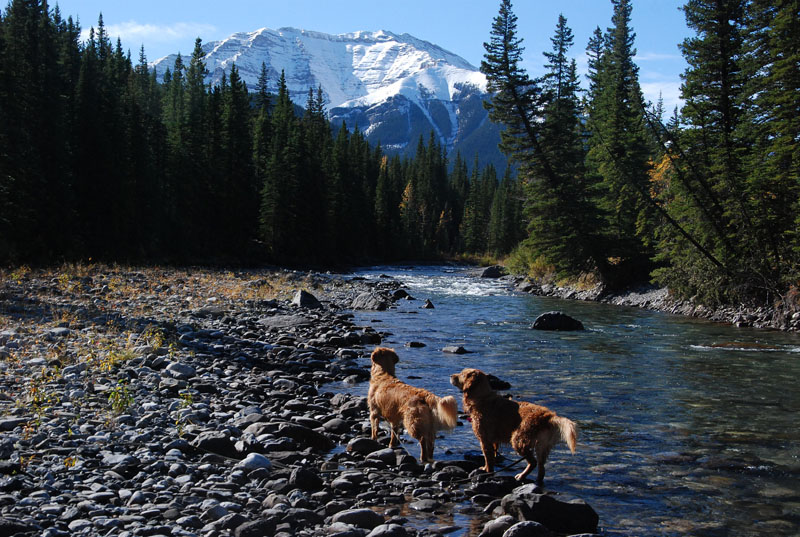 Walking the Sheep River with Pete and Ruby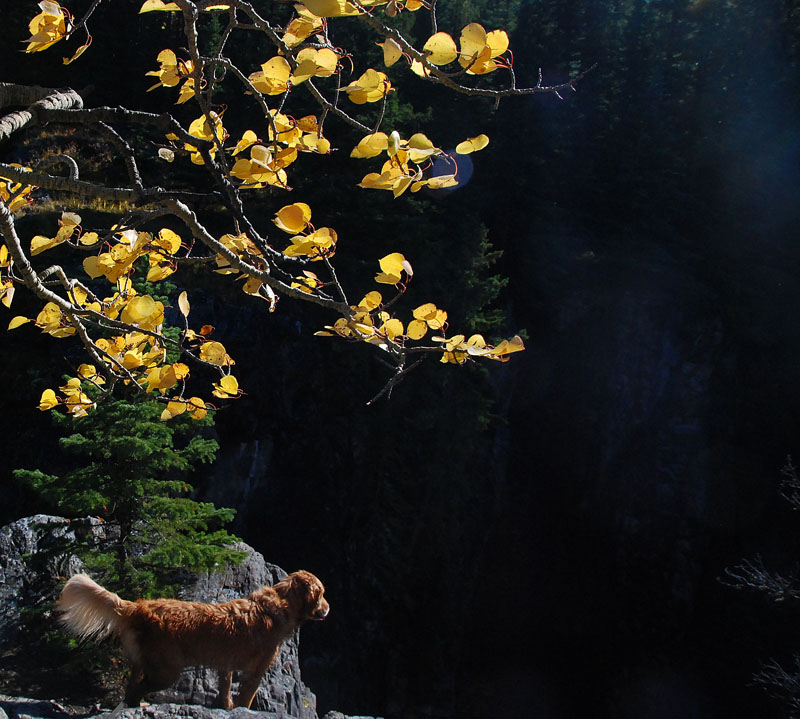 Ruby looks into the Sheep River Gorge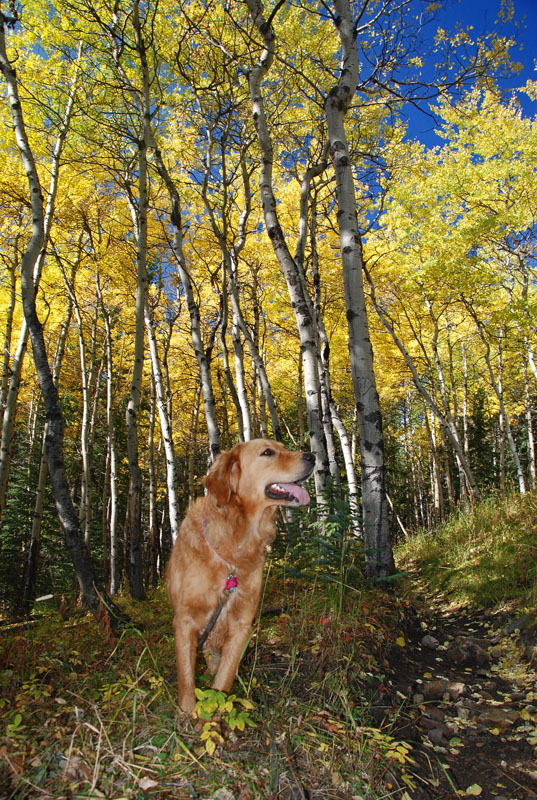 Ruby enjoys the colours of the Fall on a forest walk
Mid September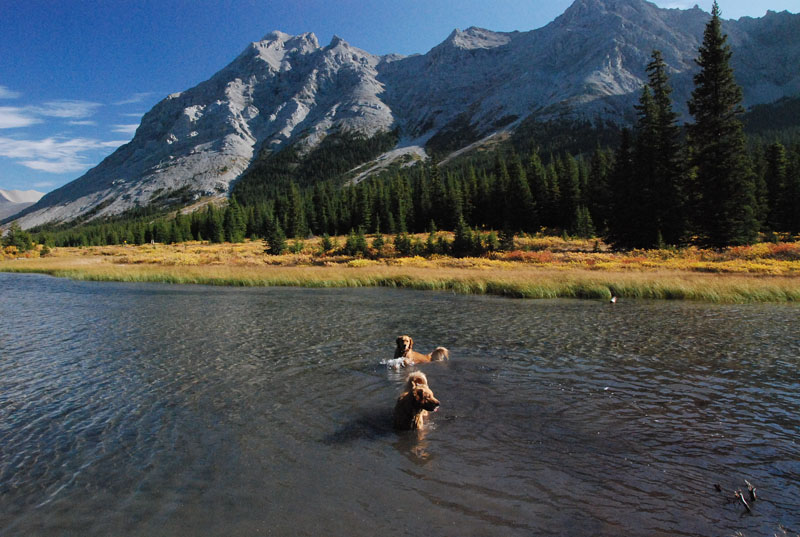 Ruby and Pete have a swim in Elbow Lake as the colours of Fall show themselves on the opposite shore
Ruby and Pete . . . . on a hike through Elbow Pass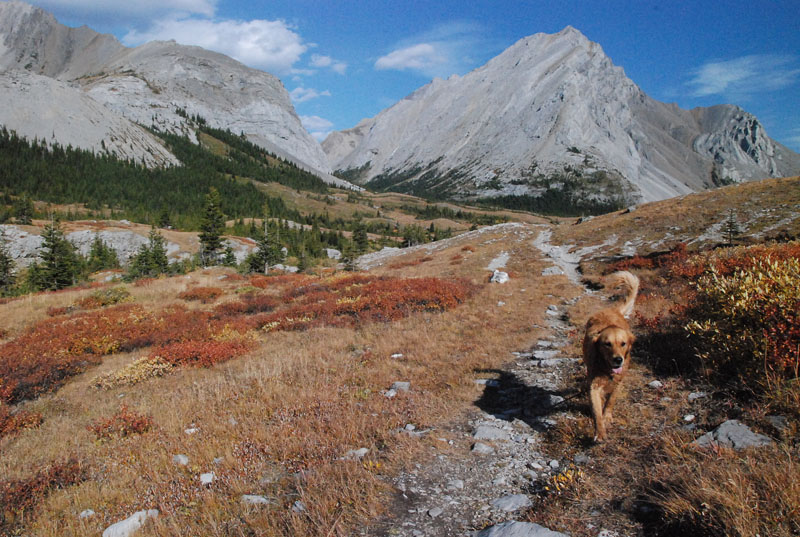 Ruby on the trail . . . .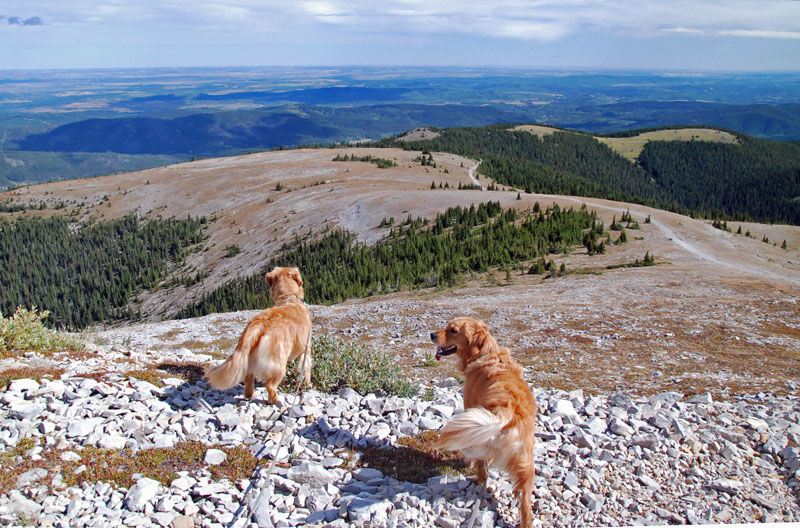 The week before, Pete and Ruby take a look back from whence they came . . . . on their way up Moose Mountain. The flat area just below them was a setting used for the movie Brokeback Mountain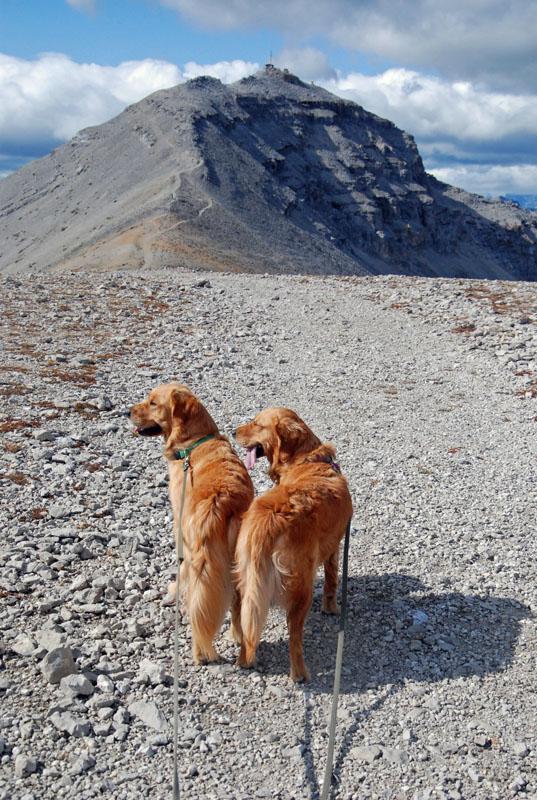 Pete and Ruby spot the Moose Mountain Fire Watch Lookout on the next peak. The shale on the trail to get there wouldn't have been good for their feet, so we settled for this first peak.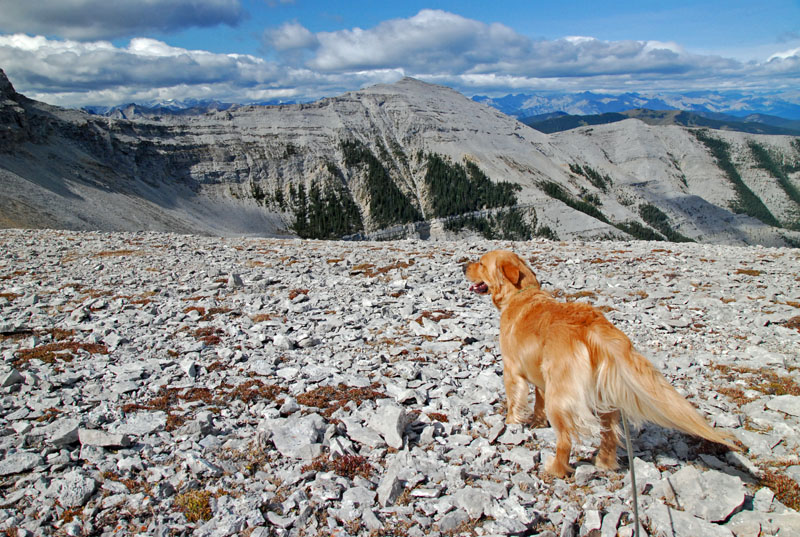 Pete gets a great view, way above the timber line
Time for Ruby and Pete to turn around and head home . . . . . about an hour and a half walk back to the vehicle
The previous day, late summer climb for Ruby and Pete, the grasses of summer already turning winter brown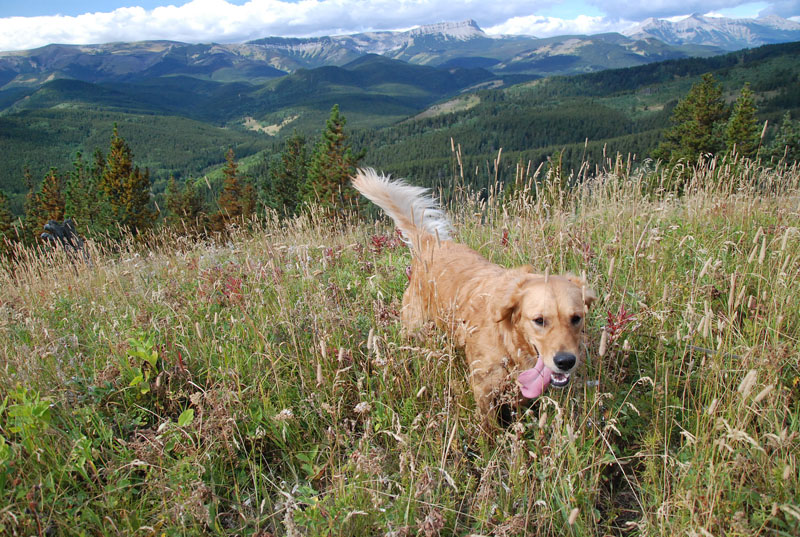 Higher and higher for Ruby on a random, little peak . . . .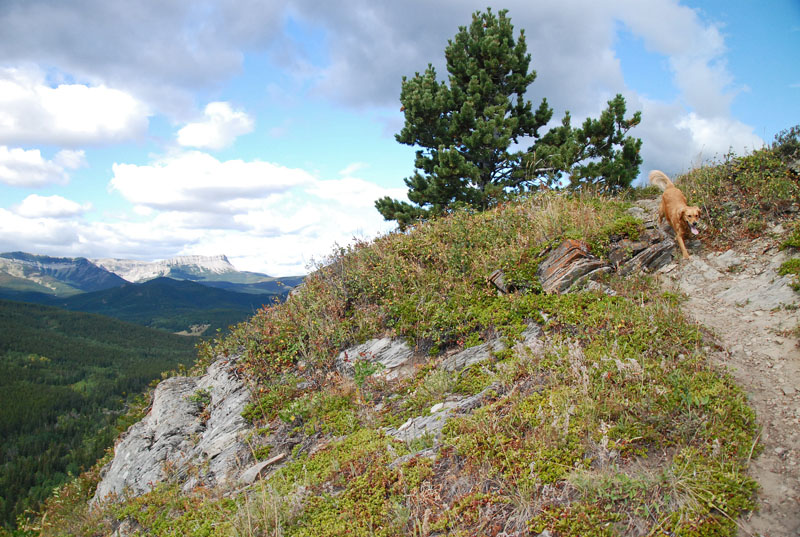 Ruby at the top . . . .
The descent . . . . Pete leads the way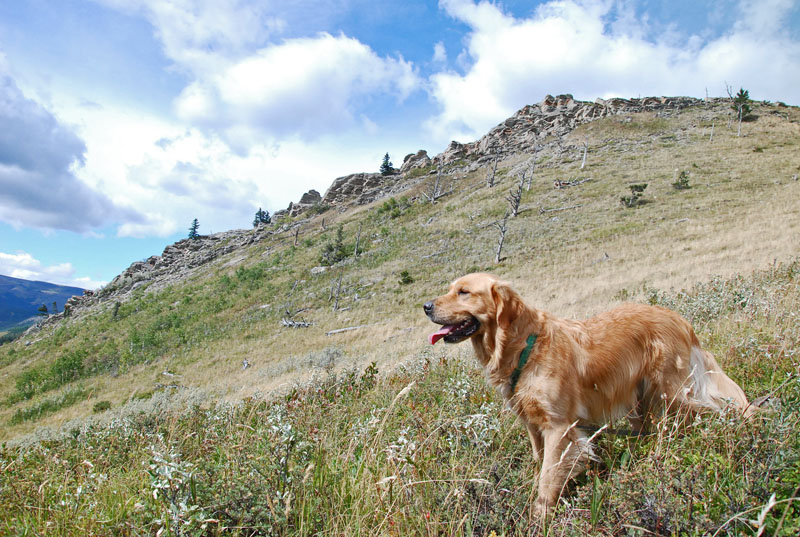 Pete is very good at striking heroic poses . . . .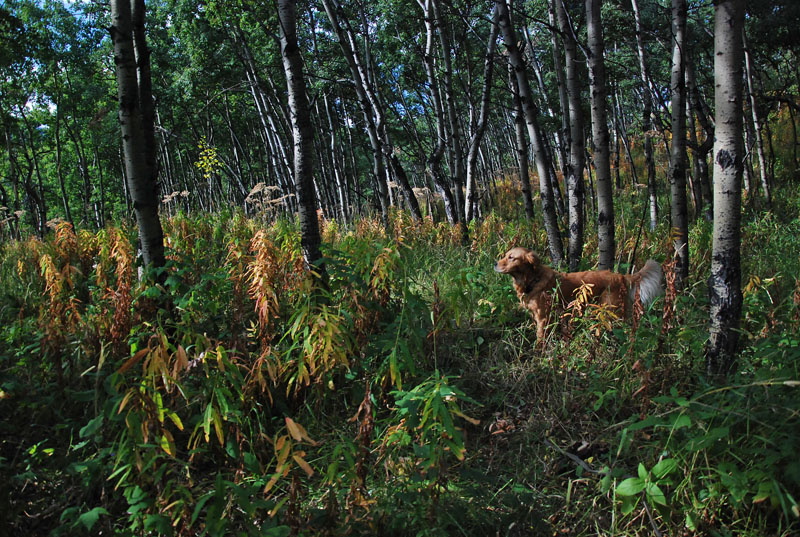 Ruby back down in the sun-dappled forest . . . . which is showing definite signs of the coming Fall and Winter
Early September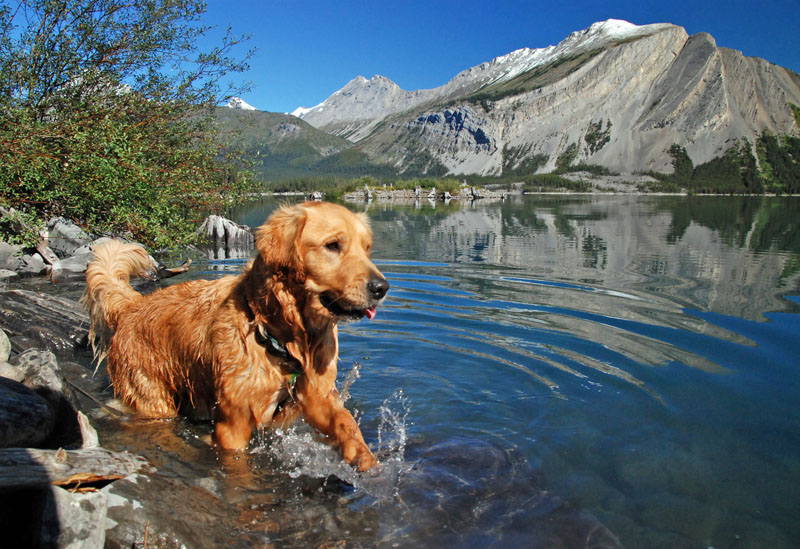 Pete crashes the scene . . . . . a fresh dusting of new snow crowns the mountaintops at an otherwise serene Upper Kananaskis Lake . . . .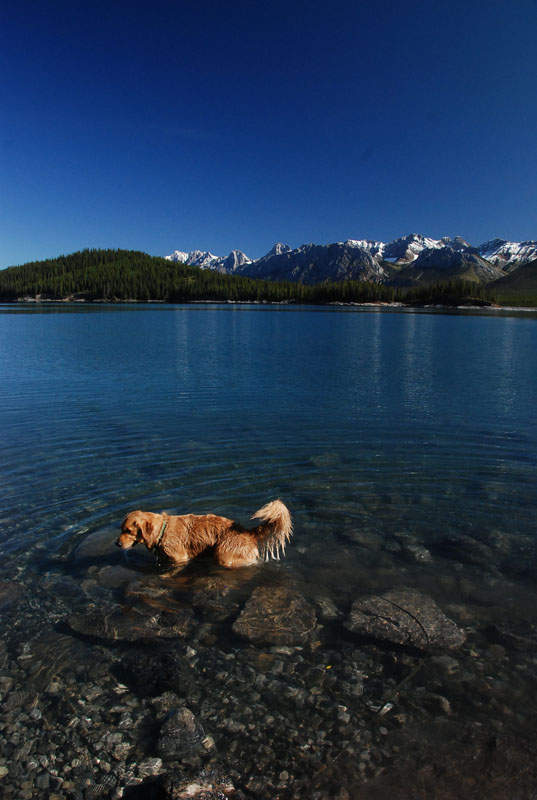 The water was actually very warm . . . .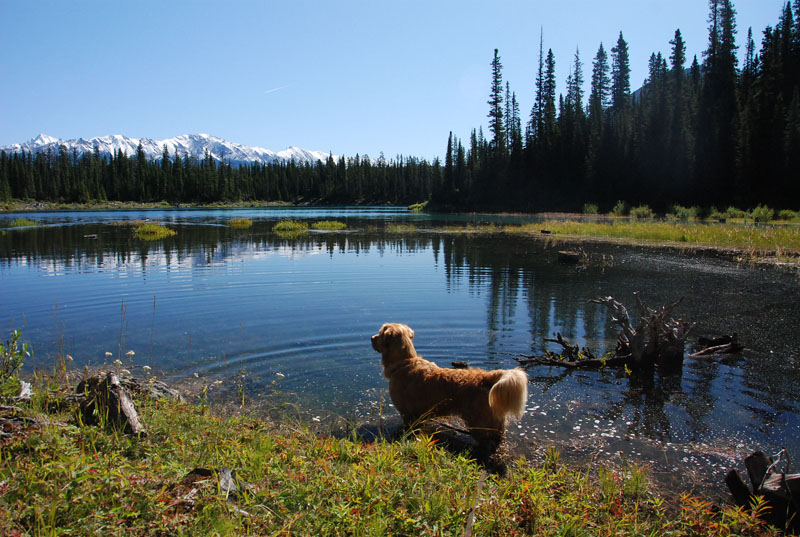 Pete at the marshy backside of the lake - it was a roughly 17 km walk for Pete & Ruby, a circumfrence of the lake
With lots of swims for Pete on a chill day . . . . only 2 Celcius when we started out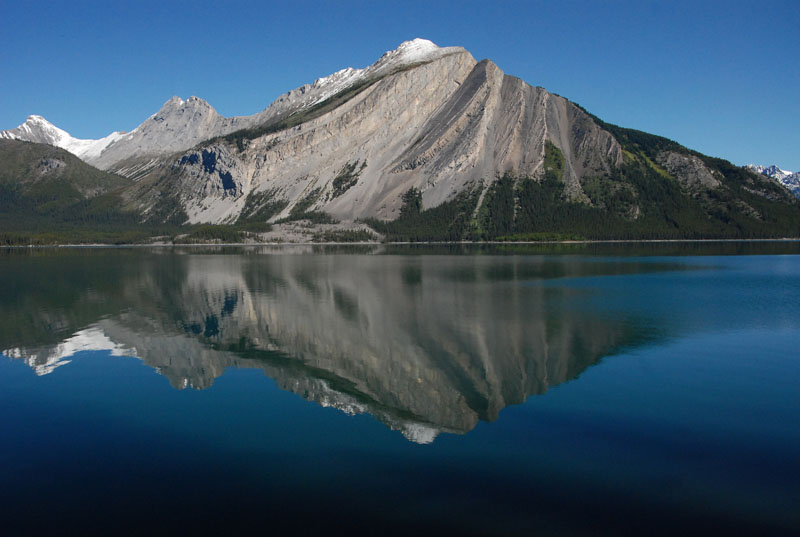 Reflections
Late August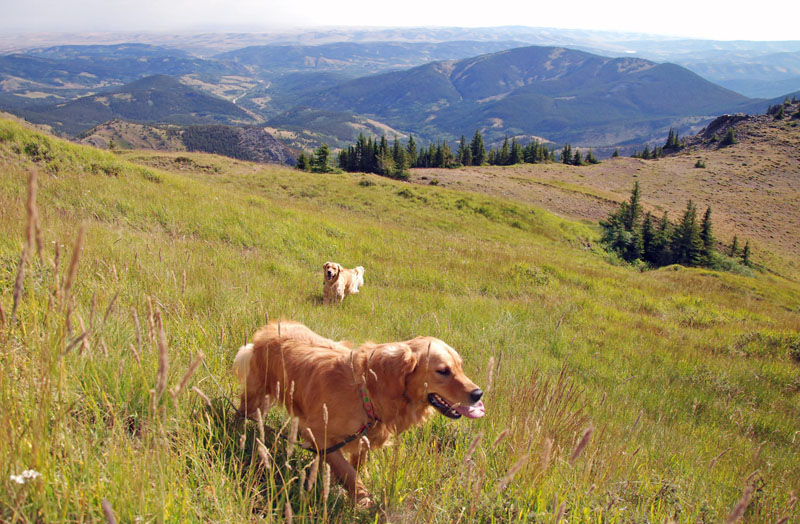 Walking up high with Ruby and Pete . . . .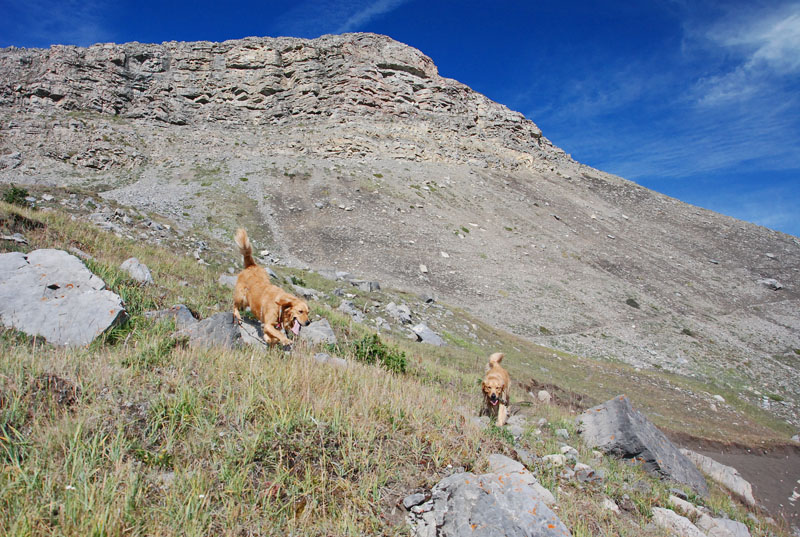 . . . . way high . . . .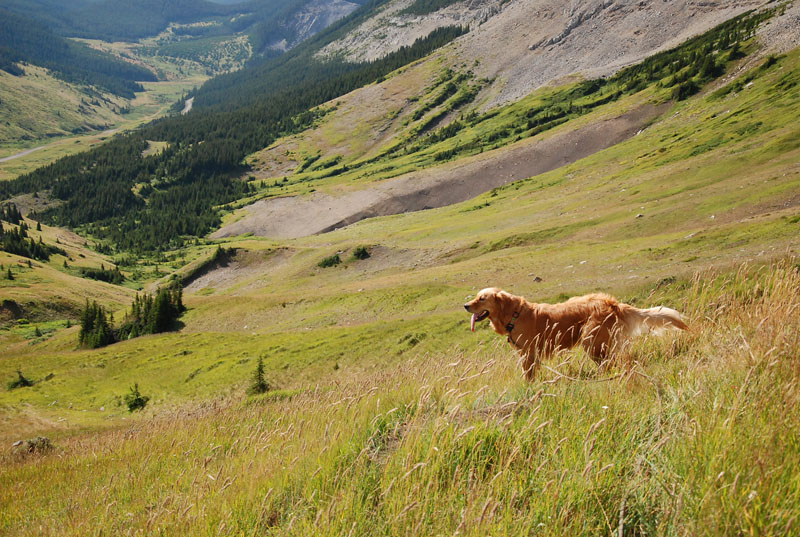 Ruby on a beautiful, hot day . . . .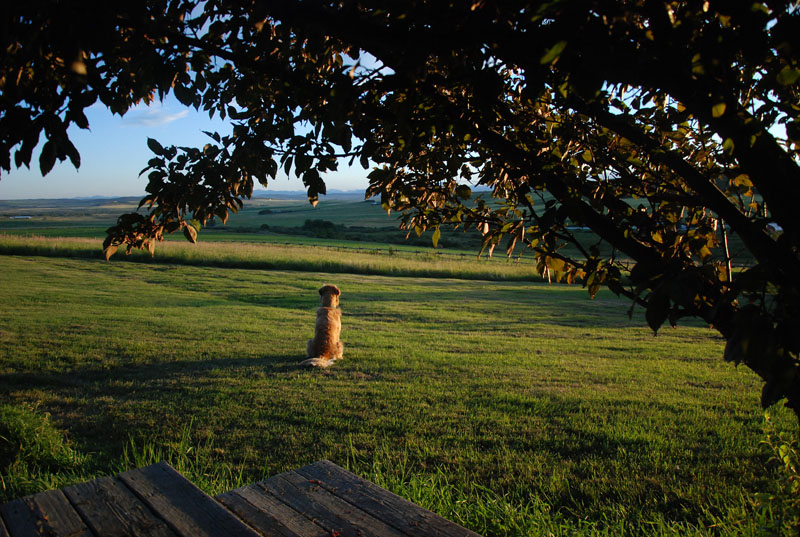 Pete enjoys a sunset at home . . . . the elk are starting to herd up for the Fall and are now frequent visitors along the fenceline in the morning and evening, causing consternation for Ruby and Pete
Another day in doggy heaven . . . .
Mid August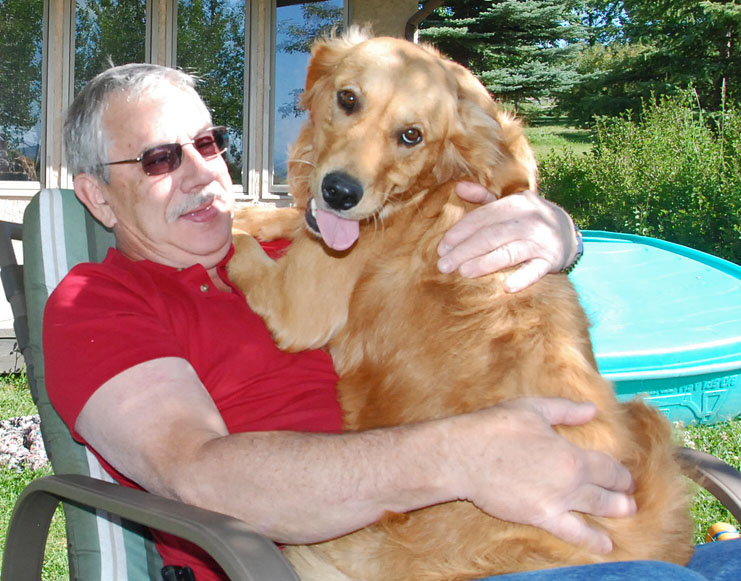 Ruby gets comfy with a new friend from out of town . . . . . . Jim from Indiana who was passing through with wife Liz.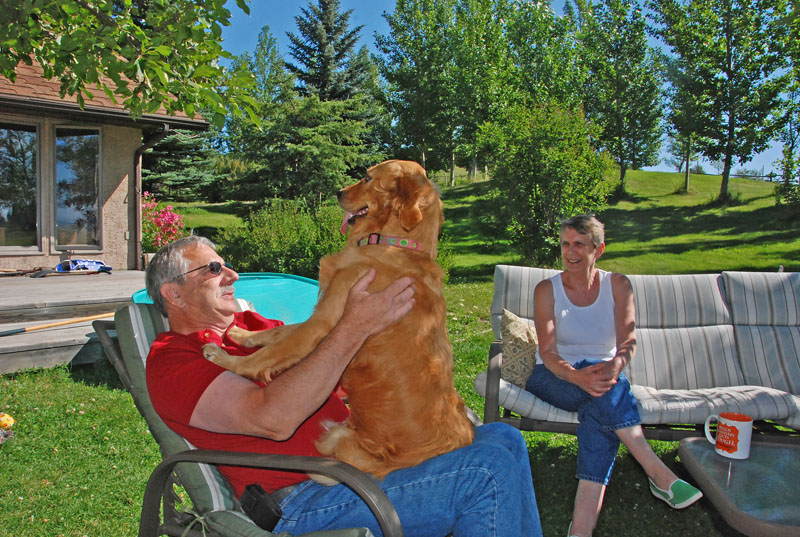 Jim and Liz, who are Golden fans and have Candace in their household, were on their way to Canmore, Banff and Lake Louise for a family reunion . . . . and are fans of Goldentales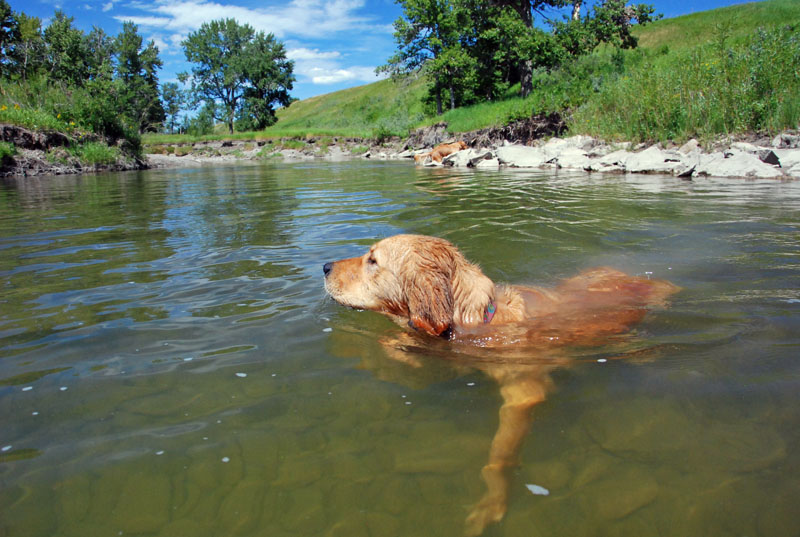 Ruby goes river-walking in Threepoint Creek on a balmy August afternoon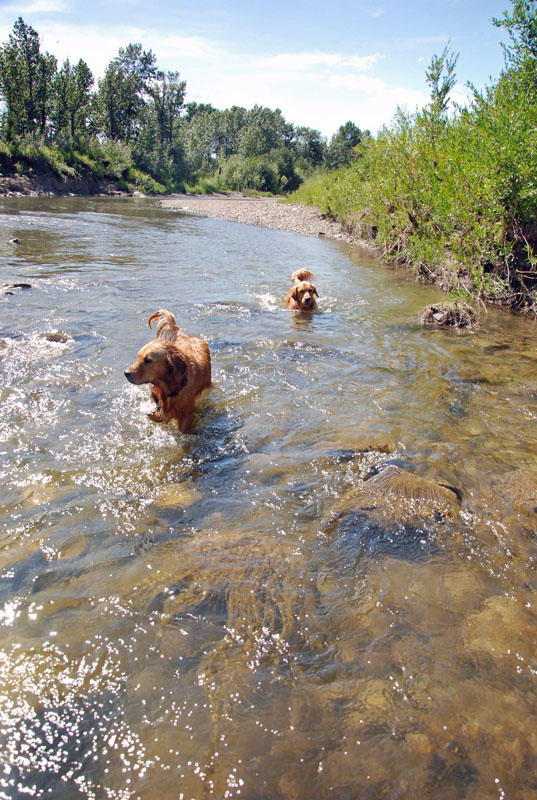 The middle of the creek belongs to everyone!!!
Late July
Ruby, her ears taking flight on a hot, windy summer day on the prairie, and Pete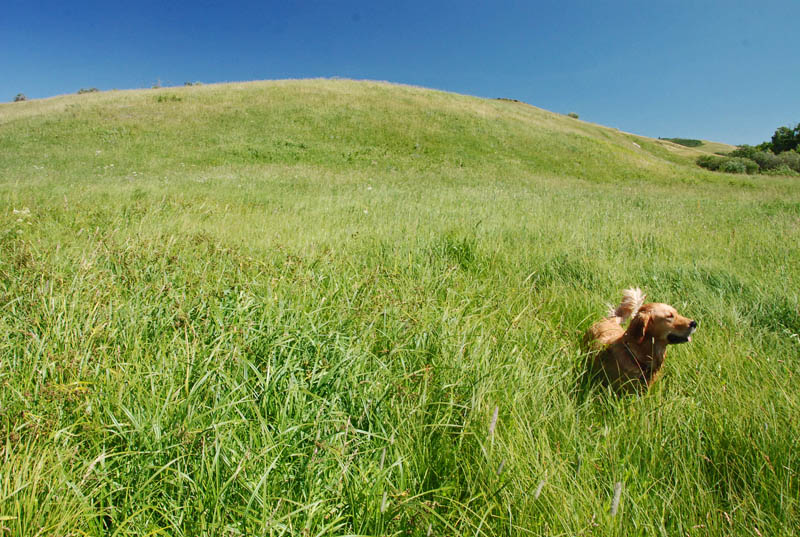 Ruby exploring . . . . .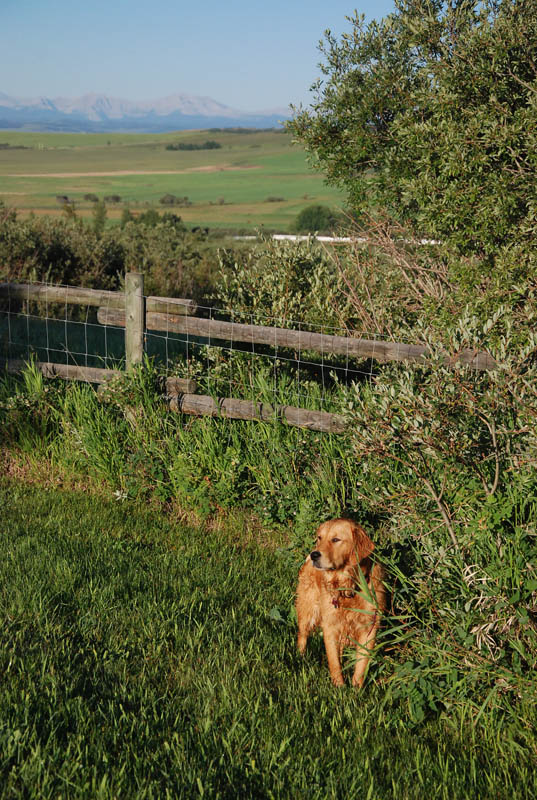 Ruby in the morning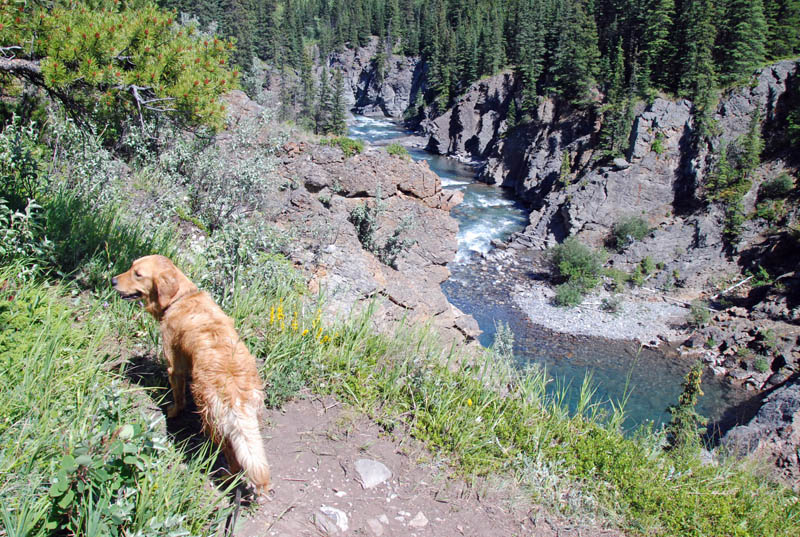 Ruby, canyon-walking . . . . .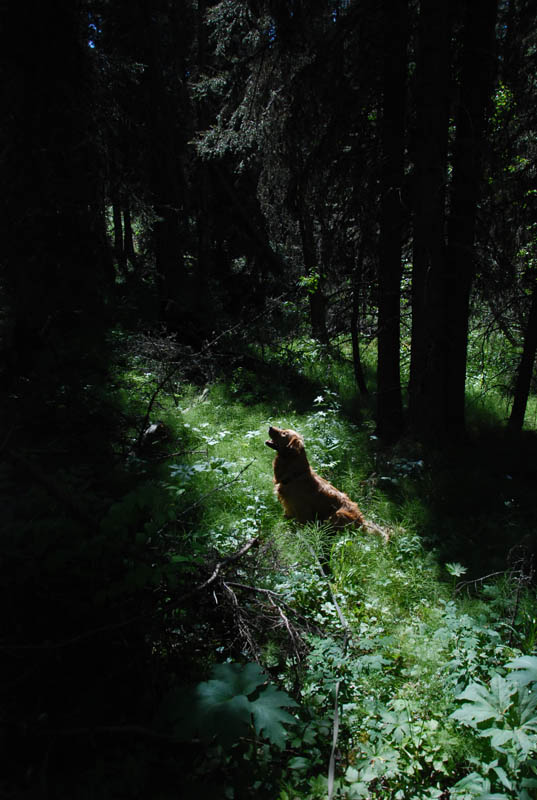 Ruby in the forest, waiting for a squirrel to come down . . . .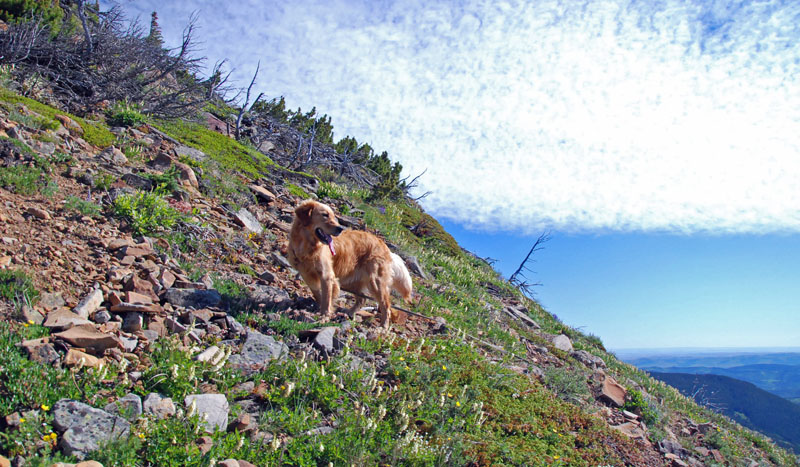 Ruby pauses for the view . . . . .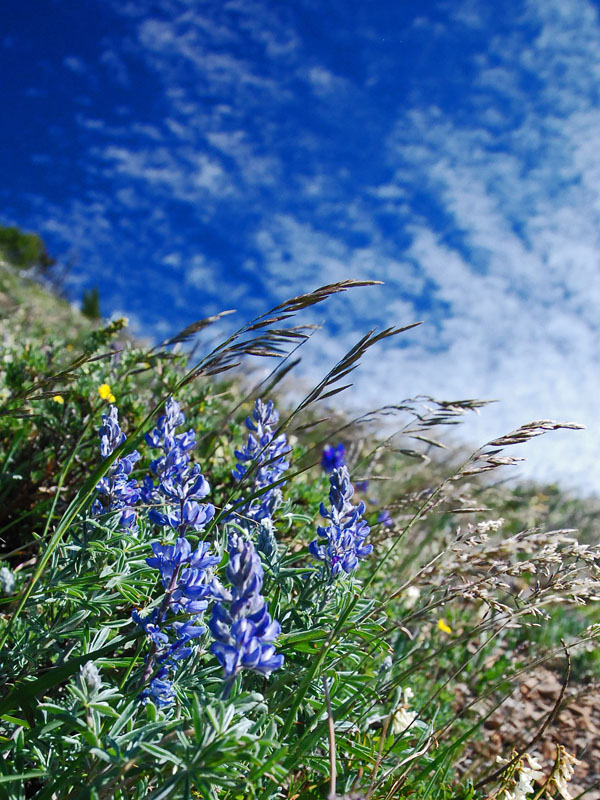 Summer wildflowers high in the Rockies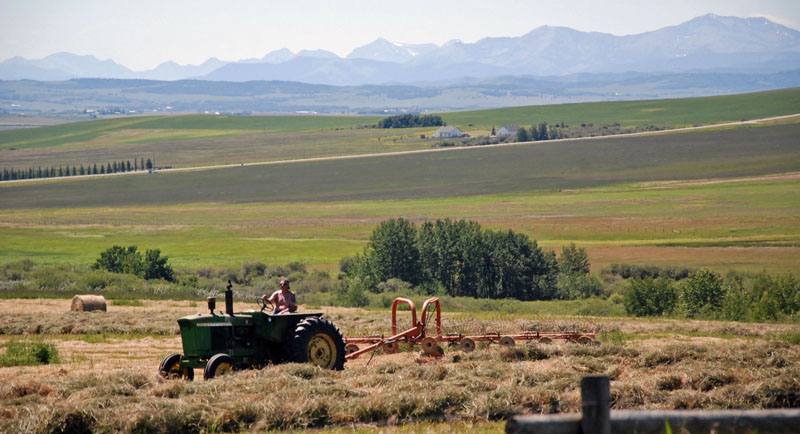 Haying in July
Mid July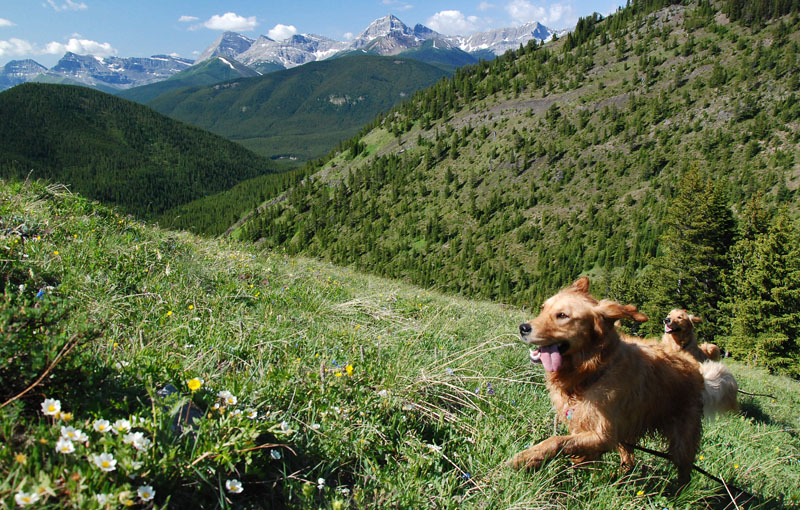 Ruby and Pete let loose on the way up to Picklejar Lakes on a fine, early summer morning . . .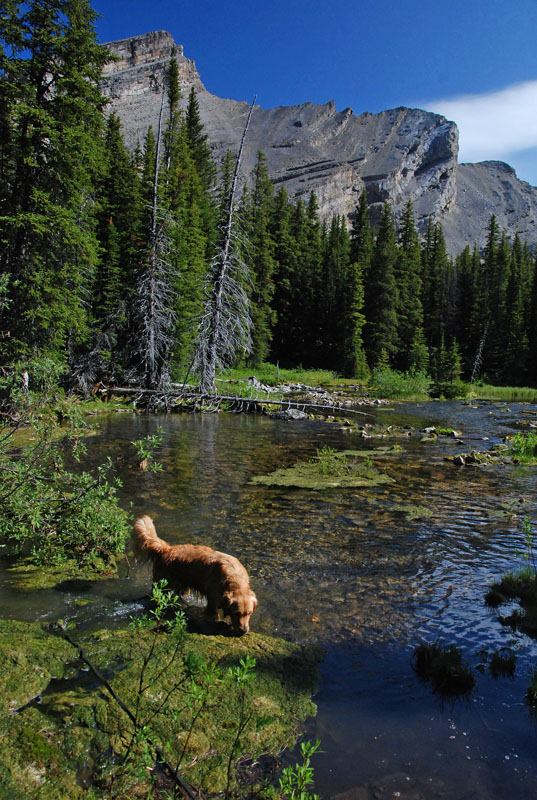 Pete explores the first of five lakes high in a backcountry place where snow still lingers in the shadows and the temperature was decidedly cool in spite of a fairly hot day at lower altitudes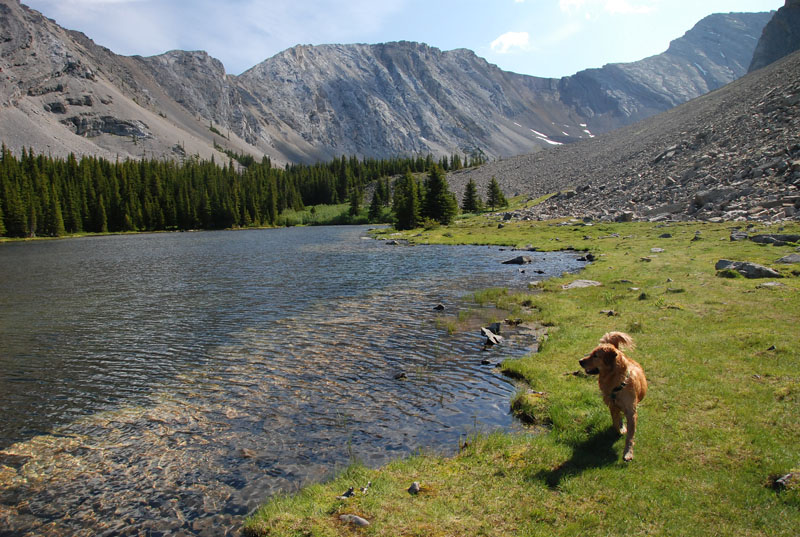 Pete at Picklejar . . . . . fine fishing but you have to work hard to get here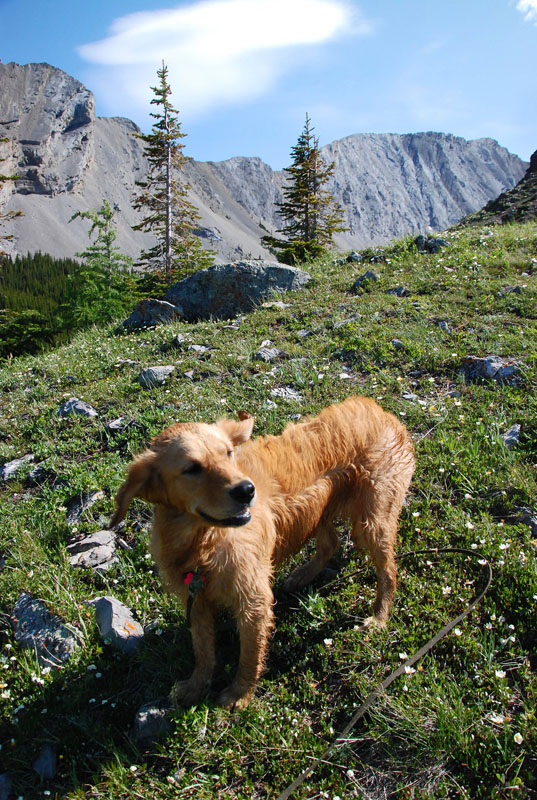 Ruby's ears achieve liftoff as a cool wind picks up . . . .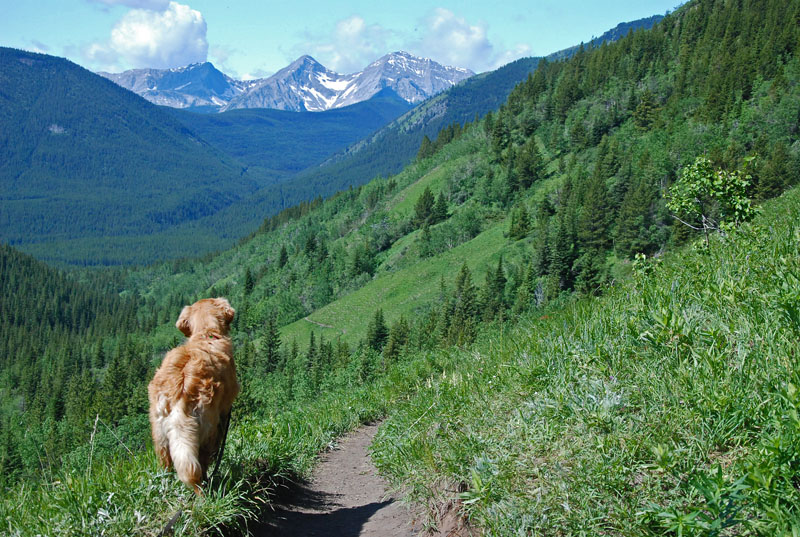 Ruby on the trail home . . . .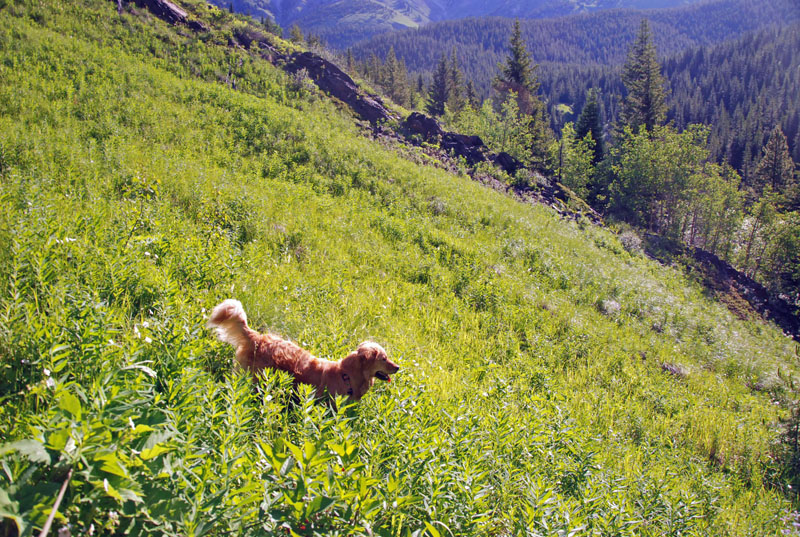 . . . . where she has lots of exploring still to do . . .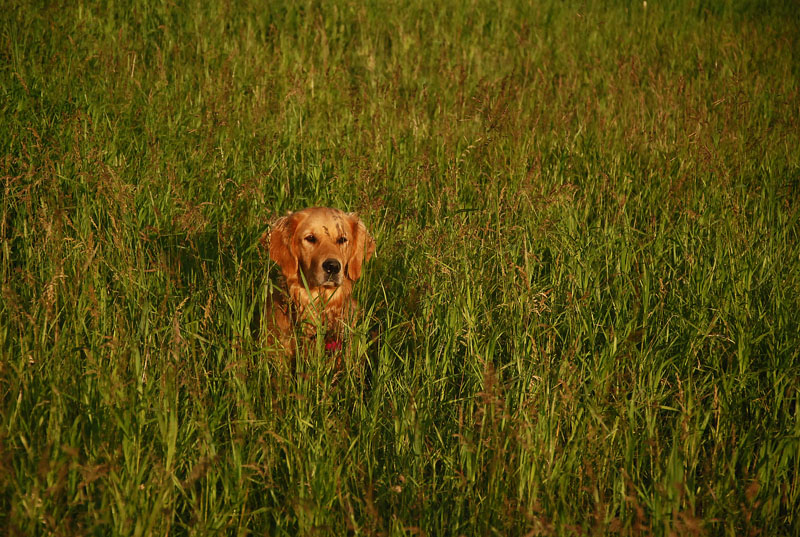 . . . . . at home, Ruby contemplates a fading evening sun . . .
Early July
Pete runs free . . . . .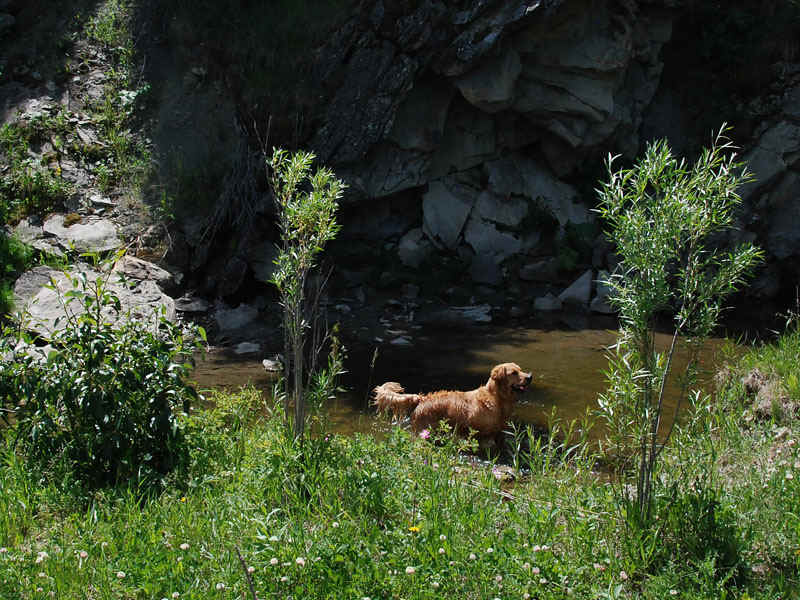 . . . . . and finds a stream in a canyon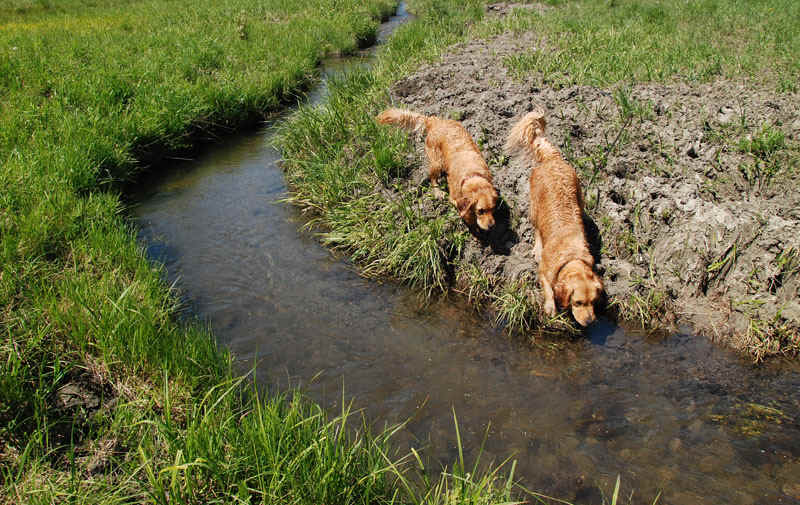 Ruby and Pete . . . . . fording a small stream carefully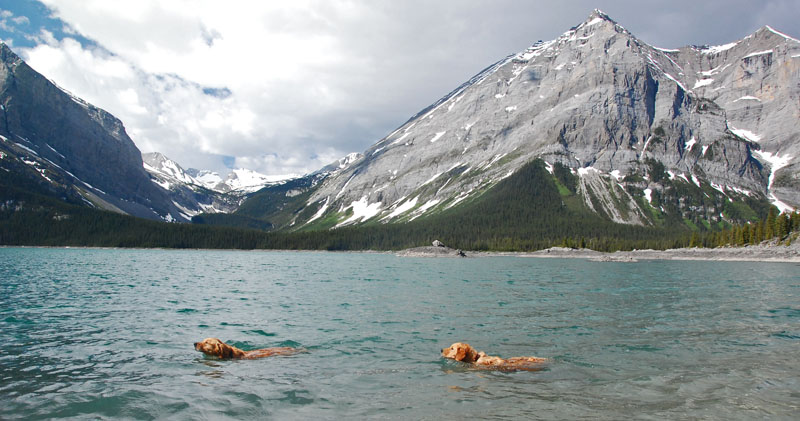 Pete and Ruby go for a swim at Upper Kananaskis Lakes . . . . in spite of her nearly two years of life, Ruby had only learned to swim the day before at Chain Lakes and was still tentative on this day. For his part, Pete was jumping away from the waves on the lakeshore but eventually overcame his fears.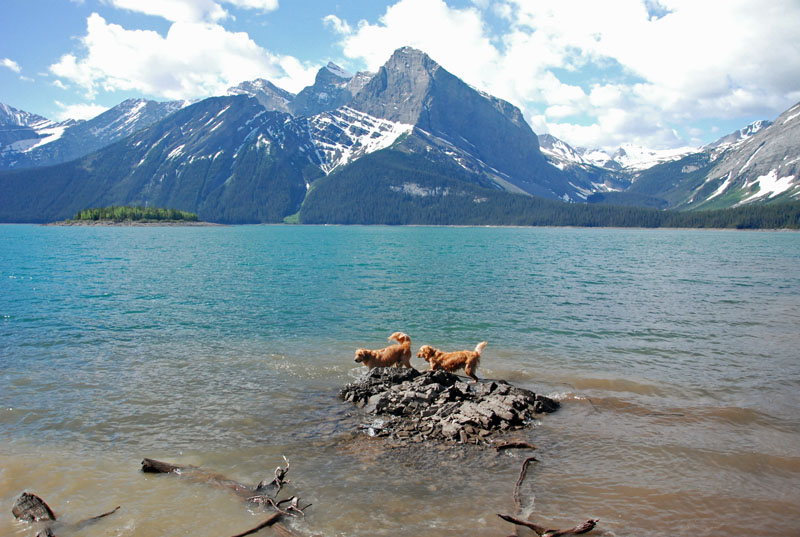 Rick wasn't happy when he had to wade out to this rock in his shoes to free Ruby's leash from a snag . . .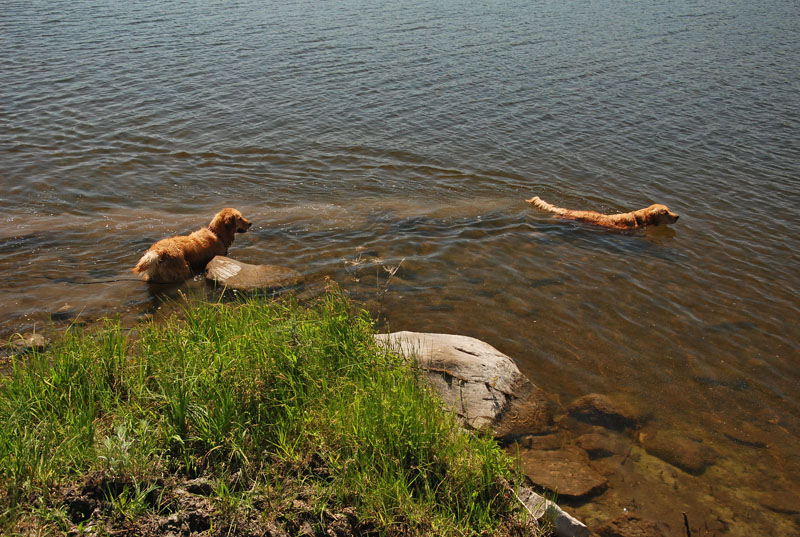 The day before, Ruby can't understand how Pete is floating away, leaving her increasingly agitated at Chain Lakes. A few minutes later, she finally took the plunge and learned the doggy paddle, entering a whole new world and a lot of fun to come in the gathering summer.
Late June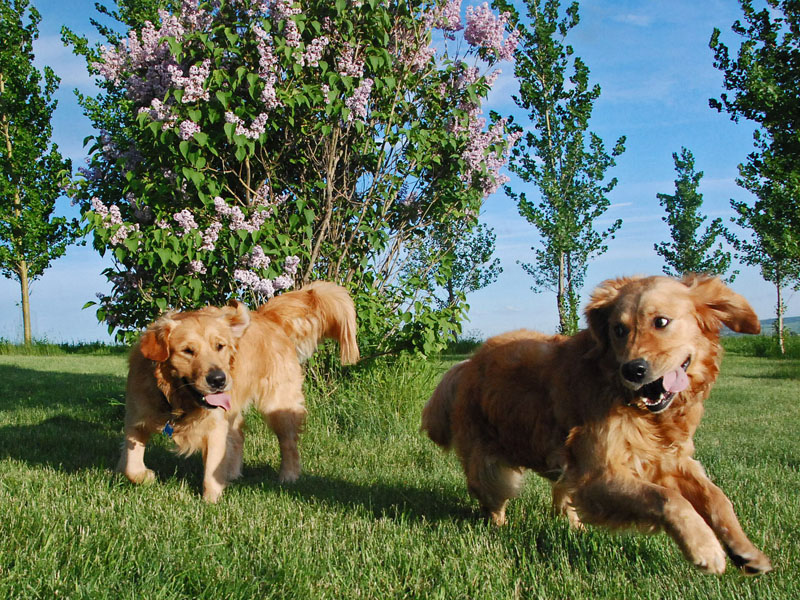 Ruby checks her six as Pete closes in . . .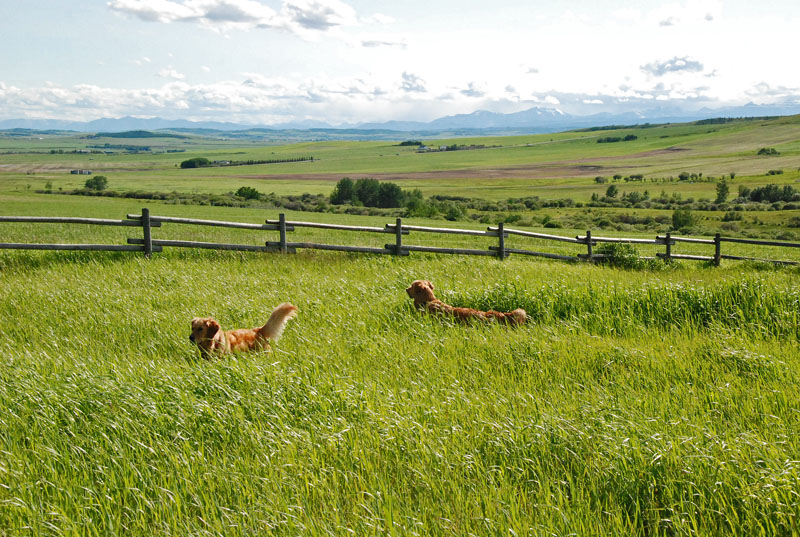 The grass gets taller and taller . . . . the prairie beckons them more and more every day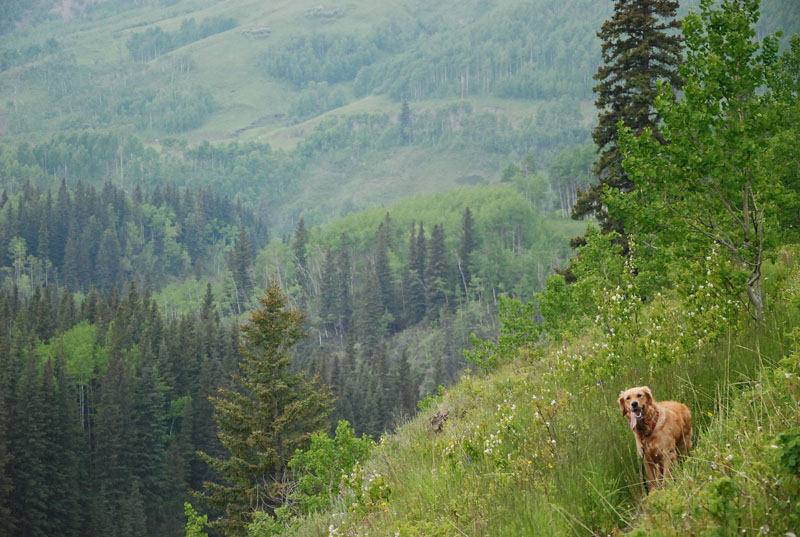 Ruby on an adventurous walk . . . .
"My God, what have you done . . . . .!!!," says Pete in this normally peaceful scene. Ruby turns away, guarding a baby bird she had caught, still in her mouth here. The outcome was unfortunate. As they gradually discover the wonders of their newfound freedom on the vast prairie . . . . their curiousity is blossoming and instinct gets the better of them.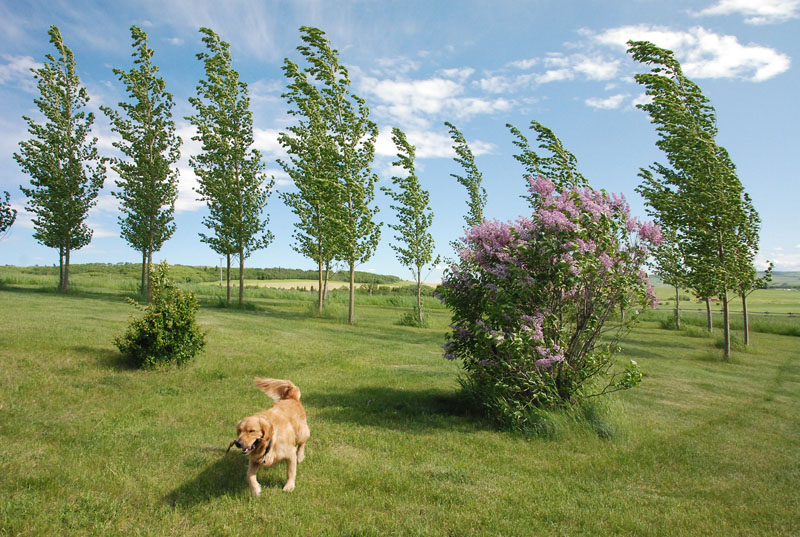 Pete captures a stick on a windy day
Pete and lilacs . . . .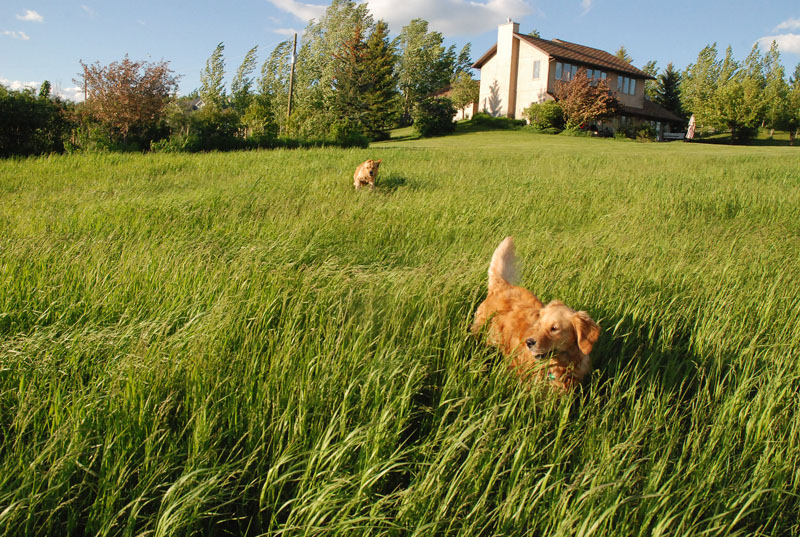 Starting to feel like home for Ruby, now in her fifth month with Rick and Carol . . . . . and a charging Pete coming up behind, now at about six weeks.
Mid June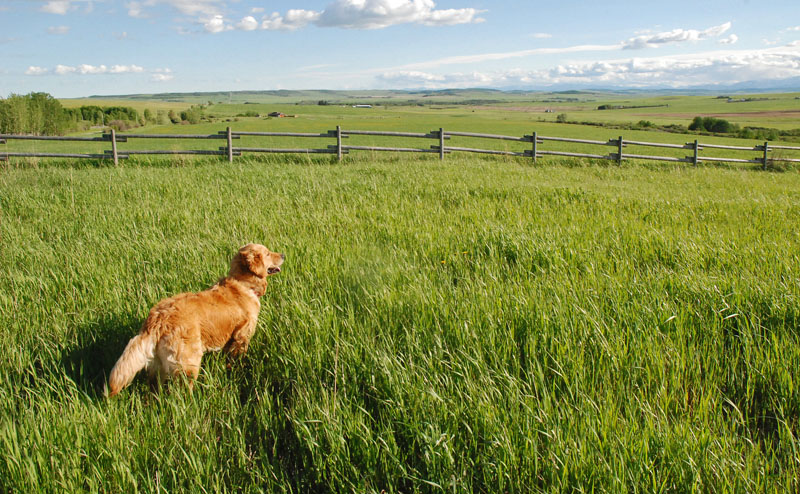 Ruby at her home on a late Spring day . . . . .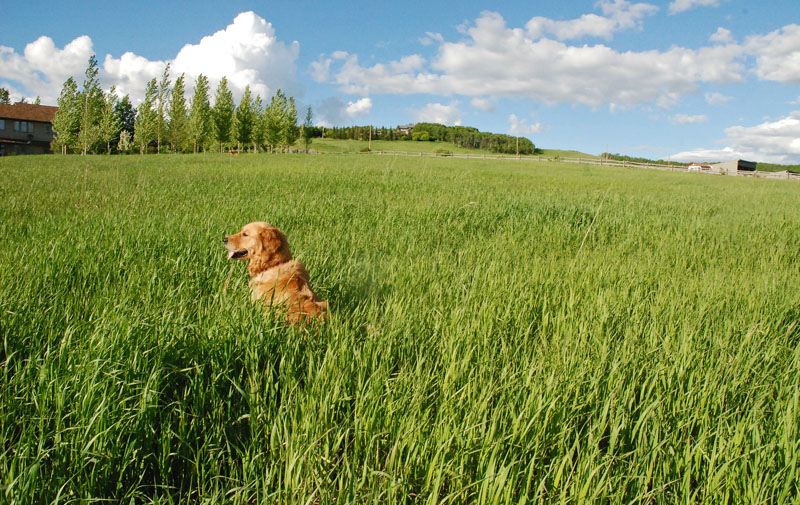 . . . . . and sitting in the field, the grass growing around her . . . . .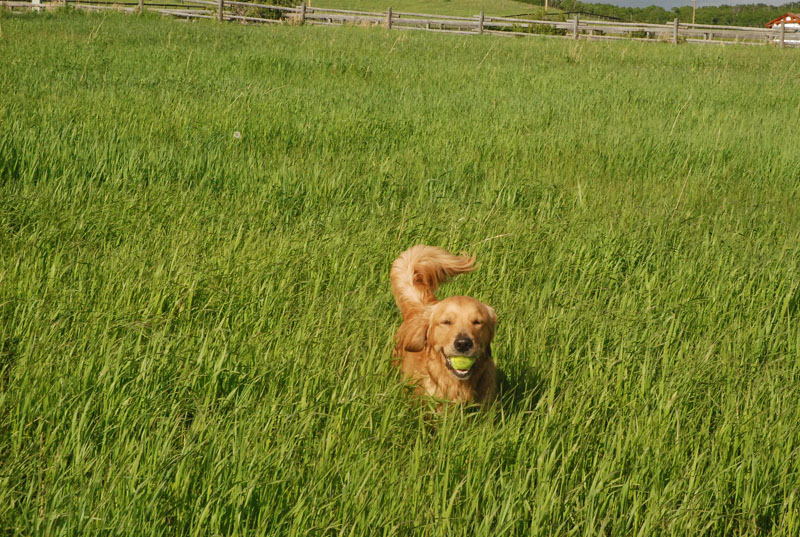 . . . . . and we have to teach Pete not to leave green tennis balls in the green fields . . . .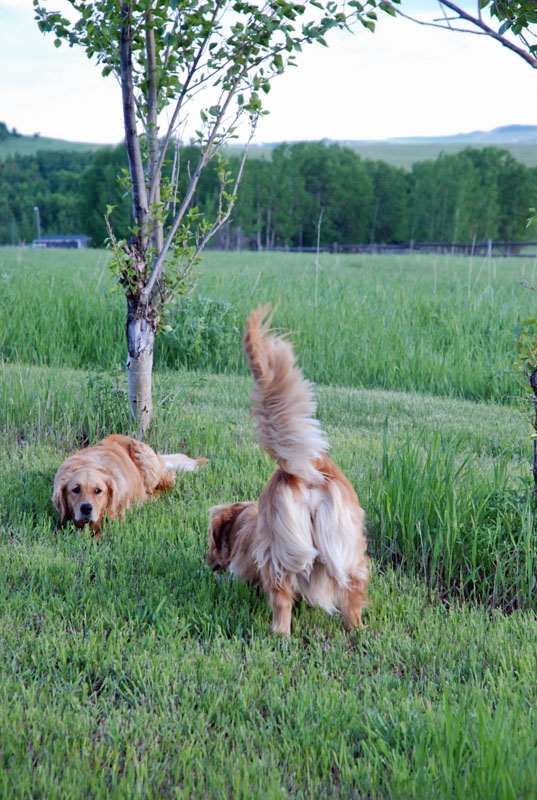 Ruby has a staredown with Pete . . . . .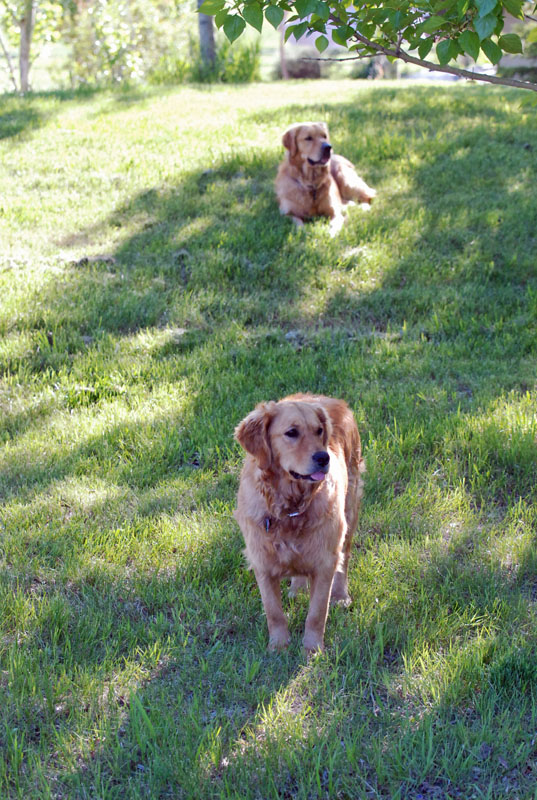 Ruby and Pete . . . . . a shady moment at home . . . .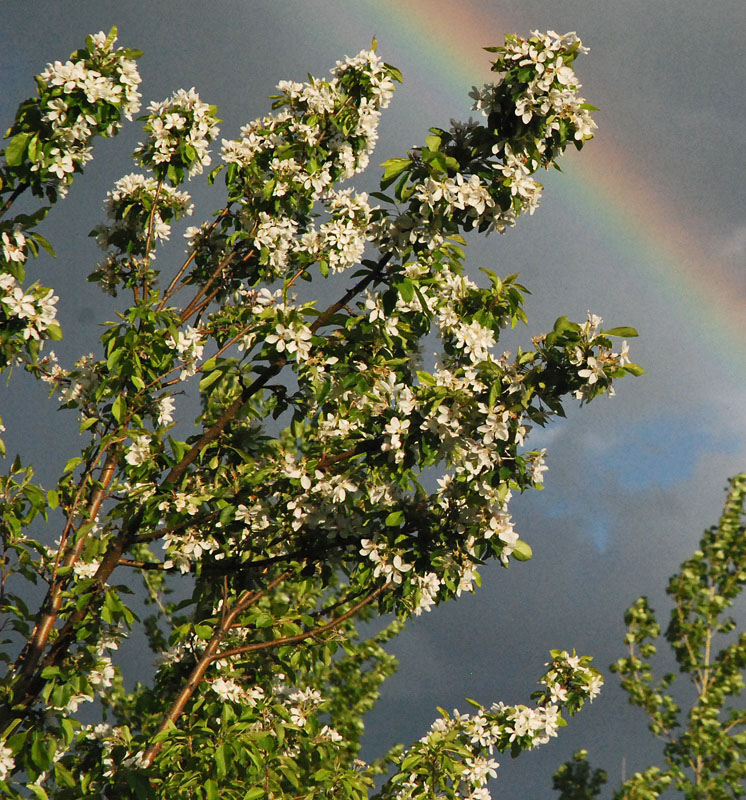 In the Spring . . . . after the storm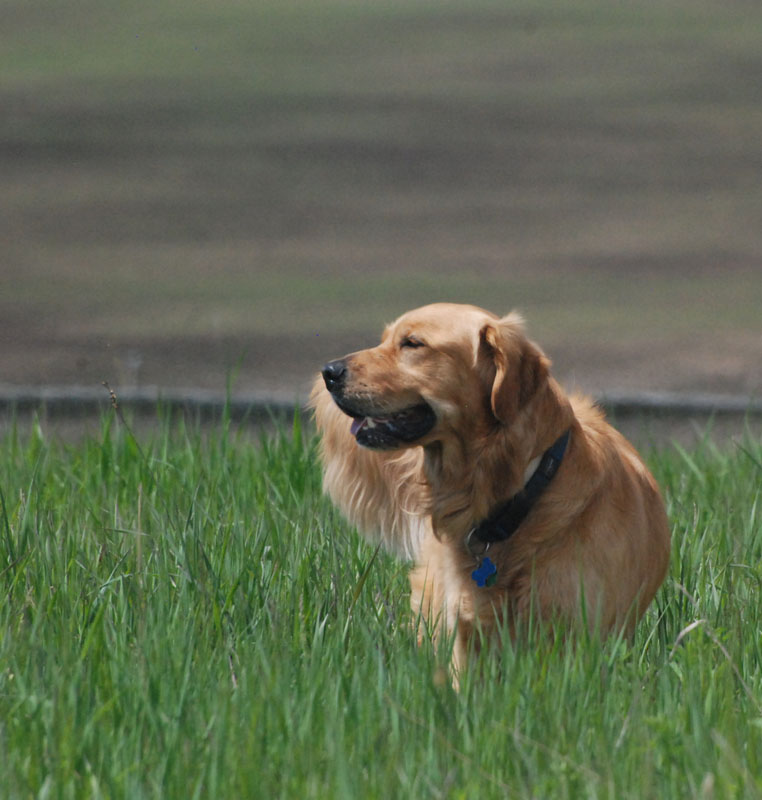 Portrait of Pete . . . . .
Early June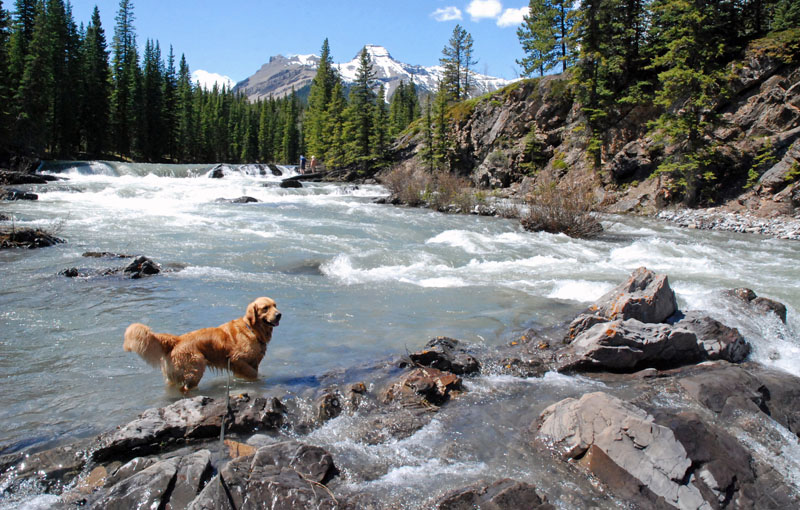 Pete on the Sheep River, opposite Bluerock but accessible on this side only down the Sheep Trail with a 40 minute walk and then some bushwacking since there aren't any signs for this lovely spot. Don't worry, the human had a firm grip on his leash to keep him out of trouble.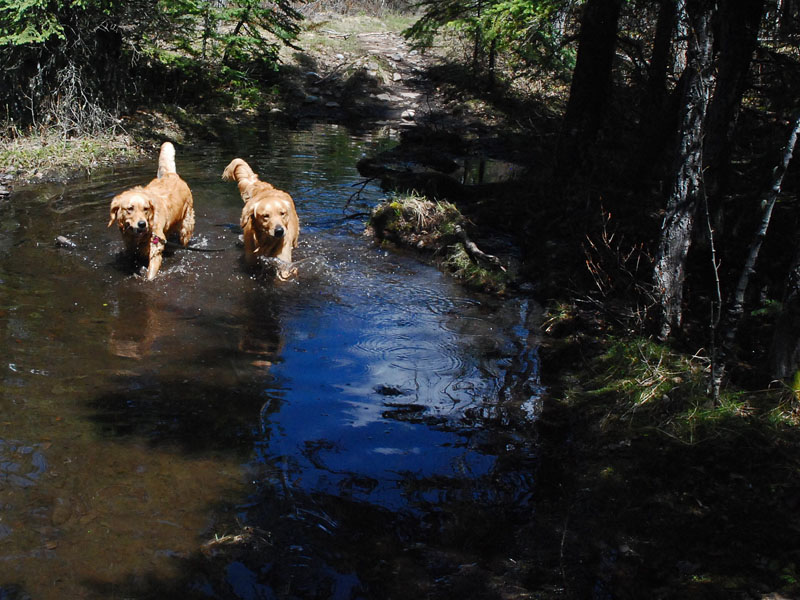 Ruby and Pete sloshing along a very mucky trail . . . . and snow still lingering in the shadows here.
Summer is coming . . . . . Pete and Ruby. They had been mining for rodents in the field and the hole suddenly turned into a great, sloppy puddle. The recent rain and flooding had raised the water table so high they had little difficulty finding it.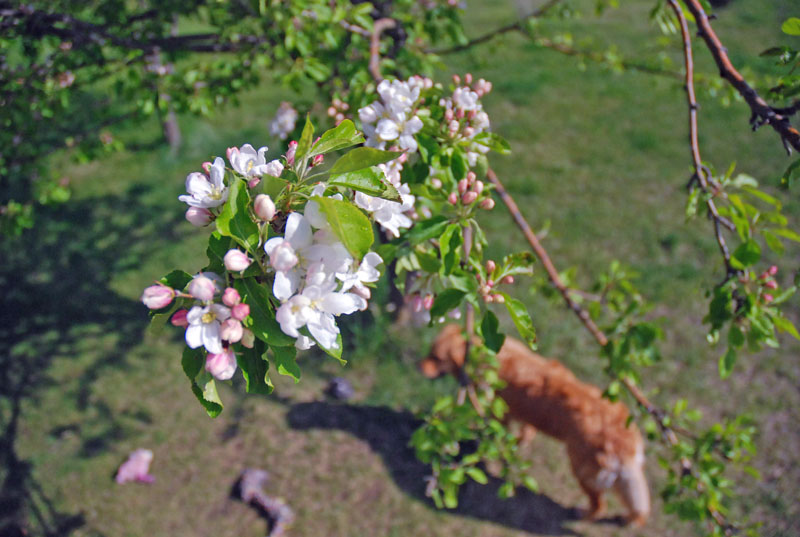 . . . . . and Spring has finally sprung, albeit weeks later than normal
Late May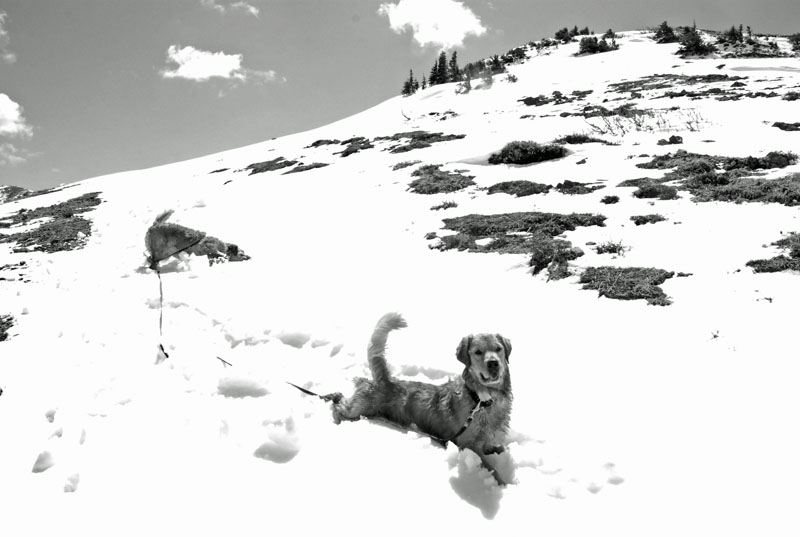 Pete enjoys some late snow, high up in the Rockies, west of Chain Lake.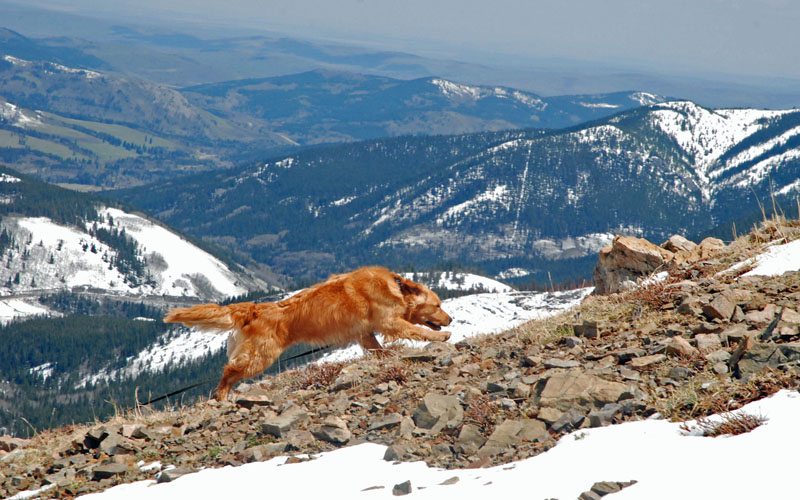 Pete on the go, rodents in the vicinity . . . . unfortunately, the human forgot his pants so at only plus six celcius with a hefty wind chill . . . . this was a shorter walk.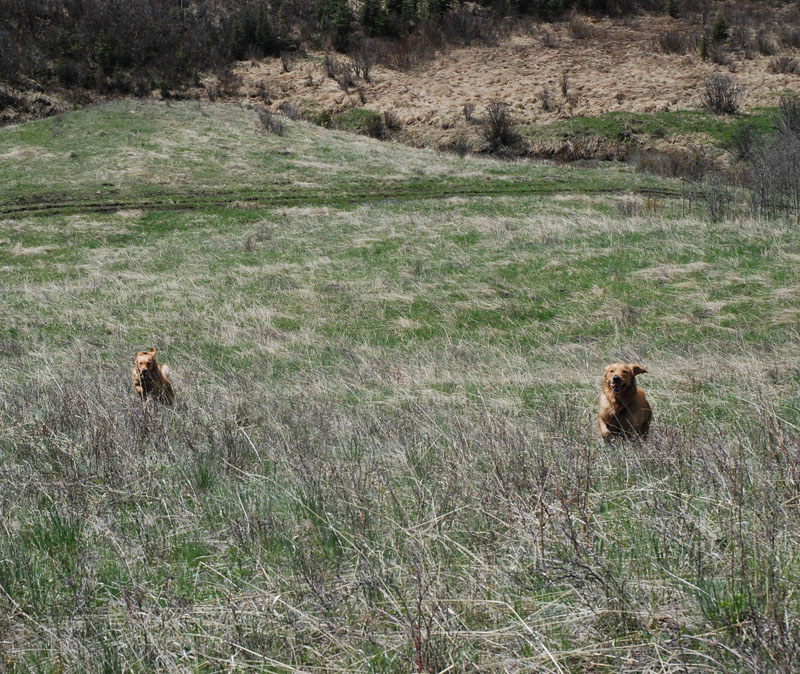 Later, lower down, Ruby and Pete continued to hustle up from a valley . . . .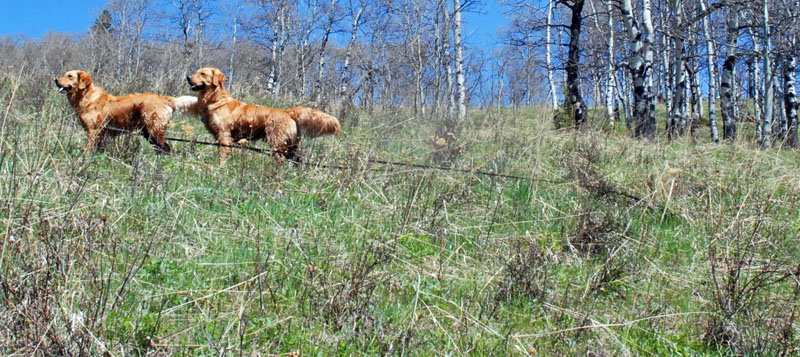 . . . . and took the time to pose . . . .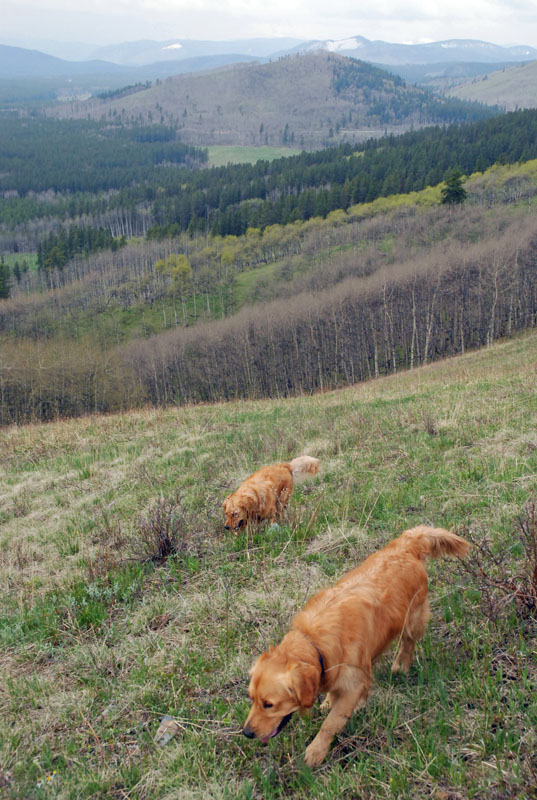 The previous day, on the move west of Turner Valley . . . .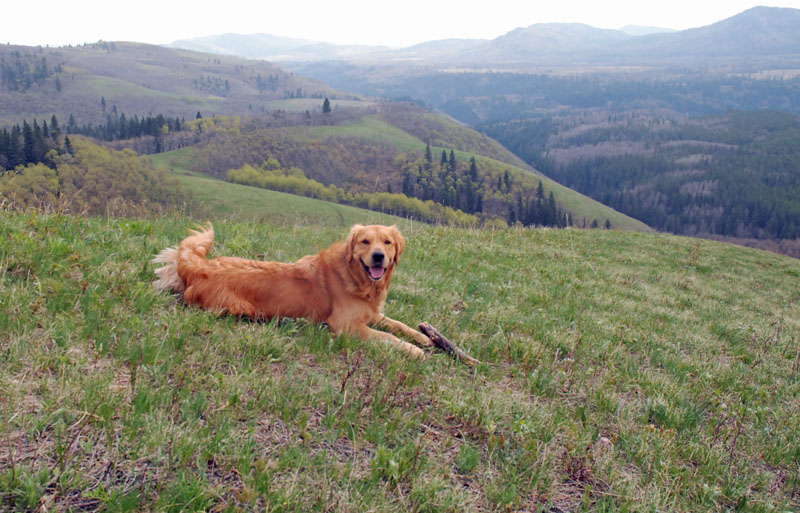 Pete chillin' out . . . .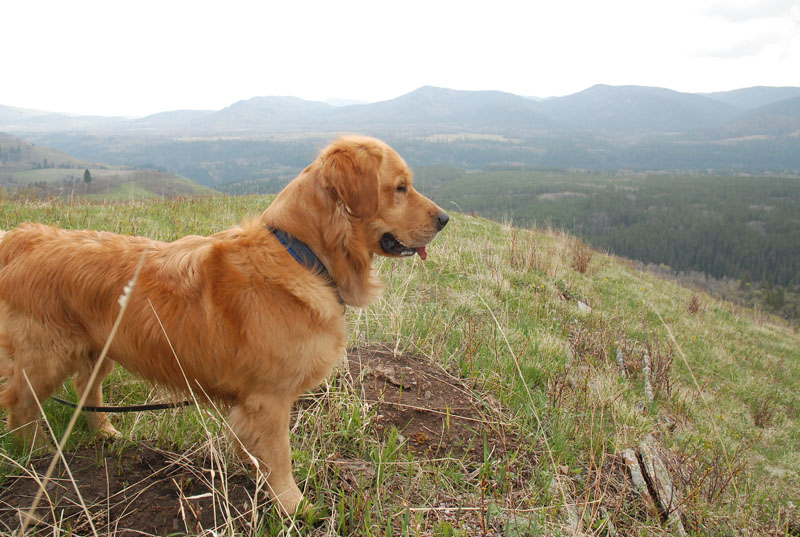 . . . . and taking in the view on a forest fire hazed day . . . .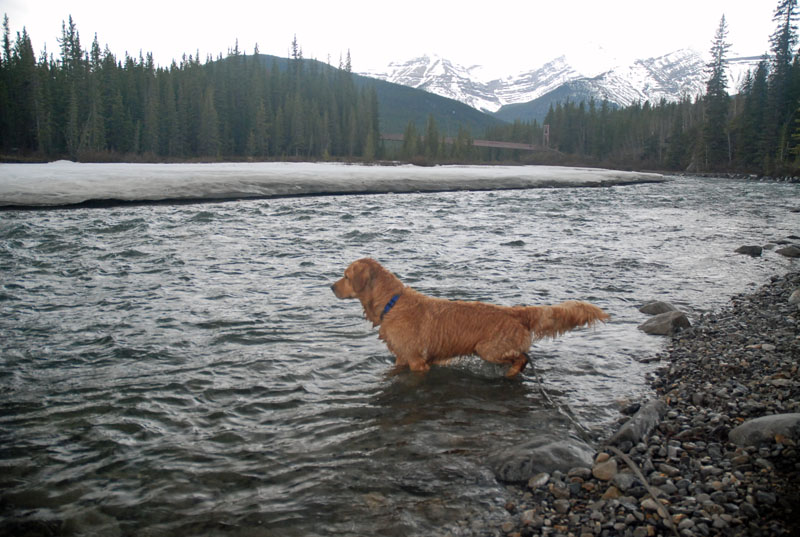 Pete enjoys a frigid moment in the Elbow River, west of Bragg Creek . . . . . a place where ice and snow still hold their own even in late May.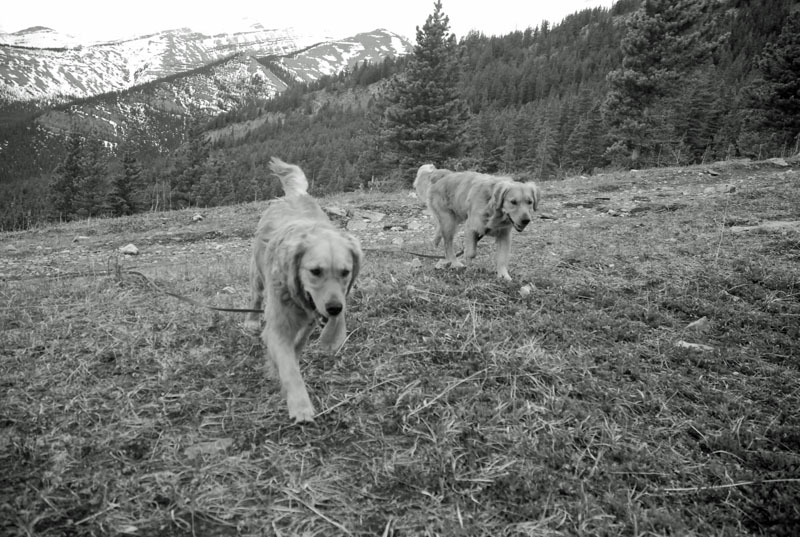 Ruby and Pete on the way up Nahahi Ridge in K-Country . . . . we got amply rained on, with a dose of hail, on this day as well.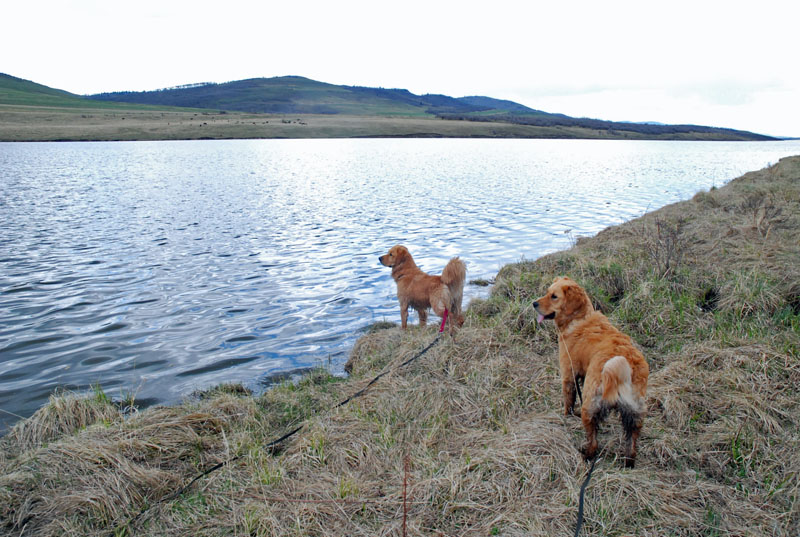 The previous day, walking the shores of Chain Lake with Pete and Ruby . . . . it was only a month ago Rick and Ruby were here in a deep snow, winter wonderland further down the lake, walking across on the ice.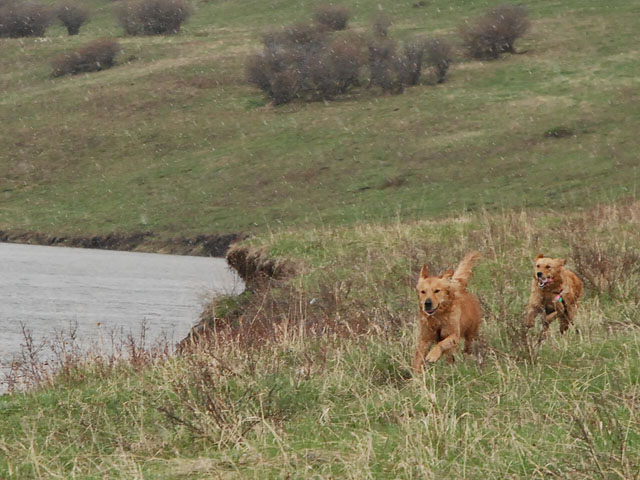 It starts to get ugly . . . . . Pete and Ruby running in the rain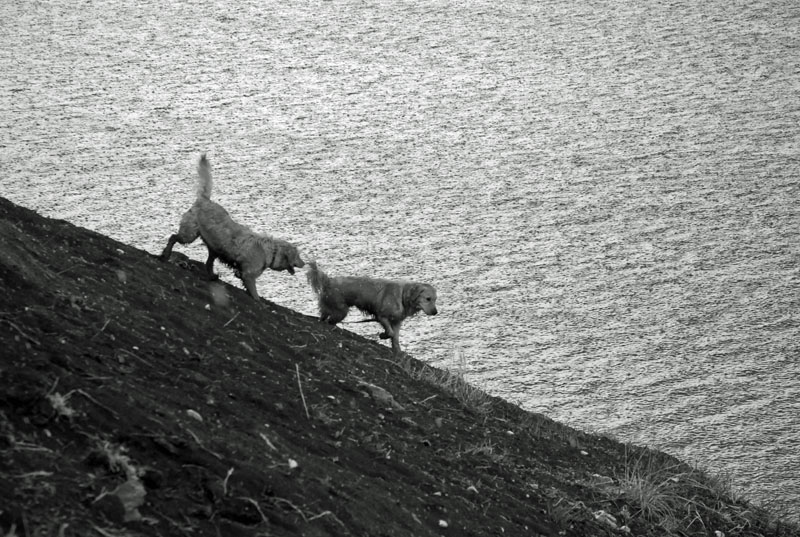 . . . . and uglier still as the downpour picked up . . . . .but they were having too much fun to head back just yet . . . . .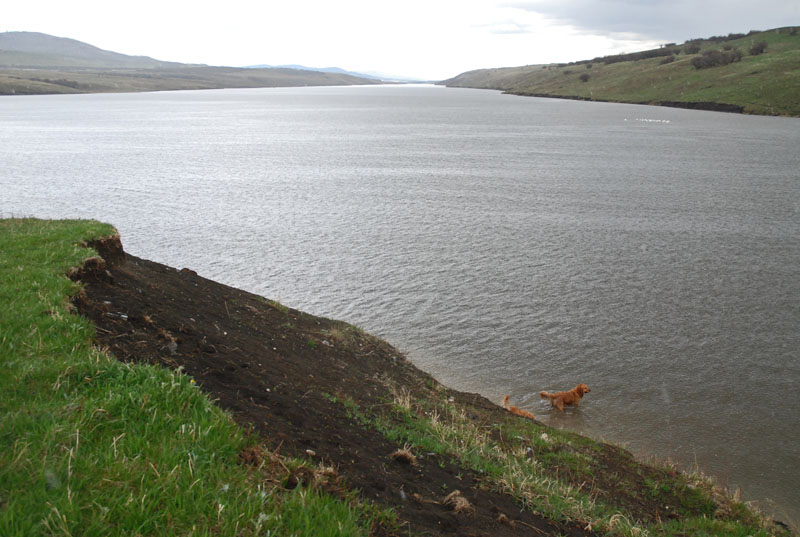 One of Abby and Keeper's favourite places . . . . . and now the same for Pete and Ruby. The human waited too long before turning around and it was about 45 minutes back to the vehicle in a downpour. Didn't bother Ruby and Pete though.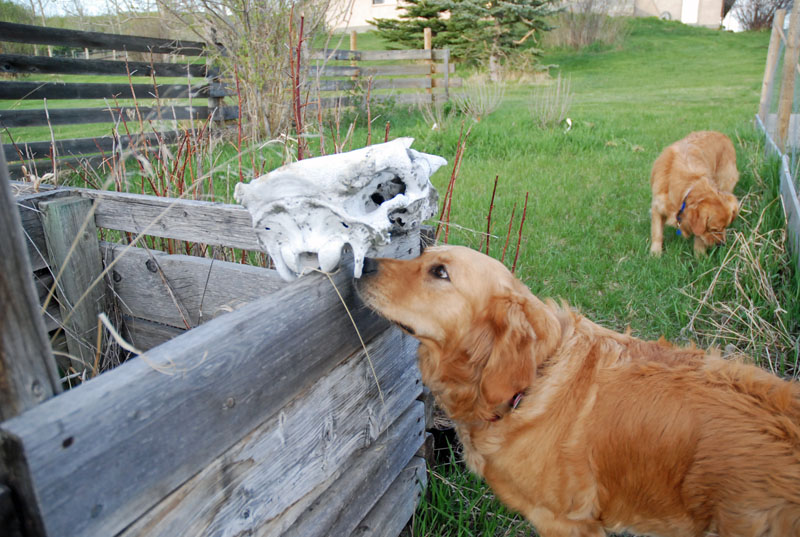 Later in the day, Ruby checks out an old cow skull at home . . . .
Mid May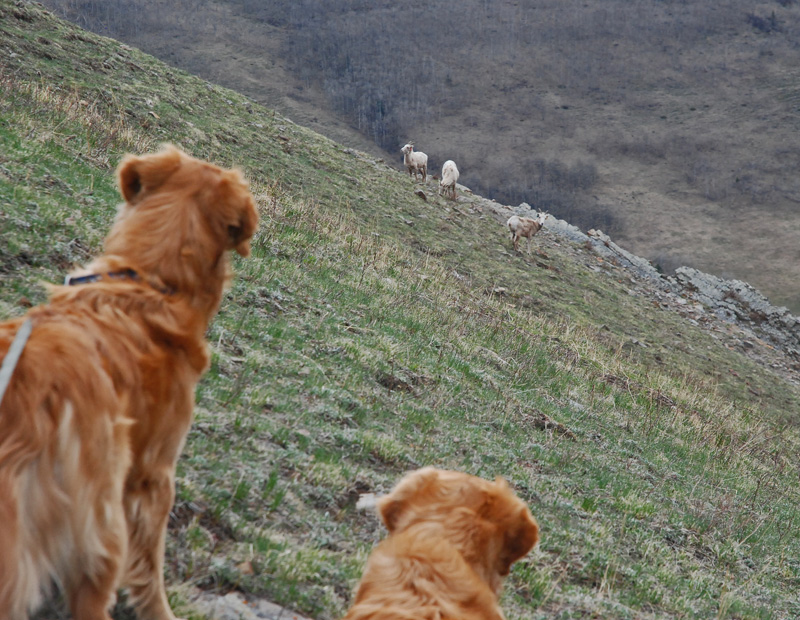 Ooooooohhhhh. . . . . . lookit dat!!! Pete and Ruby get a good look at some wary mountain goats on a mountain climb. They were safely leashed and held back. Pete was certainly itching for a chase but, this being a park, leashes are mandatory plus, the goats were on the edge of a cliff . . . . an easy escape for them but fatal for pups.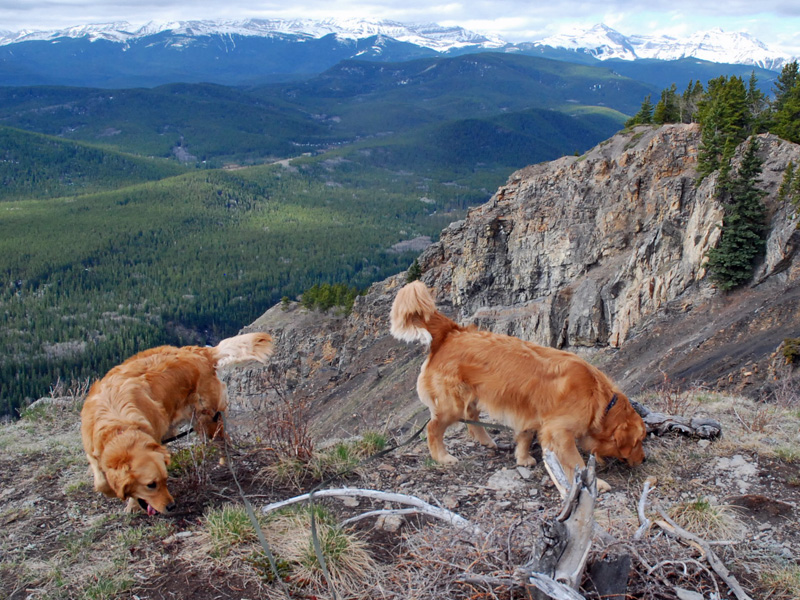 . . . . Ruby and Pete at the top of this modest, kind-of-mountain west of Turner Valley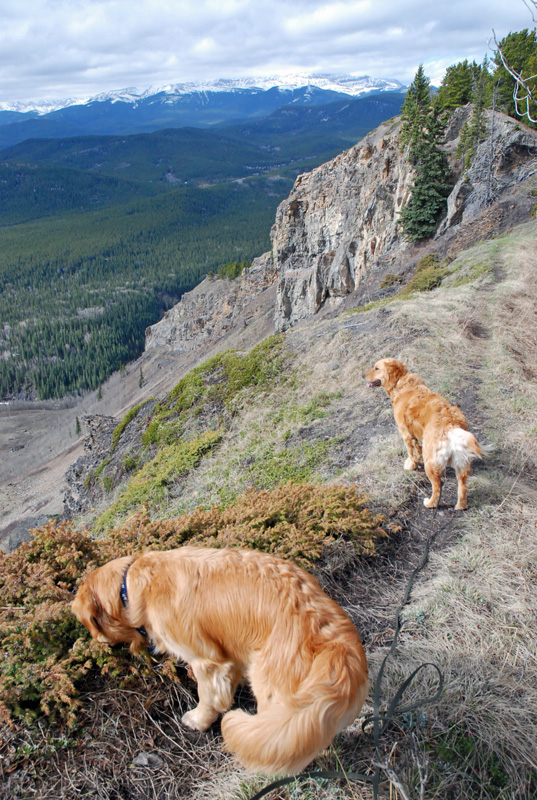 Pete stops for a sniff while Ruby, who seems to love to look out at the scenery, does just that.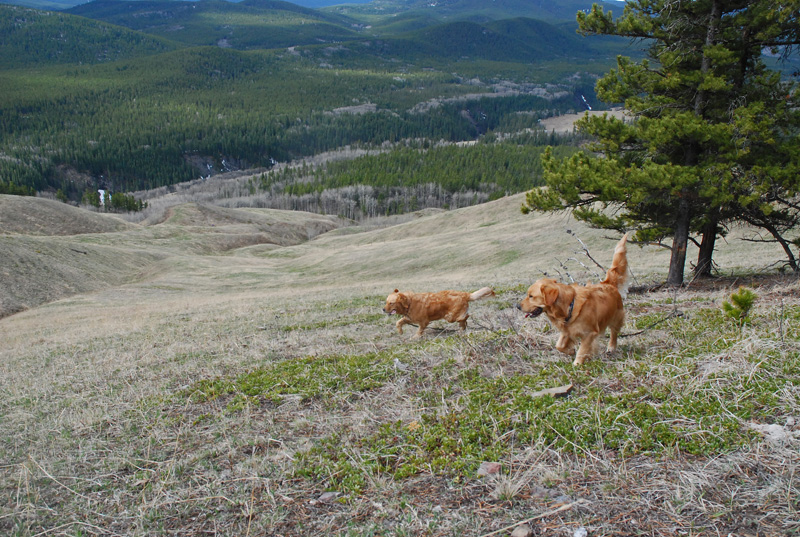 Heading home, Ruby, left and Pete.
Getting To Know You . . . .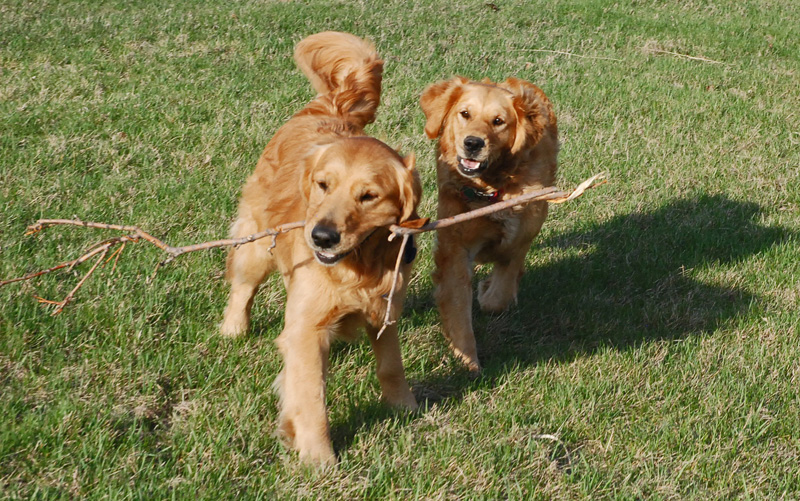 What's yours is mine . . . . . Pete's got a precious stick but Ruby closes in to forcibly share . . . . amid the greening grass of a very, very late Spring.
Gaaaaaaakkkkk!!!!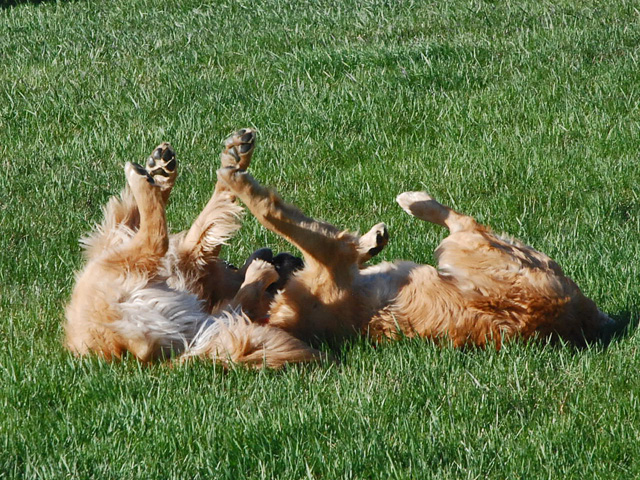 Ahhhhhhhhhh . . . . . .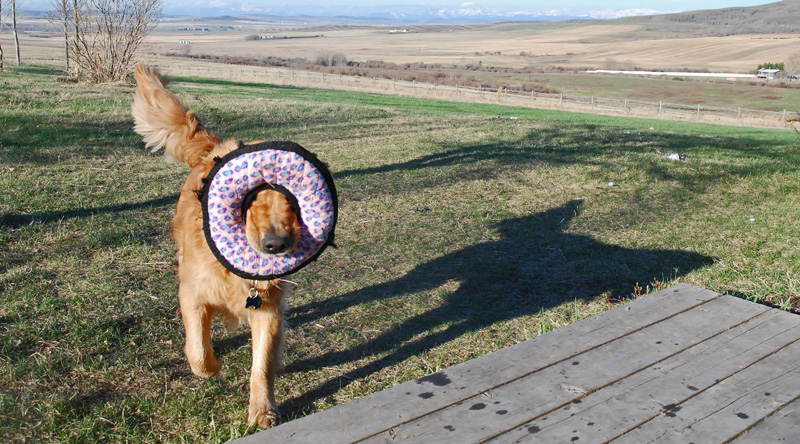 Hey Pete, watch out for that first step!!!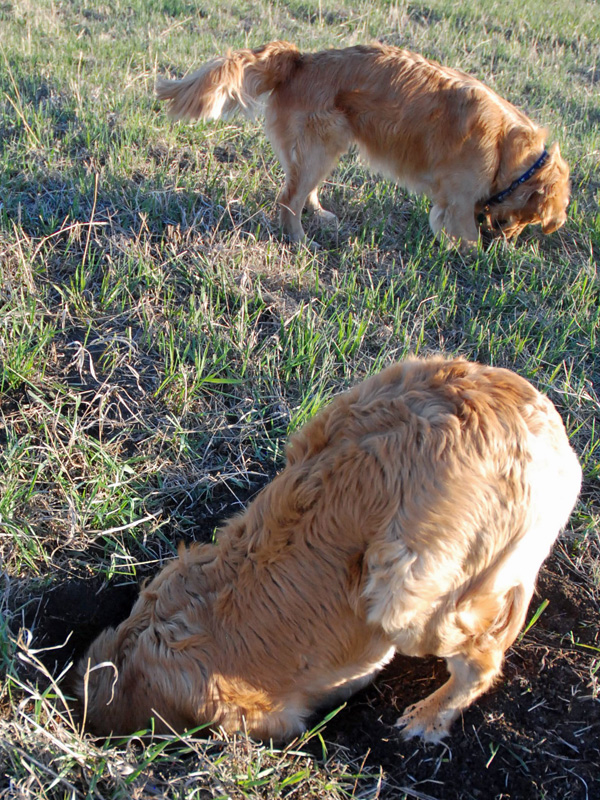 Goin' to China . . . . . Ruby and Pete love the ground thawing out after a cold, cold winter
Early May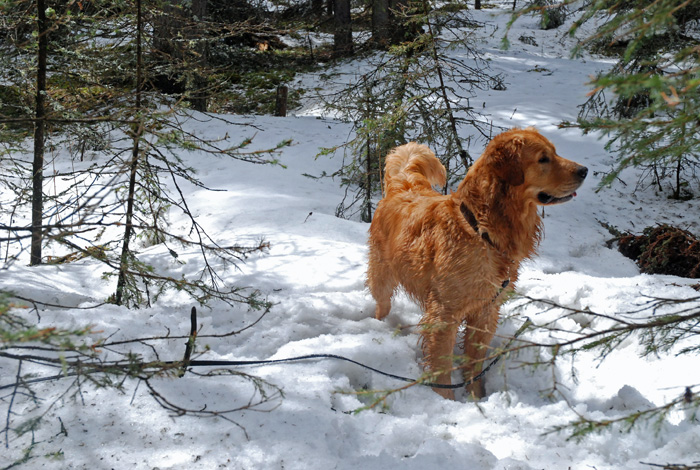 Pete finds, unfortunately, plenty of snow lingering not too far from the house in early May, in the forest of Brown Lowery Park.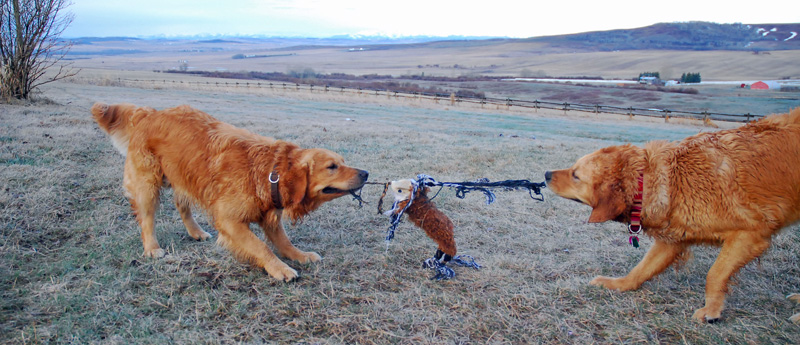 . . . . another early morning tug of war . . . . now a ritual. Which is which? Pete is on the left, Ruby on the right. Sometimes, it's hard to tell.
Introducing Pete & Ruby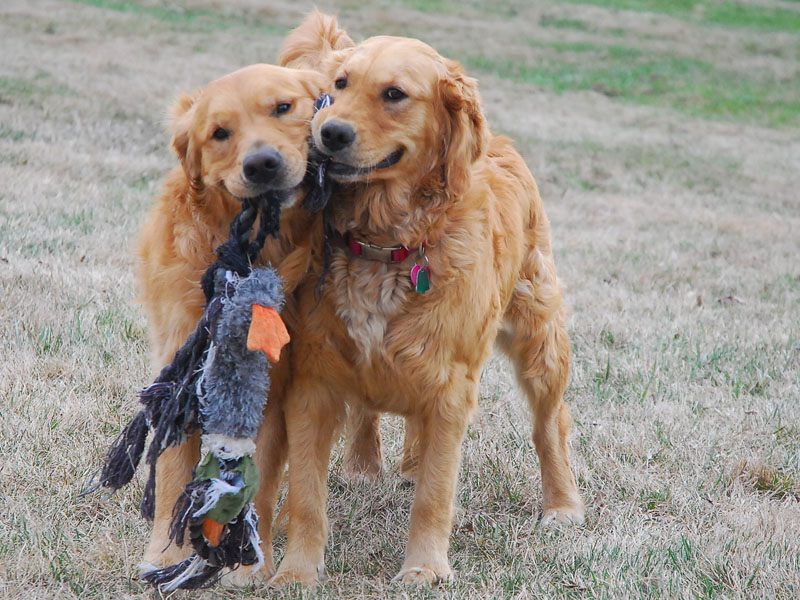 Newcomer Pete is still discussing the toy arrangements with Ruby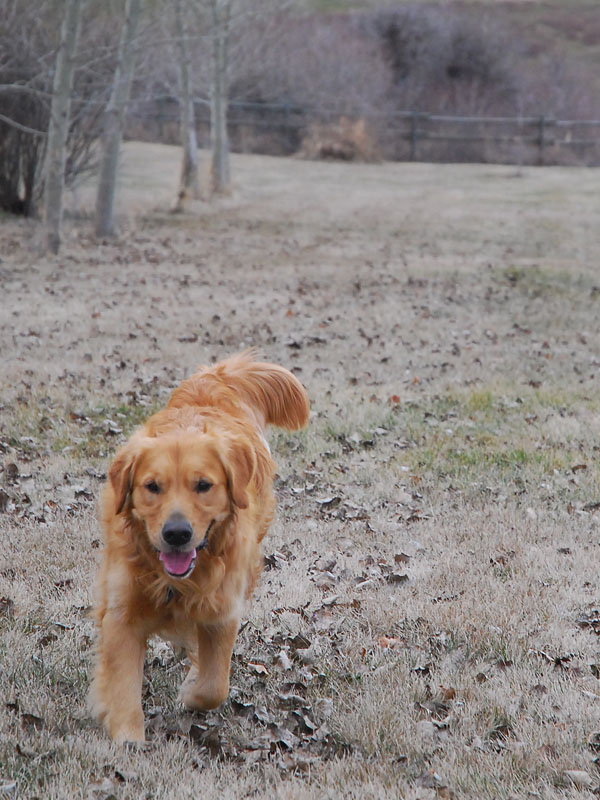 Pete gets a tour of his new home.
Pete . . . . livin' large in the country . . . .
. . . . . and introductions went very well so far. . . . . . Ruby has been very accepting and Pete is having fun.
Pete is a 2.5 years old boy and from Calgary where his owner felt she wouldn't be able to devote the time to him he might need in the future. She came to visit and Pete decided to stay.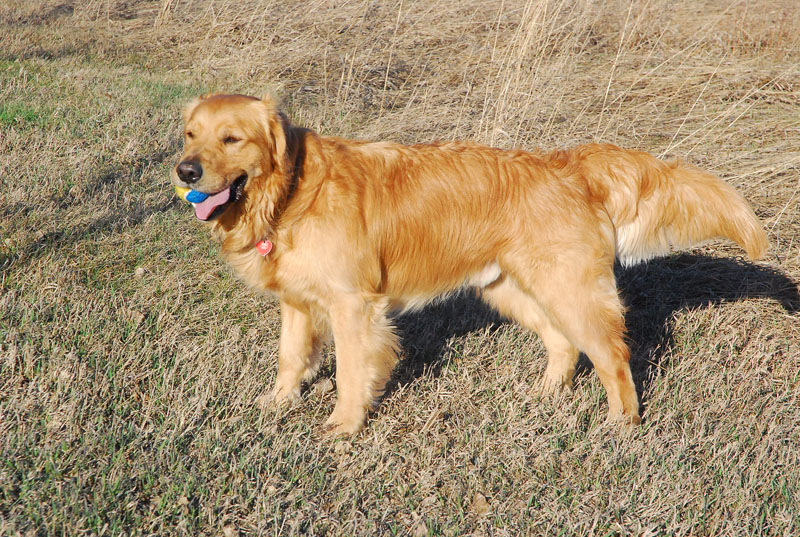 Pete - formerly Tate - is a beautiful boy . . . first introduction to the fierce Polly went well. Pete merely gave her a curious glance and kept his distance which, in Polly's case, is good for his health.
End of April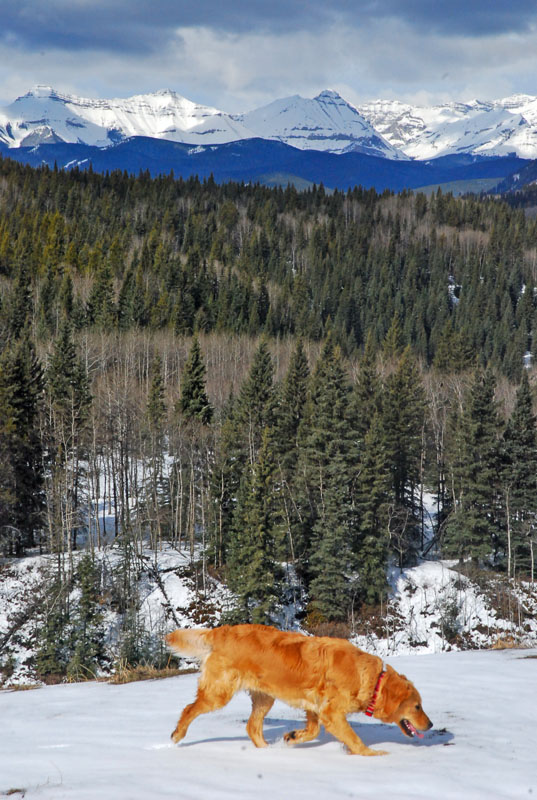 Fresh snow out west . . . . .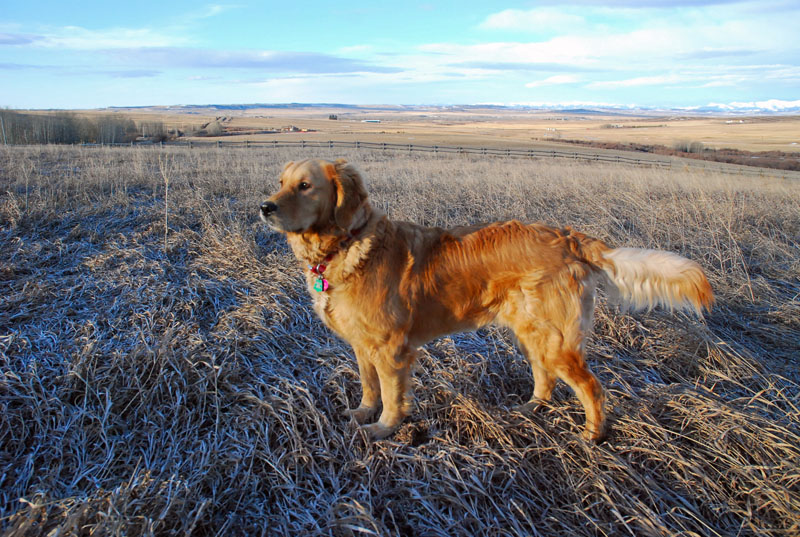 . . . . but, at last, no snow at home, with some greening grass starting to appear . . . . . it turns out Ruby is a furious little digger, which is okay out in the 2.5 acreas of tall grass but we'll have to teach her to respect the 1.5 acres we've reserved for lawn. Ruby is also, apparently, not a killer so far. She found a helpless and stunned Robin that had bonked its head on the window, nudging it with her nose, sniffing it. Gramma Kay moved the Robin to a safer place and it eventually flew away. Ruby is also reticent to go exploring in the pitch black of a country night, unless led by a human, wary of any deer enemies that might be lurking and ready to pounce on her we suppose.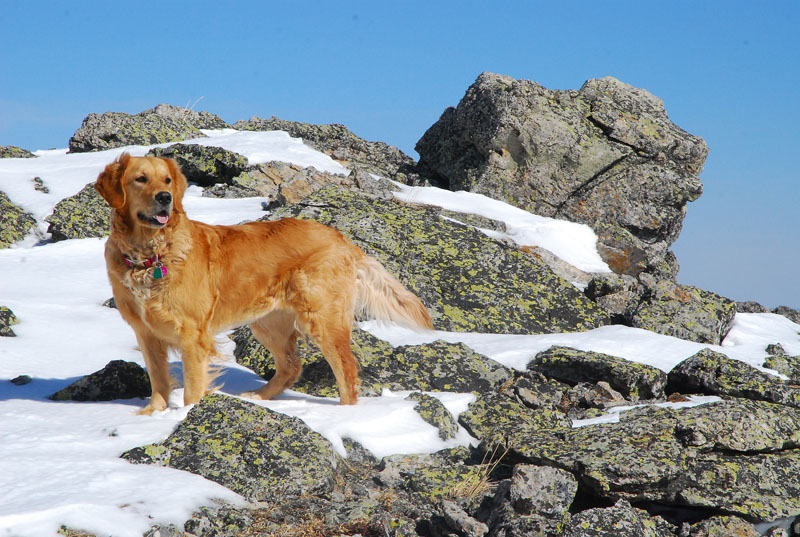 Ruby . . . . . growing up and climbing high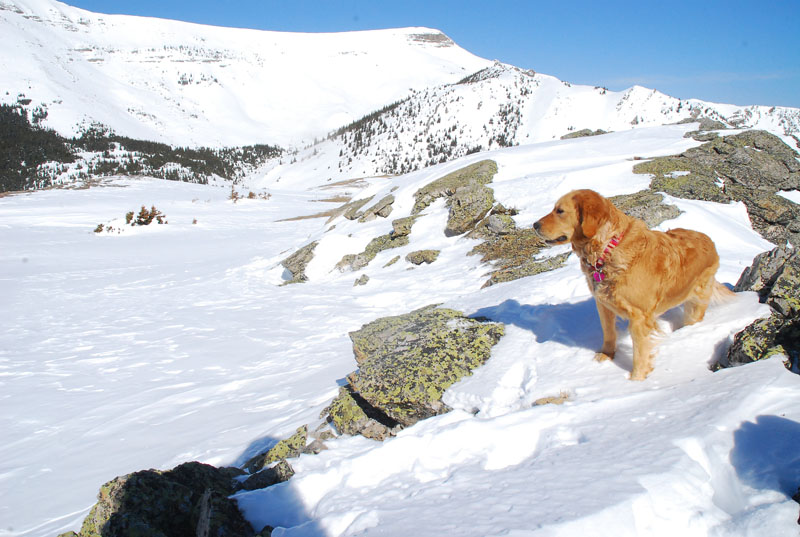 . . . . still below freezing, breezy and very snow in this place
. . . . . but the great melt has started at last out on the prairie . . . .
Mid April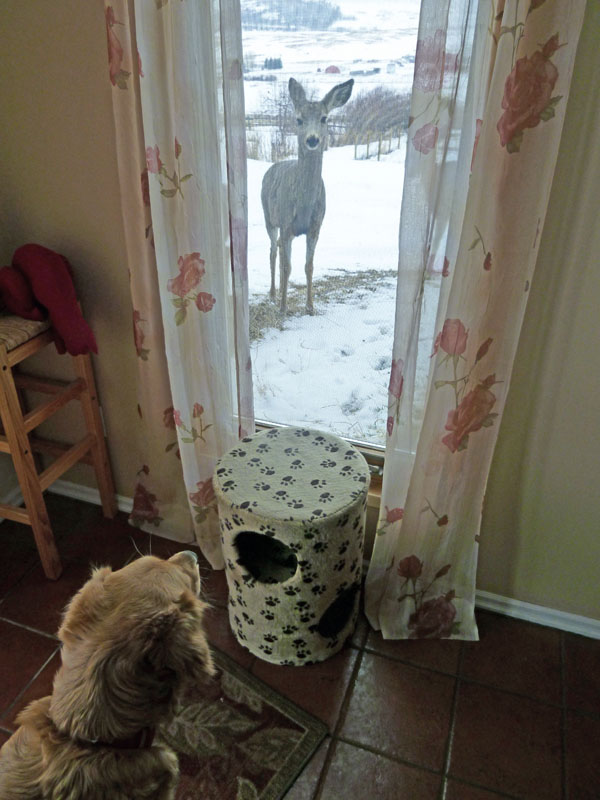 Woof
Early April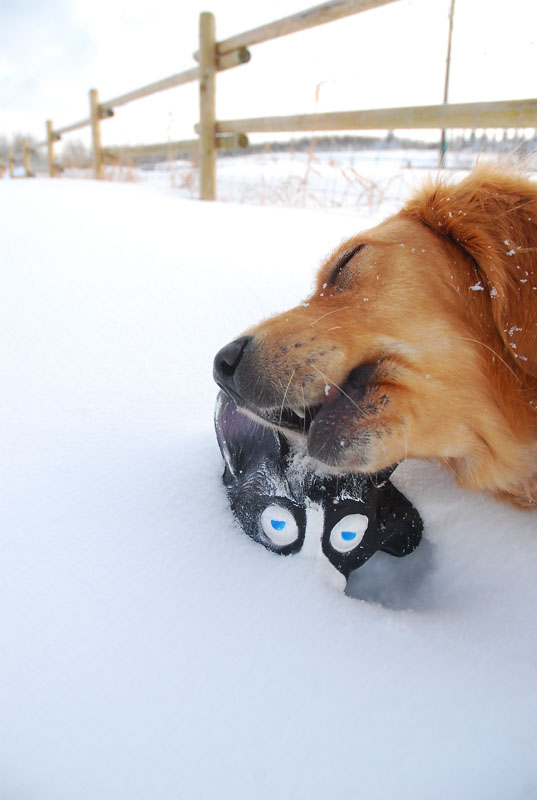 "Kitty," our cat garden gnome, is once again buried up to his/her eyeballs in snow but now also suffering under the thrashing jaws of Ruby. "Kitty" has been with Rick and Carol for more than 20 years and Ruby is the third dog to try and chew his/her left ear off (never the other ear). Ruby got a good sized chunk . . . . . but "Kitty" is a survivor.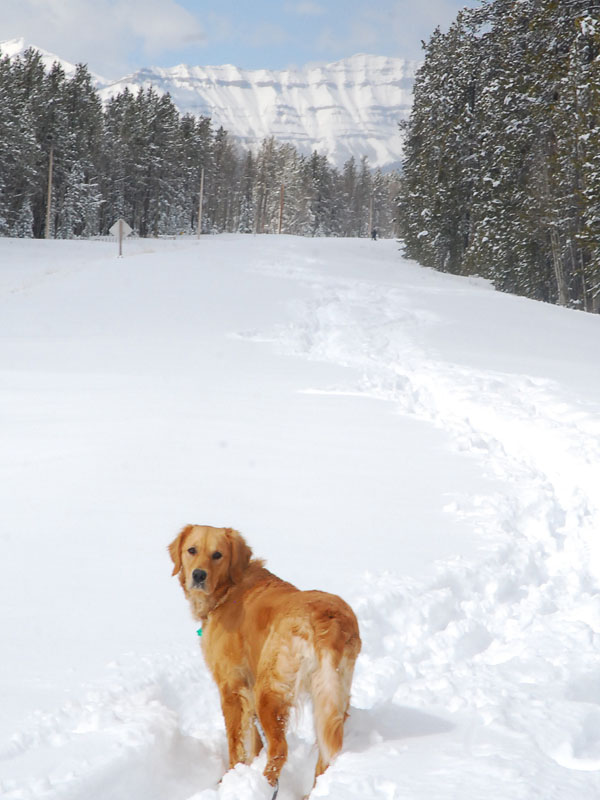 Following a meandering snowshoe trail, Ruby does some highway walking west of Turner Valley. Tough sledding after the big dump of fresh snow.
New Ruby . . . . she's been with us a few months now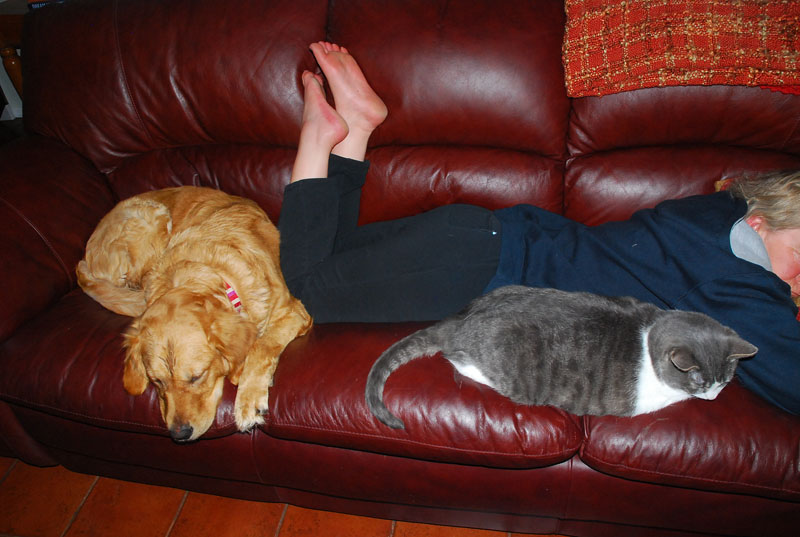 . . . . . enjoying new family . . . .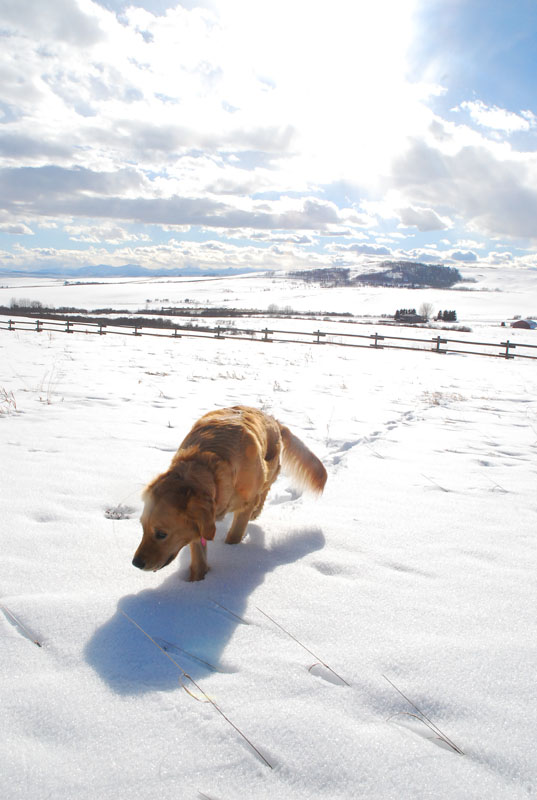 Bright days, shrinking snow pack . . . . . and then another foot of snow came a few days later!!!
Wooof!! What's down there!!
Ruby is discovering small things live under the snow, hence the attentive stride, ears listening carefully. Unfortunately, she seems to have little outdoor experience, even at 1.5 years of age, given she believes there is a high percentage chance she can catch sparrows and never hesitates in an opportunity to chase them.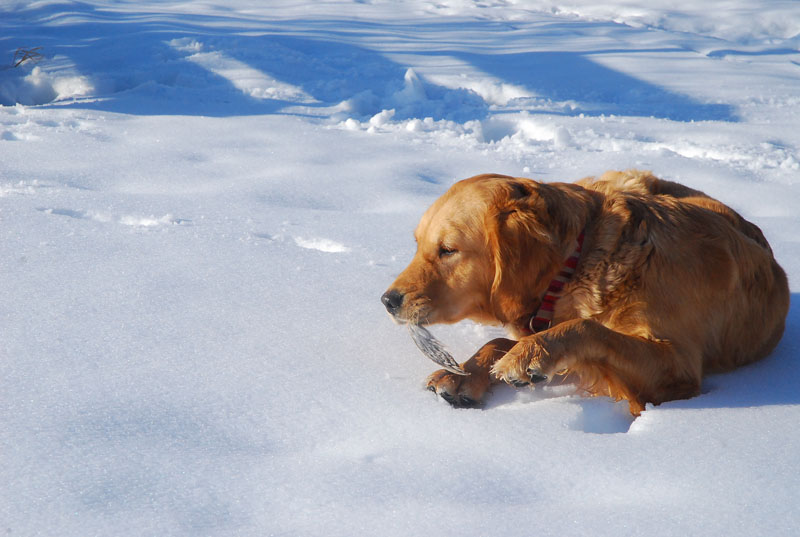 Ruby settles in with a wing she has found on a walk on our country road. As the snow gradually melts away, a winter's supply of body parts begins to unveil itself.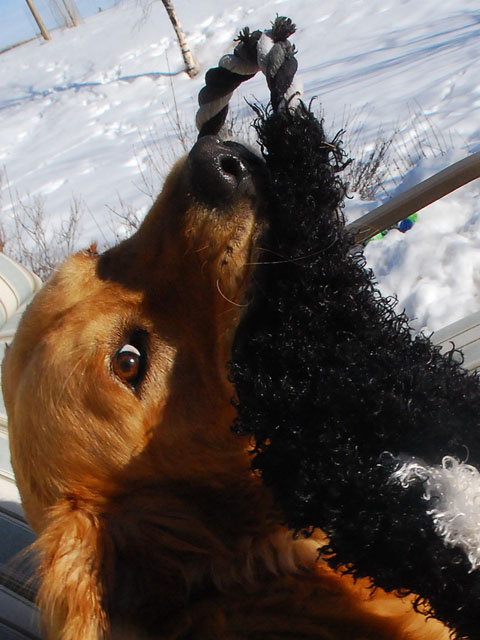 Mine . . . . . all mine!!
Late March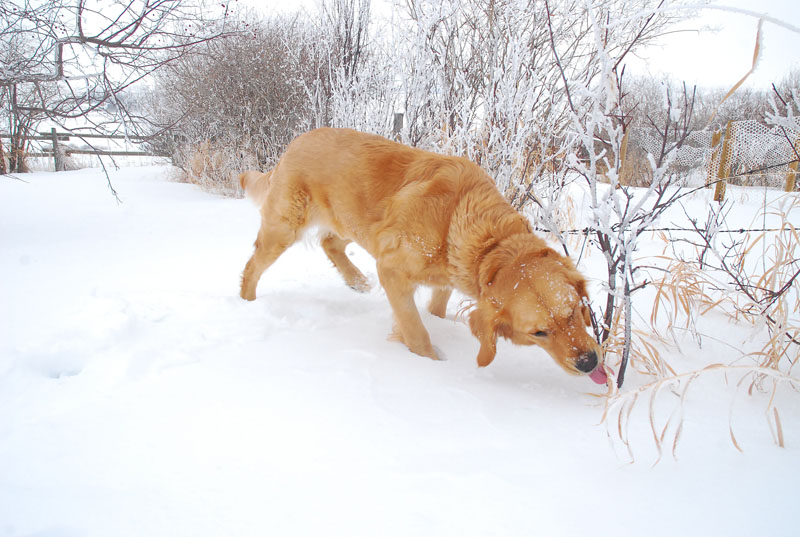 Just wait until the grass turns green - if it ever does in this never ending winter - then Ruby will have a feast. And yes, we do feed her but like any other Golden, she's a garburator just like all of her kin.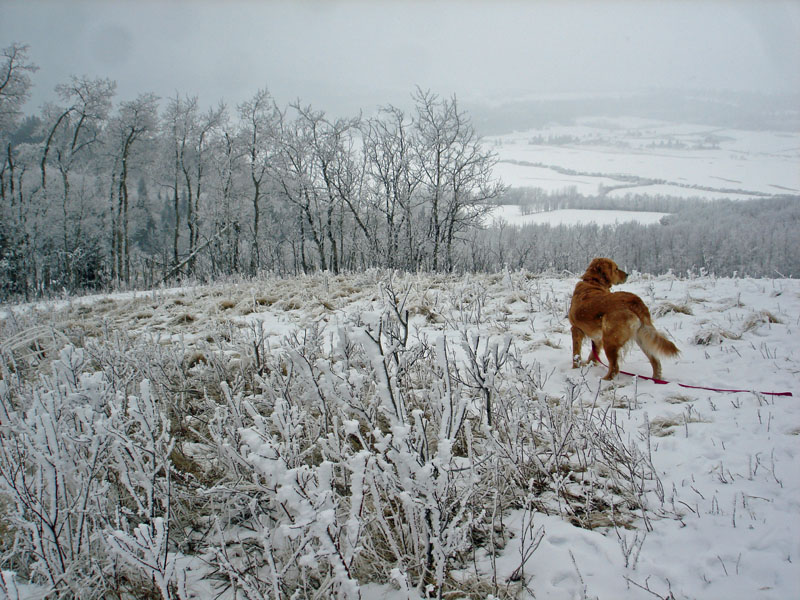 After Rick and Carol selfishly went to Hawaii for two weeks, leaving Ruby and Daisy, Maude, Skyler and Polly to stay at home with Carol's sister Bonnie, they returned from paradise to find the weather hadn't improved much, still rudely dull, grey, foggy amidst a horribly extended winter, even though Ruby continued to enjoy jaunts like the above.
Seconds after this picture was taken, Ruby passed an important test when about six deer ran from the trees just ahead. Ruby stayed on command and didn't give chase.
Where art thou, oh Spring?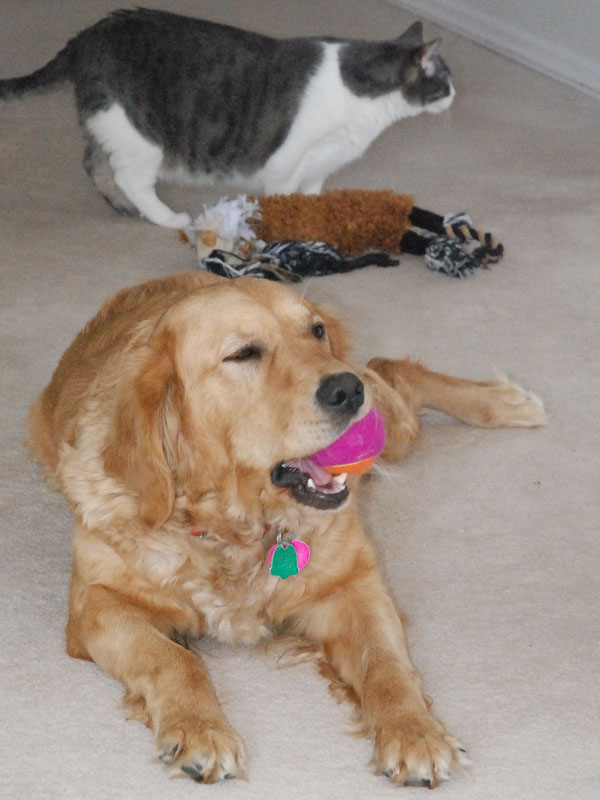 . . . . . and settled easily inside, with Skyler wandering by behind . . . .
Early March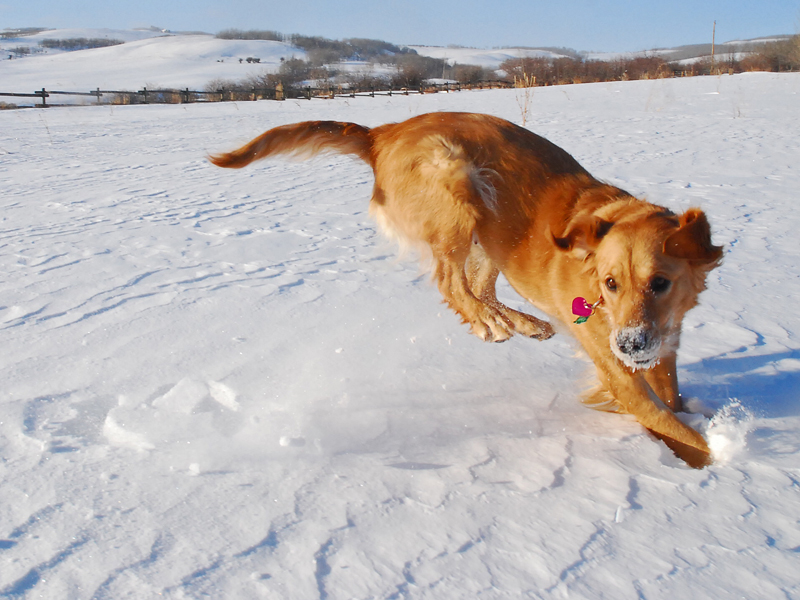 Run, run, run, screeeeeeech to a stop!!! Ruby has lots and lots of energy . . . .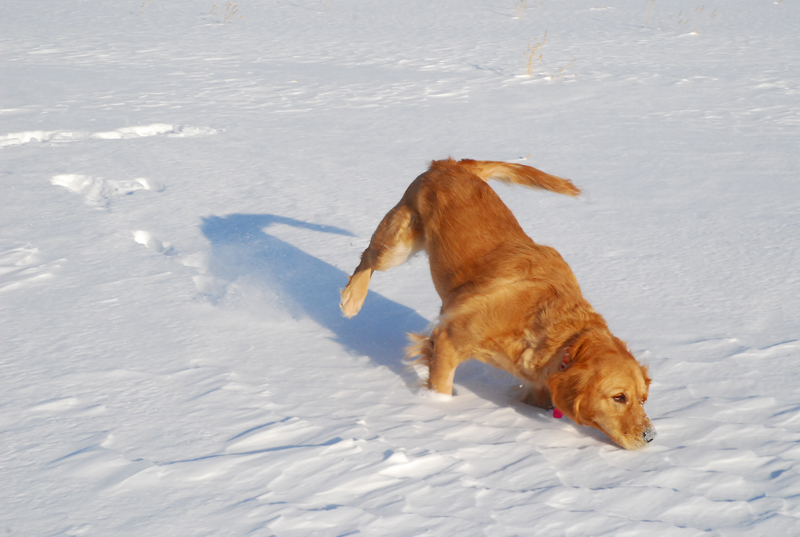 Nose to the wind-blown snow, Ruby sniffs intently for squirmy things - like mice - hiding underneath . . .
. . . . . the persistence of a brutally cold winter is getting everyone down . . . .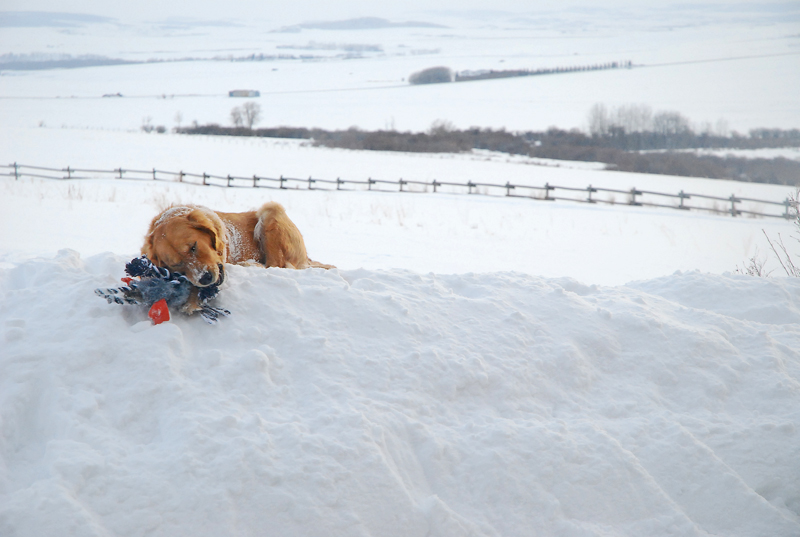 . . . . . . although there's always a toy to chew, no matter how high the pile of snow or cold the temperature . . . .
Late February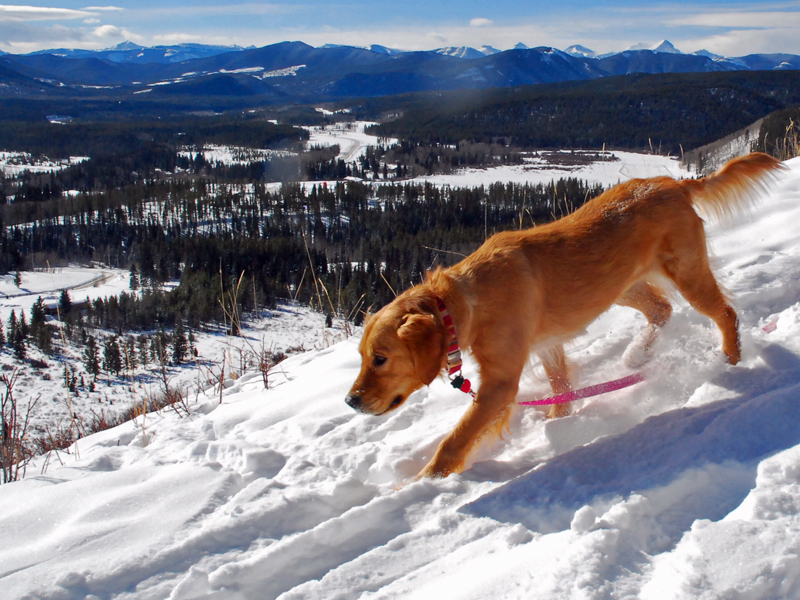 Slippin' and slidin' with Ruby, west of Bragg Creek in Kananaskis Country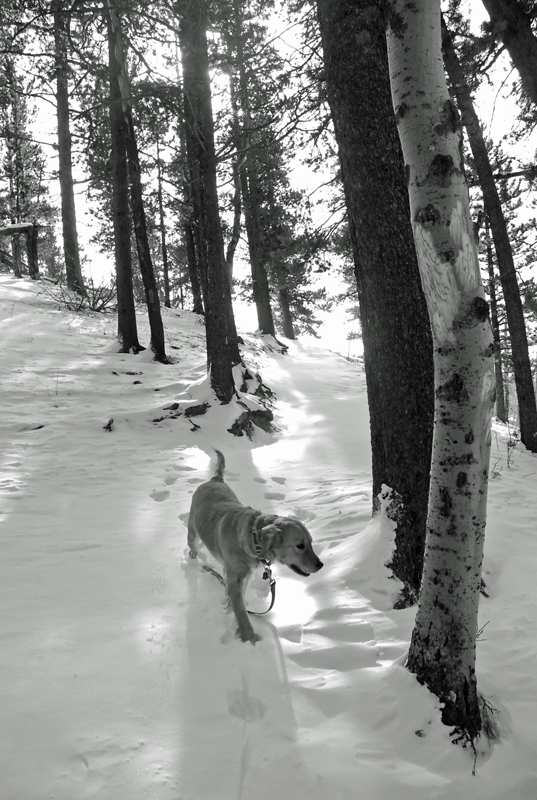 In the sun-speckled woods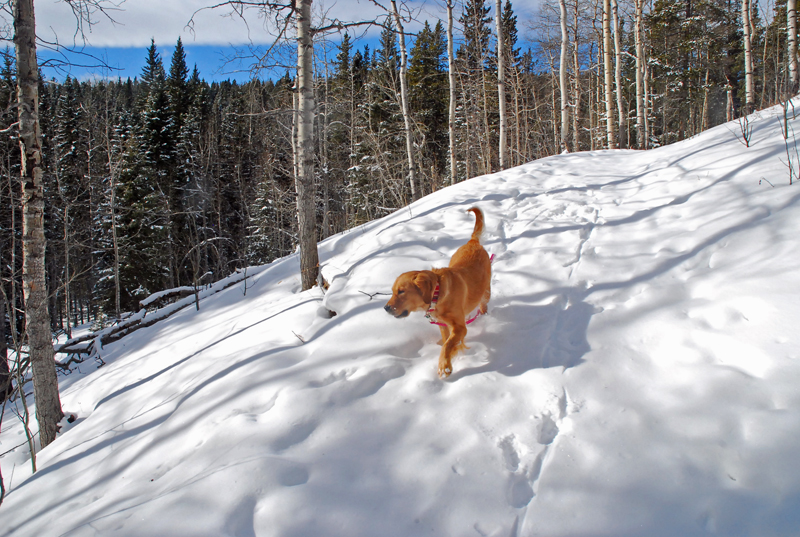 . . . . there is always something to investigate. Ruby was better this day with commands when trailing her leash and, thanks to the techniques of Cesar Millan, a pretty good doggy when walking closely, useful on a walk like this where a dog pulling you down a steep, icy slope is not recommended!!! She's done very well at the local dog park but still gets too excited when meeting another dog on the trail, something to work on as we get to know each other. And she saw an intriguing and cheeky squirrel this day after some heckling from a pair of Camp Robbers.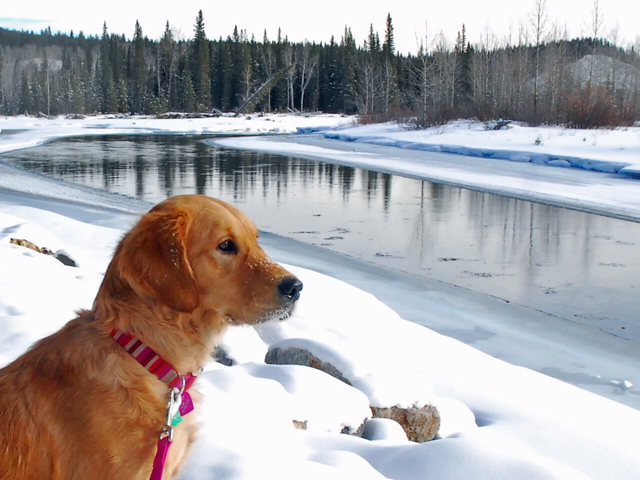 No matter the temperature - and it was 30 below zero the day before - this stretch of the Elbow River is mysteriously always free of ice.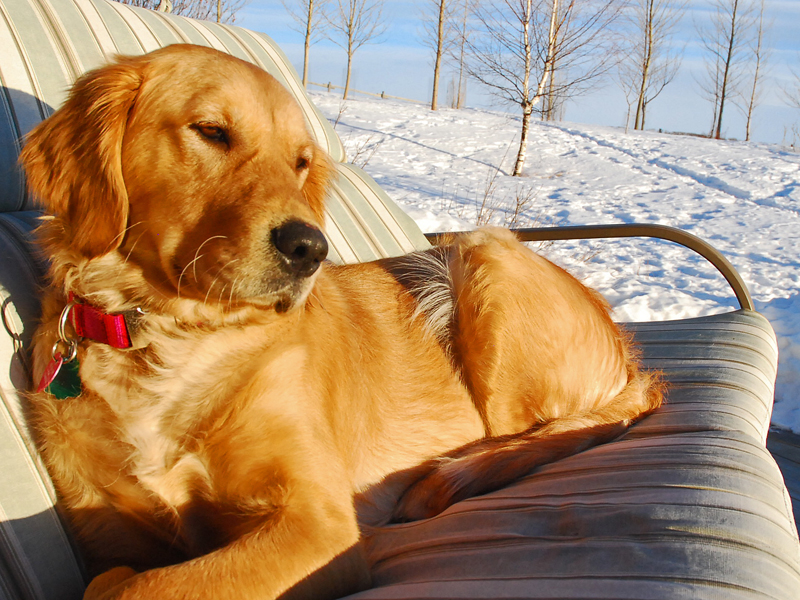 A relaxed Ruby takes the evening sun in unusually pleasant temperatures . . . .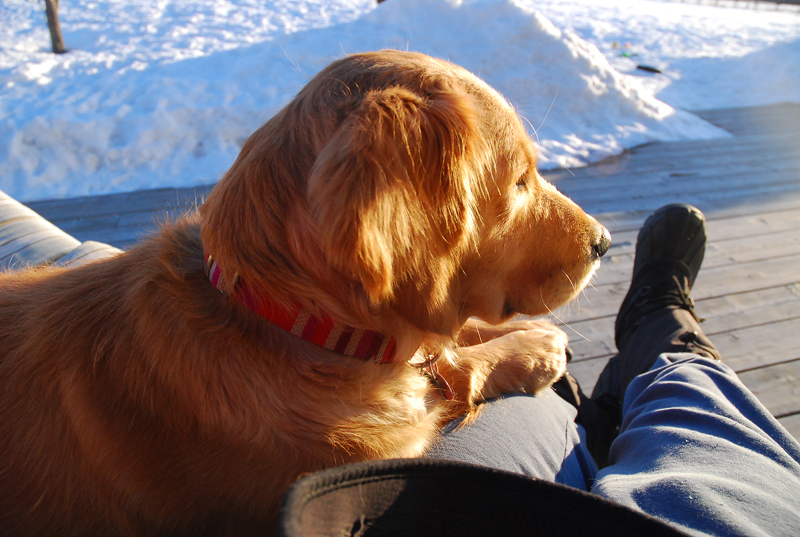 . . . . and takes ownership of a human . . . .
. . . . . contrasting with Ruby in the morning . . . . charged and ready to go . . .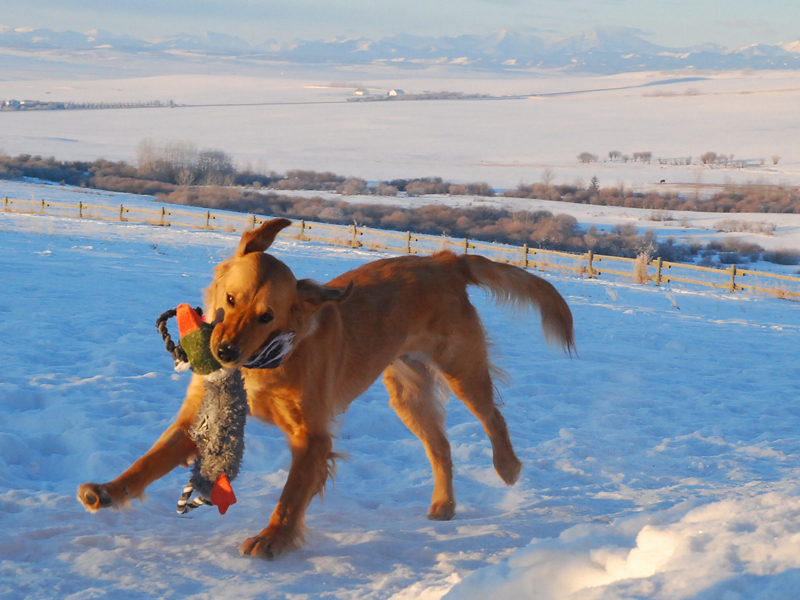 . . . . and does she ever . . . .
Mid February
Ruby's Climb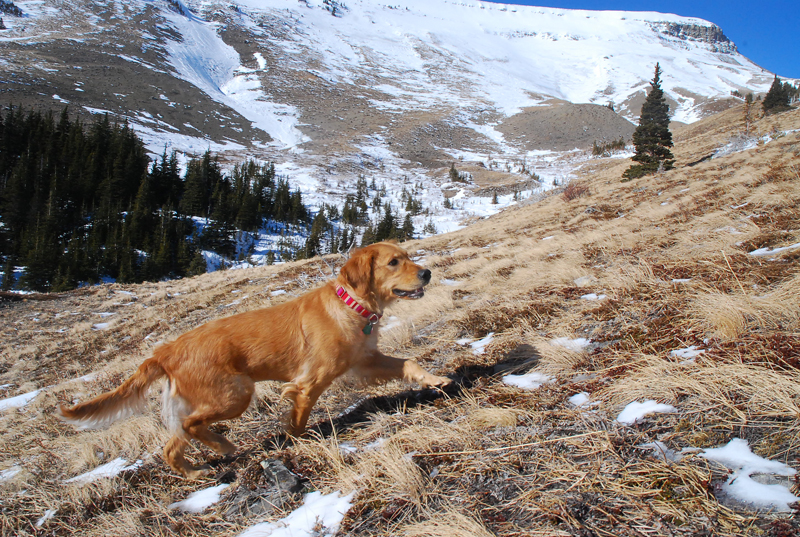 Random climb on a random day but a first for Ruby, up towards Hailstone Butte Fire Watch Station, which sits on the peak in the distance. We were only going to the nearby ridge since the rest of the route would have an avalanche risk. The way had been blown clear of snow for some parts.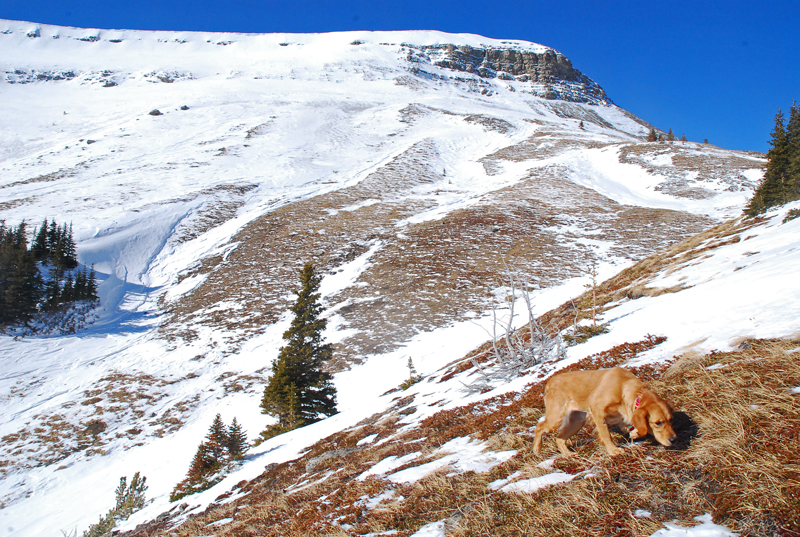 Lots to see and do for Ruby who struggles with the commands "come" and "stay." Rick had to go find her in a forest where she'd been finally trying to come back to his call but was hopelessly stuck in deep snow . . . . . a boot-filling side exit through crotch-high powder led them both out. Commands are something to work on at home but in Ruby's unauthorized explorations she does, unfortunately, resemble Abby quite a bit.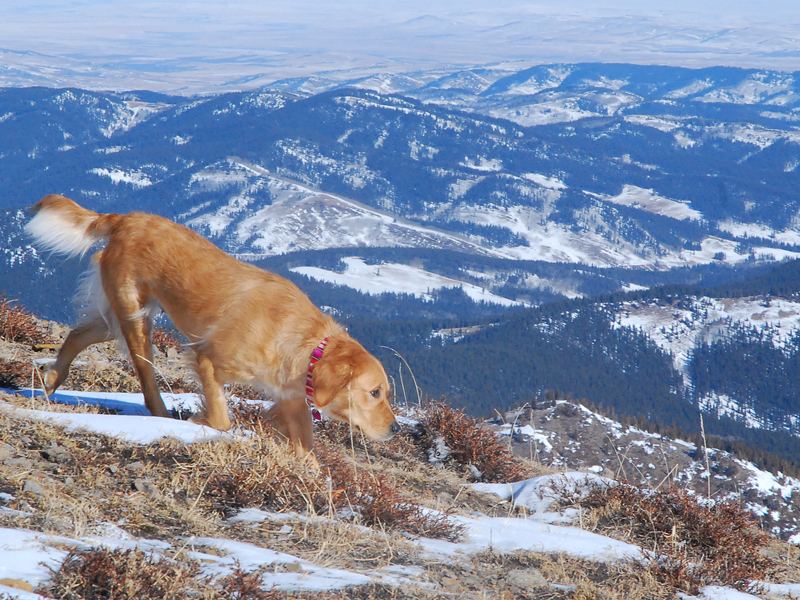 The other side . . . . . and out onto the prairie beyond.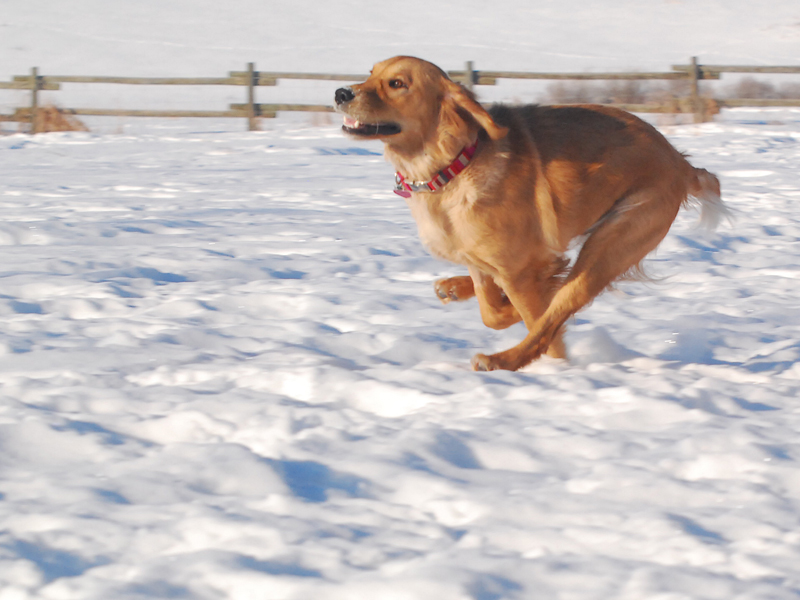 At home the same morning, Ruby runs the range at top speed . . . .
. . . . and wrangles a favourite toy on a bitterly cold morning . . . .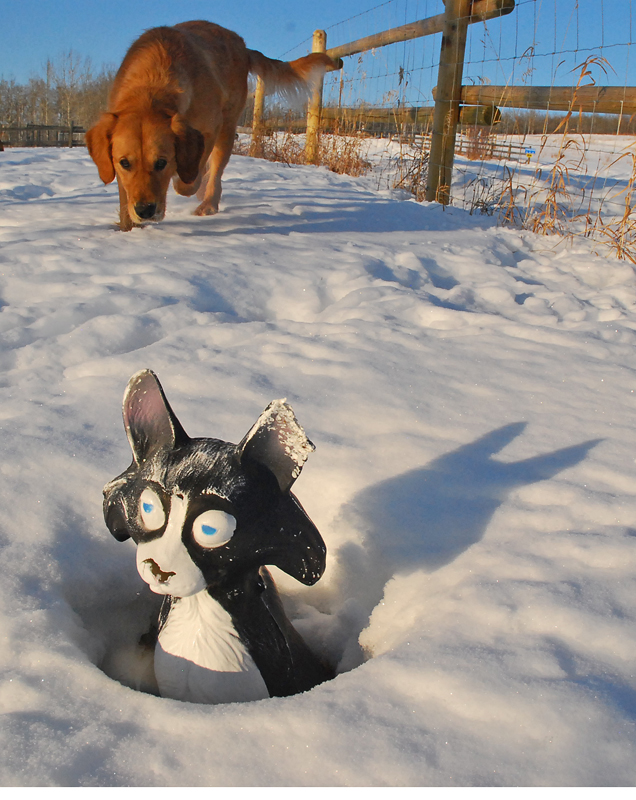 "Kitty," up to his ears in snow before a minor melt a week ago, trembles under the relentless tracking of yet another pooch entering his life. "Kitty" is at least 20 years old and had his ear partly chewed off by Keeper earlier in his life and has survived other abuses from Abby and before that in Calgary, from a Sheltie named Becky.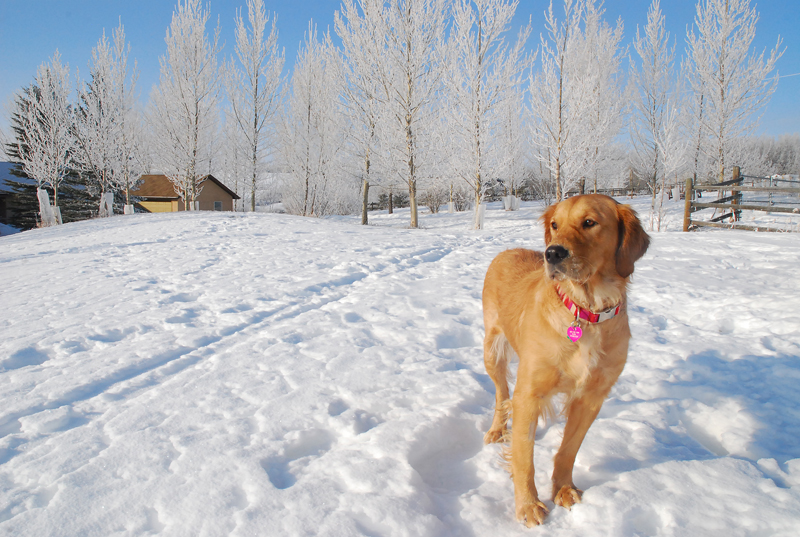 Ruby, growing more confident, adding more muscle tone. . . . . .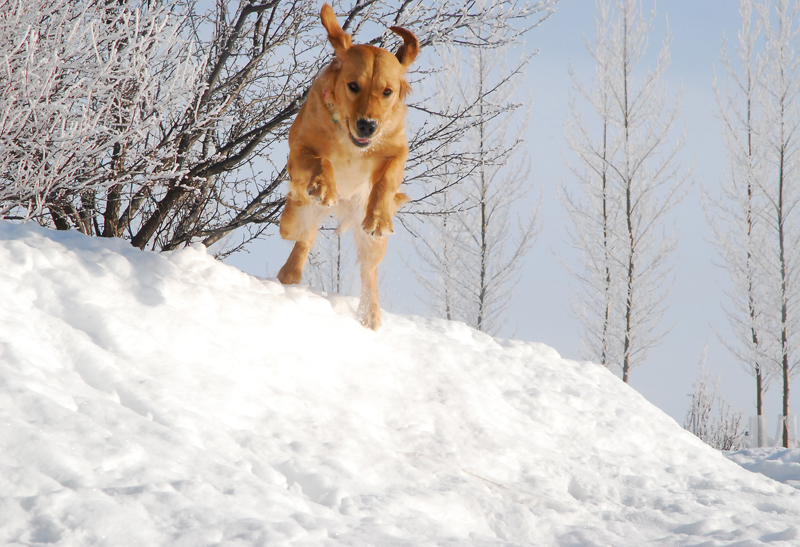 . . . . for bigger and bigger jumps . . . .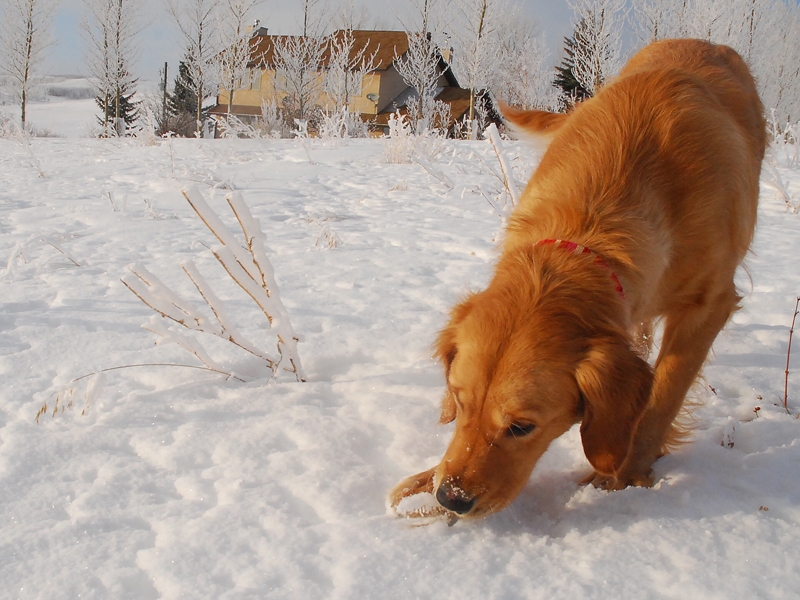 . . . . . . but still finding out about where she lives . . . .
A Big Adventure
Ruby hangs on for dear life as a big gust of wind threatens to blow her away on a walk along the shoreline of Chain Lakes.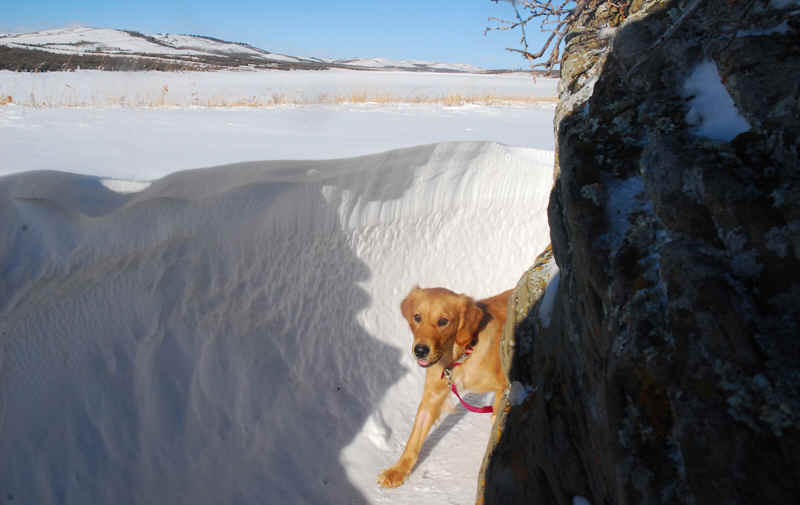 Exploring a gully carved by the wind . . . .
It's a big, bold, brand new world for Ruby . . . . .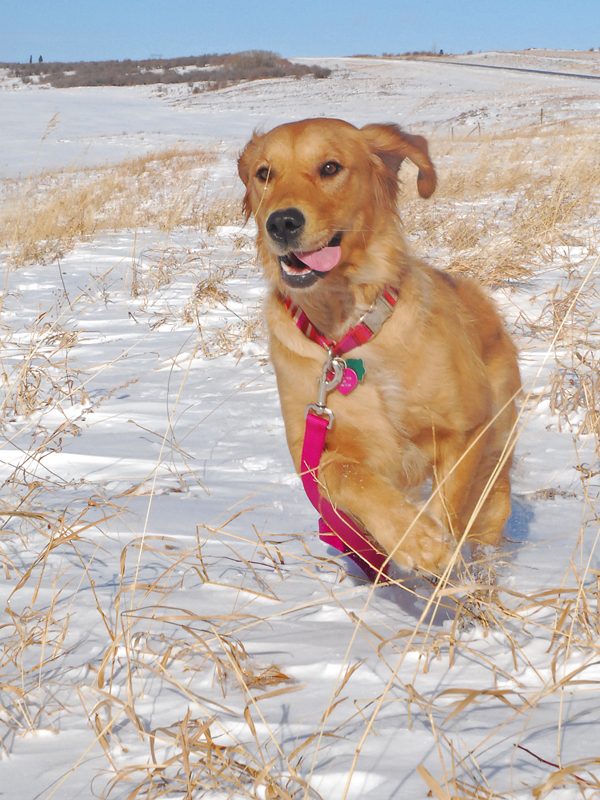 Running the prairie with Ruby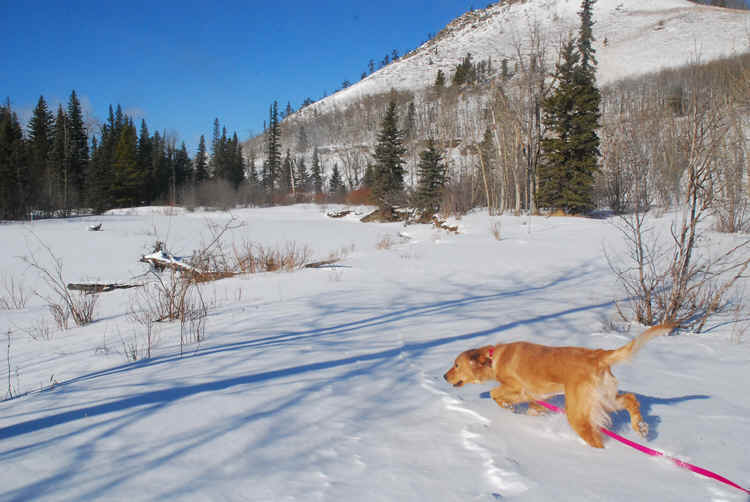 . . . . . filled with all sorts of explorations and . . . .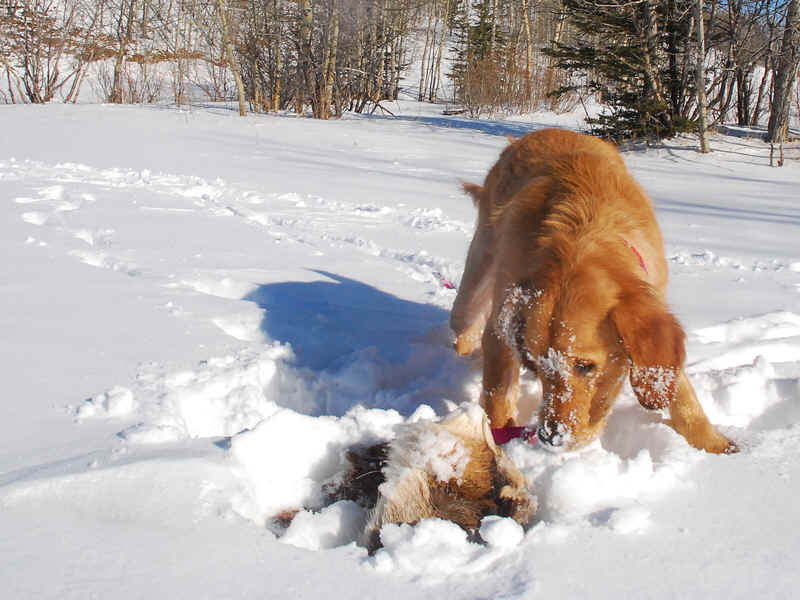 . . . . . finding her first corpse was a moment to make her new parents proud . . . . . not sure what this was - probably a deer - but it was pretty big and buried pretty deep, with this morsel somehow near the surface for Ruby to find and examine with befuddlement.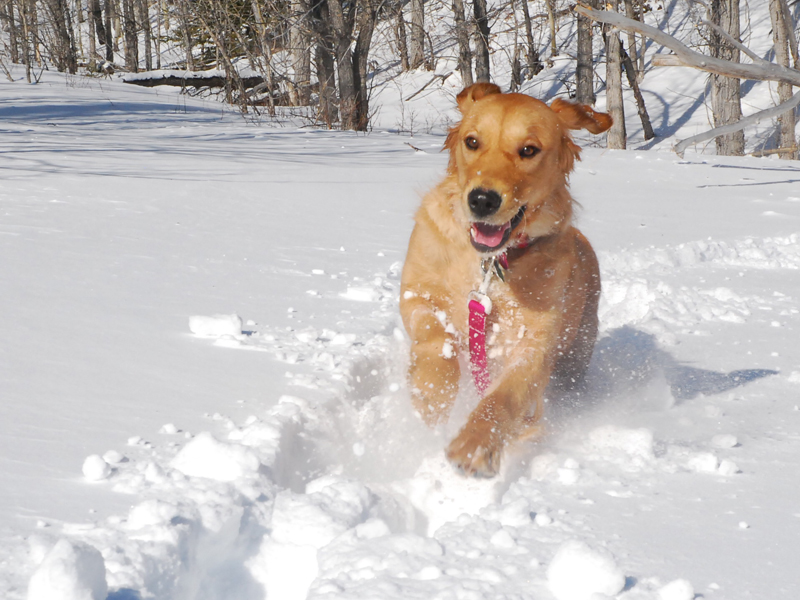 Life is grand for Ruby . . . .
. . . . then back home to study the terrifying Polly, from a distance . . . .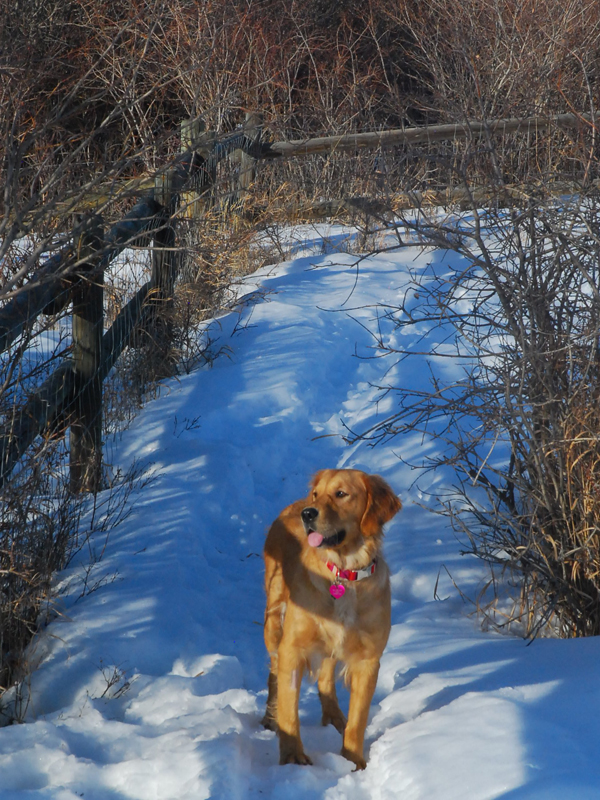 . . . . but there's lots of places to go in the yard where there is no Polly . . .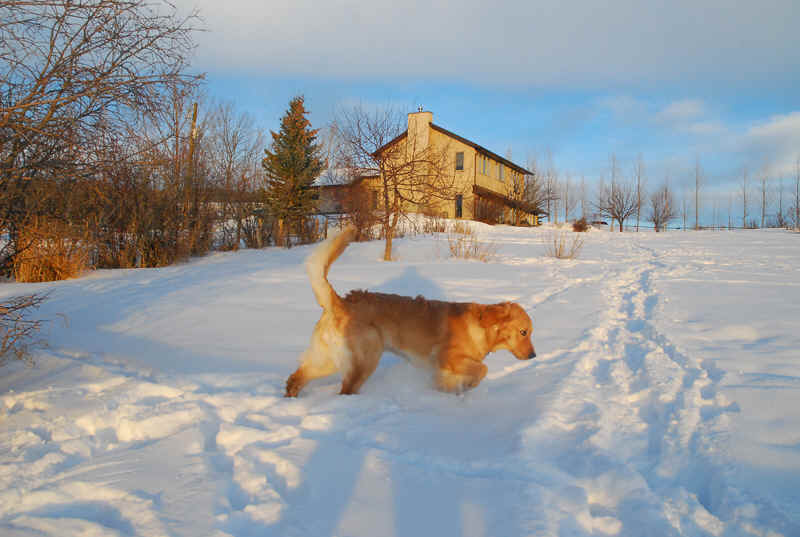 . . . . . and to wait for another day's adventures . . . .
Early February
Ruby . . . . now alone . . . . with two humans and four cats
Marcie and Ruby . . . . alas, the pairing did not work out well in the end and for Marcie's happiness, working with her former owner and her breeder, we found her a better home on a ranch in the Calgary area.
And we are happy to tell you we've heard through those that helped us find her a new home that Marcie is indeed happier and thriving in her new environment.
To make a long story short, in our earnest attempt to re-build our happy little family again we had not allowed for the fact some matches are perhaps not meant to be, particularly when bringing two juvenile females, strangers to each other, into a new household. Marcie seemed rather obsessed with Ruby's status in the pack and hounded her relentlessly. Marcie was a picture of perfection in all other situations except where it came to Ruby. For the peace of all and to remove the anxiety and unhappiness from Marcie's life, we made the difficult choice to find her another home, before she had settled in too far.
We were told by our vet, a professional trainer and behaviouralist, that it was either that choice or a year or so commitment to a rather stringent disciplinary/training regimen for both pups, and then an ongoing commitment to that standard for the remainder of their lives.
Giving up Marcie sooner may have been the easier choice but also the saner one for all concerned.
Other foster/rescue veterans around North America whom we've become acquainted with via the wonder of Goldentales through the years echoed the thought that not all matches can be made to work and that its better to call it a day earlier rather than later.
This will undoubtedly be disappointing for some of our readers - as well as ourselves in particular - but be assured it was a difficult decision and not made lightly.
Some may remember, very long ago, when we tried to introduce Meg, a 10 year-old Golden into the, at the time, six year-old Abby & Keeper dynamic. Meaghan had come from the home of 70 year-old clients of Rick's, gentle in that house but where the husband felt he needed to devote his full-time attention to his MS-afflicted wife. Day One of that integration was okay, Day Two saw skirmishes developing into battles with Meg and Abby and Day Three saw full-scale war, with Abby's blood being spilled. Meg went back to her former home,where she spent the final gentle years of her life. How did it come to that? Two Alpha's who wouldn't yield.
It wasn't in that ballpark for Marcie and Ruby but the opinions we received from people with experience in these matters, as well as that of a professional, led us to our decision.
We hear through the grapevine that Marcie is indeed much happier riding the range with her new owner, fitting in seamlessly to her new life.
Ruby, meanwhile, is content and happy in her new domicile, passing the "Be Nice To Cats" tests recently and being entrusted with more privileges as a result, including becoming a coveted, full-fledged "Roam The House At Will" member. She was spayed last week.
And we still have hopes of adding a second Golden bum to the mix sometime later in the year, after things have settled a bit and, obviously, with a little more care and thought - rather than just faith and hope - as to the entire dynamic.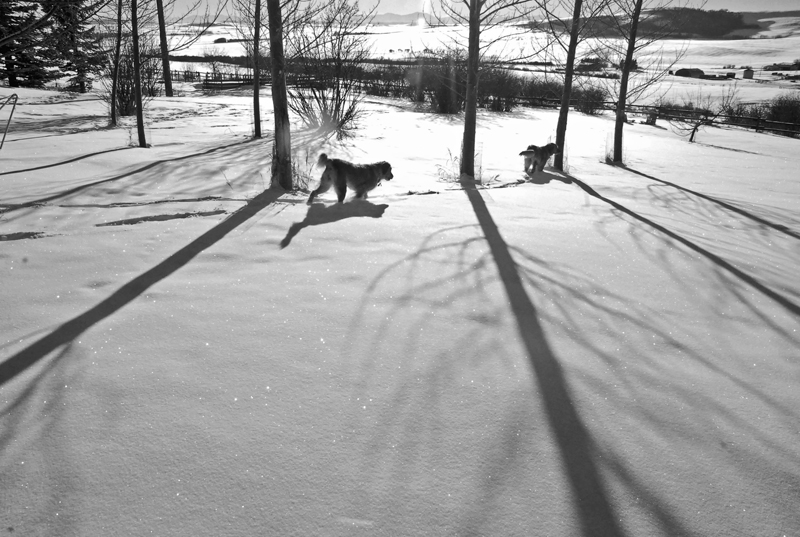 . . . . . in the depths of winter, long shadows and tons of snow . . . .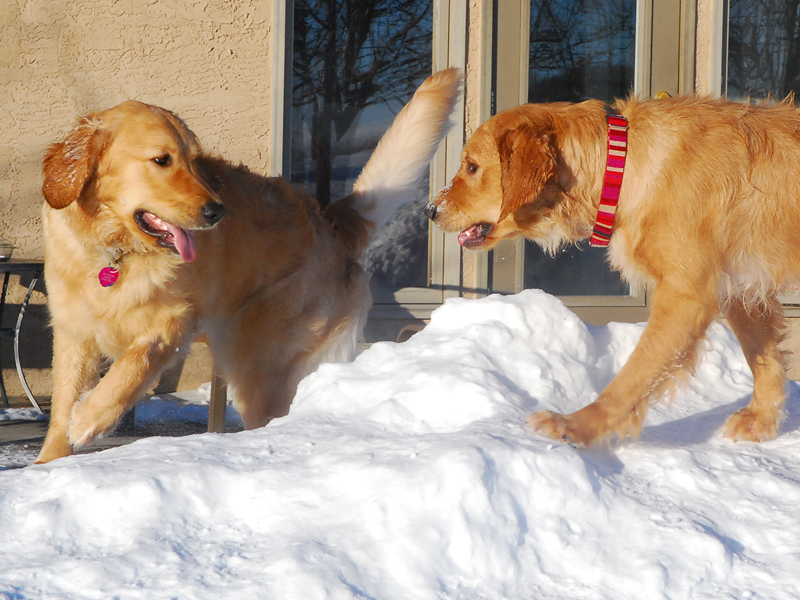 . . . . where the posturing only rarely let up, forcing a decision . . . .
RUBY & MARCIE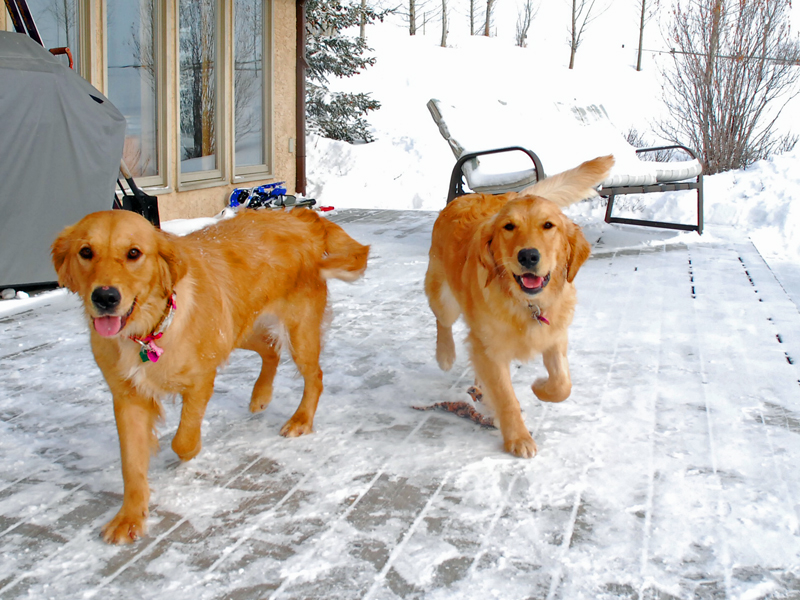 Ruby and Marcie . . . .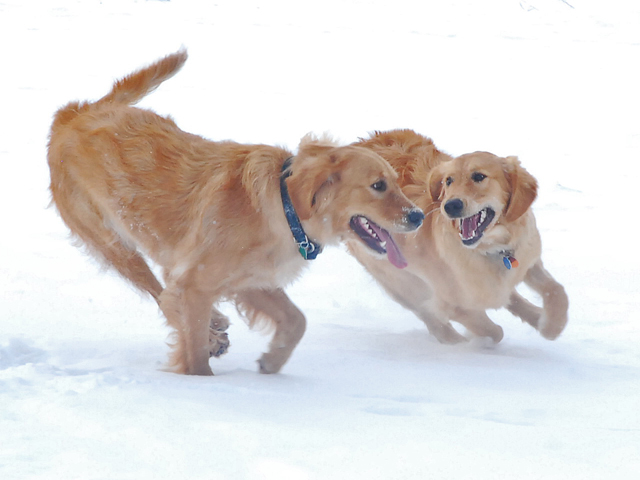 Ruby and Marcie . . . . off to a roughhousing start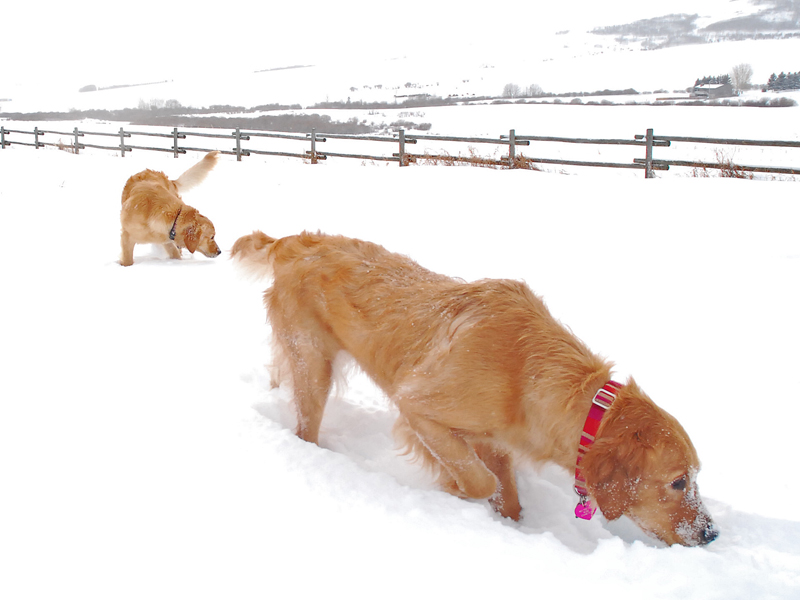 . . . . . but time for some explorations . . . .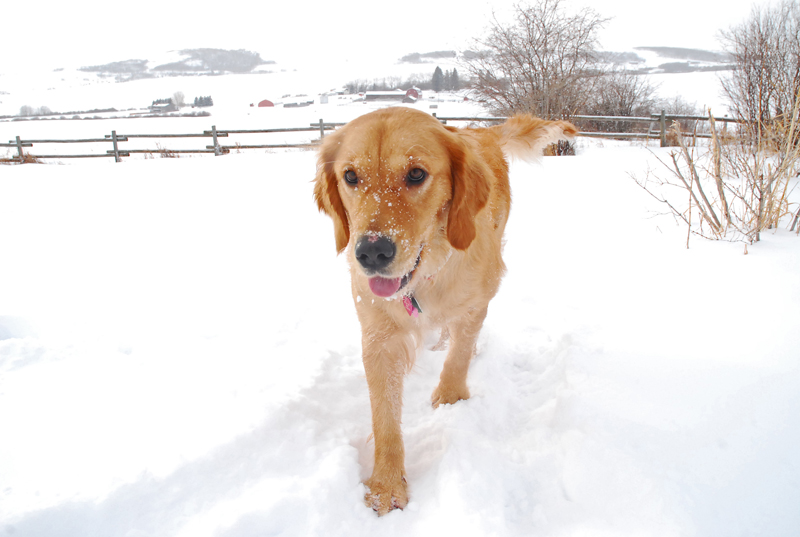 . . . . . as Ruby starts to settle in . . . .
Our Time With Marcie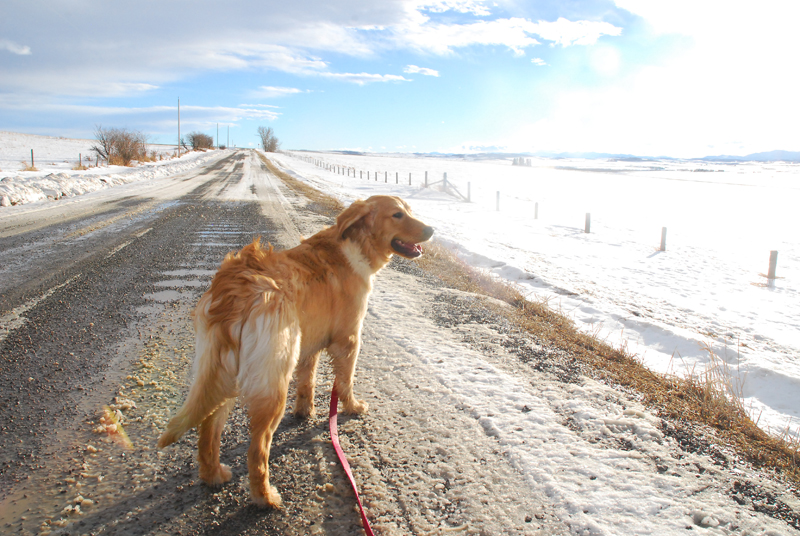 A few days before Ruby arrived, Marcie stepped out . . . . a walk down the road on a hot, hot winter day.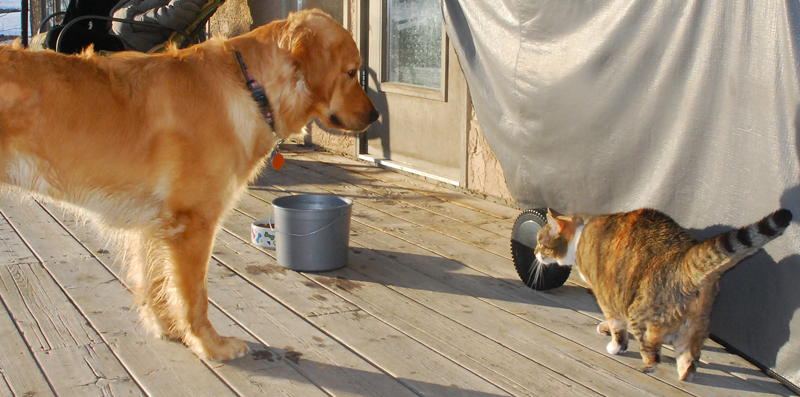 Marcie casts a wary gaze over the ever-ready Polly, the two-footed, handicapped terror who had already clubbed Marcie a few times in claiming her space . . . . .
. . . . . thus yielding a wary truce . . . .
It is always this way with new puppy's and old cats.
Marcie . . . . . lovin' winter and livin' large at sunset
Running at sunset with Marcie . . . . .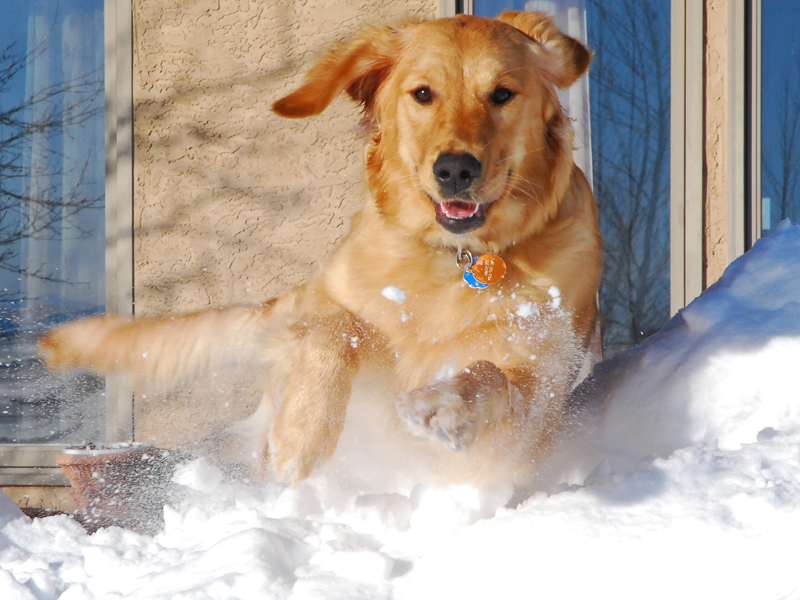 On the fly, newcomer Marcie takes a shortcut up and over Rick's big, big, big pile of snow off the deck.
Hanging out while Rick X-Country ski's . . . .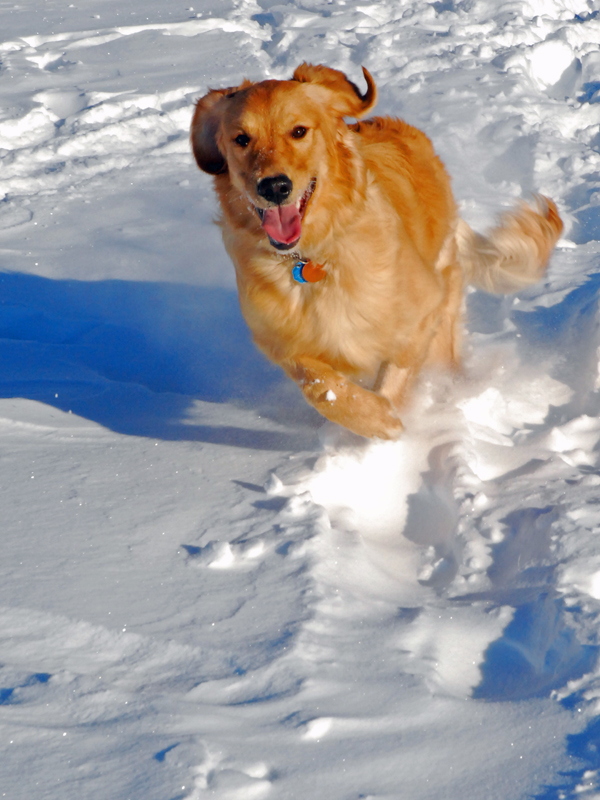 Marcie, one day past eight months of age, was with Rick and Carol for a few weeks in early 2011 . . . . . with lots of zoomies.
. . . . and some noble posing . . .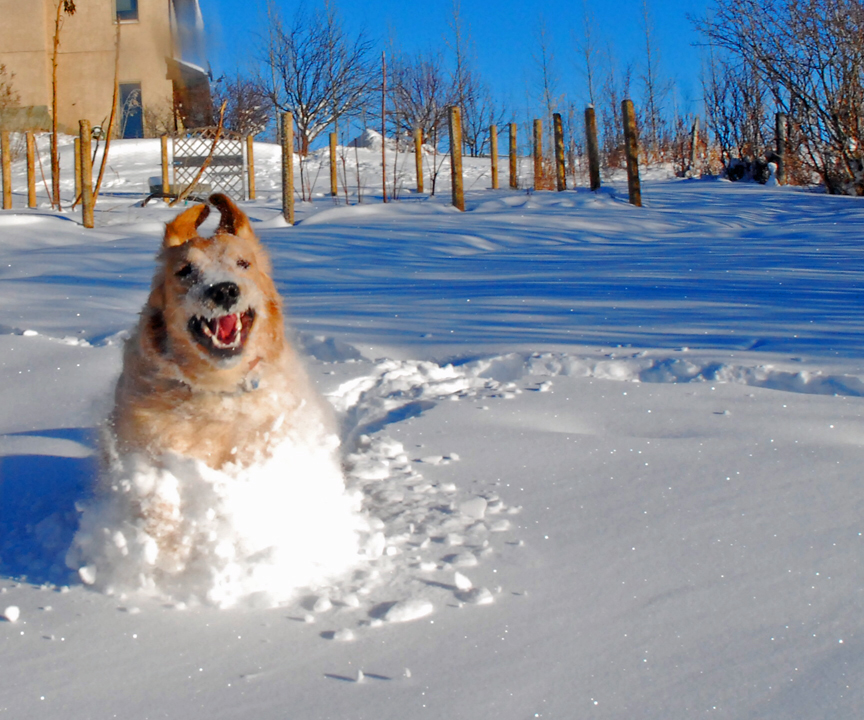 . . . . . and more zoomies . . . .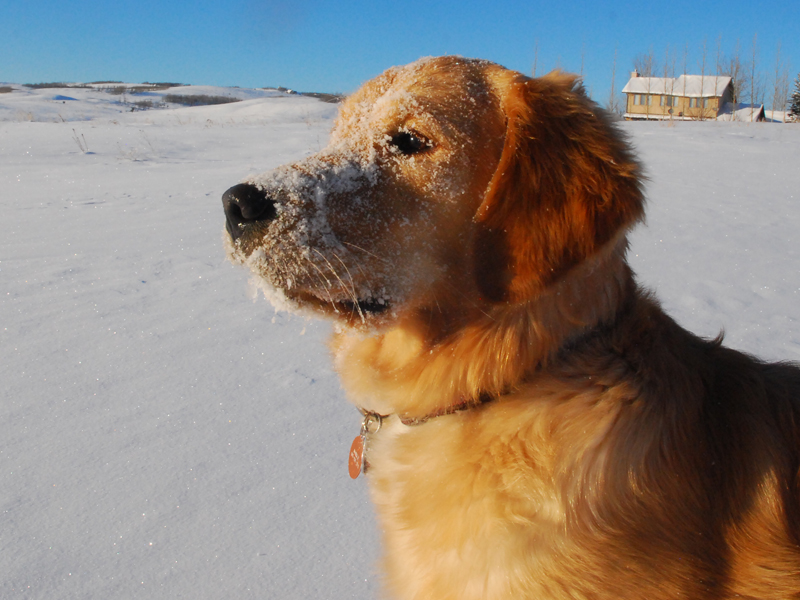 . . . . . and curiousity about this big, bold, new world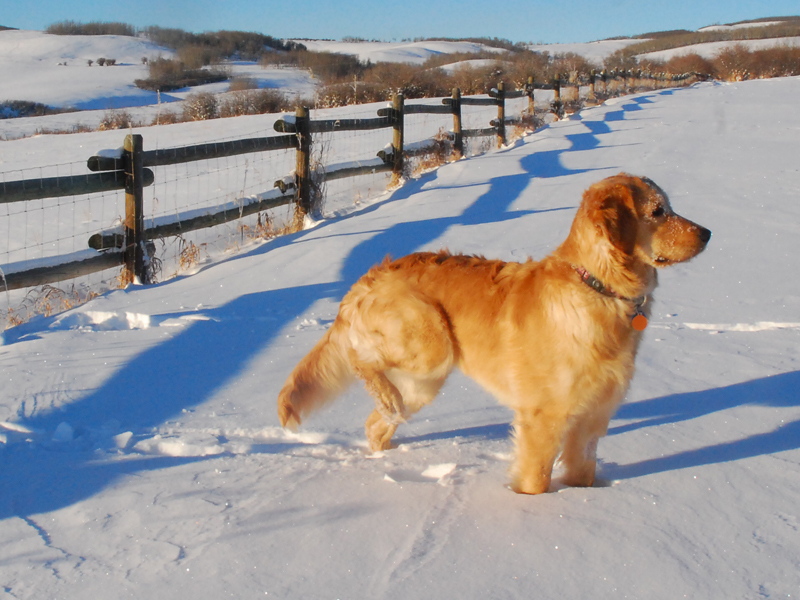 . . . . and then a frozen foot . . . . .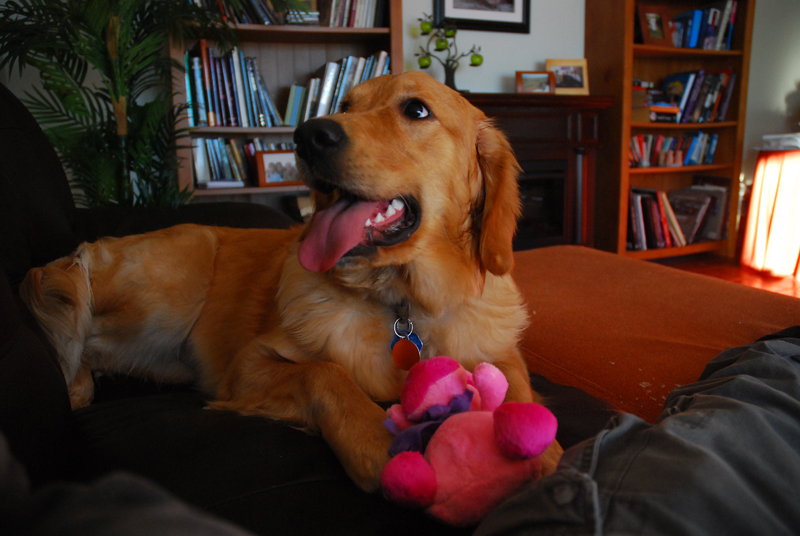 . . . . . so a moment inside to warm up laying on the couch . . . .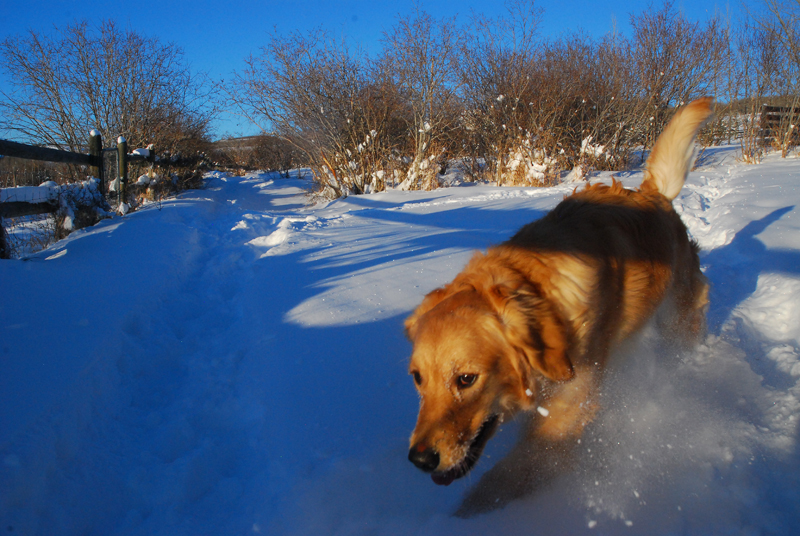 . . . . . before more exploring . . . .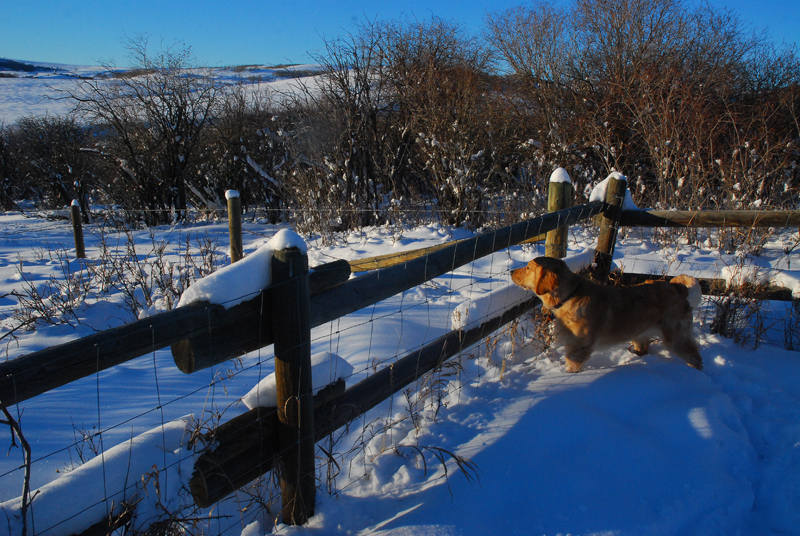 . . . . and already wondering what's on the other side of the fence . . . .
We enjoyed our solo time with Marcie immensely but were left with a mystery as to why she and Ruby were never able to mesh.
THE HOUSEGUESTS
Look out . . . . .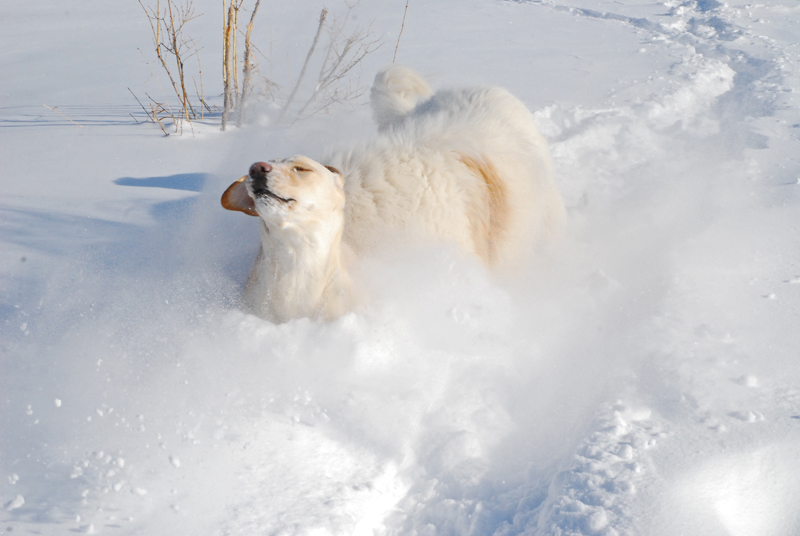 Whumph!!!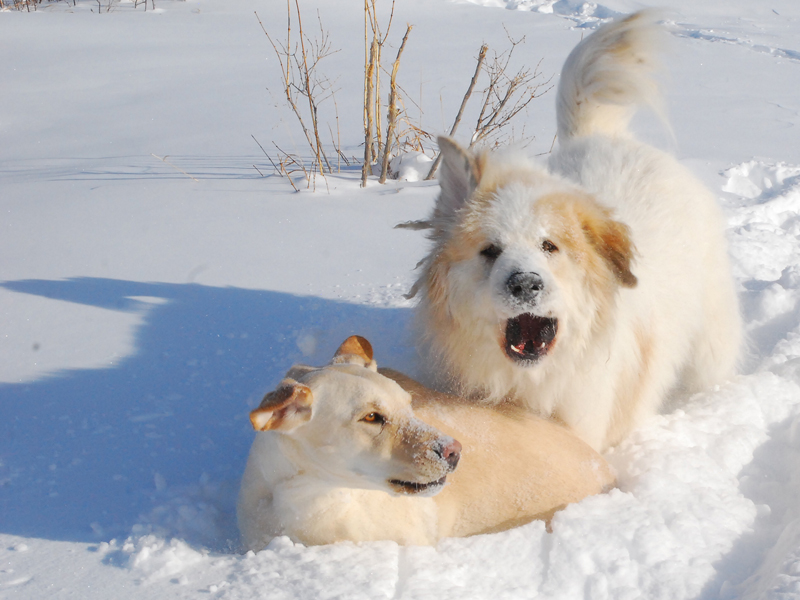 No harm done!!!
Willow and Otis, the neighbour dogs, staying with Rick & Carol for a few days, just before the arrival of Ruby and Marcie.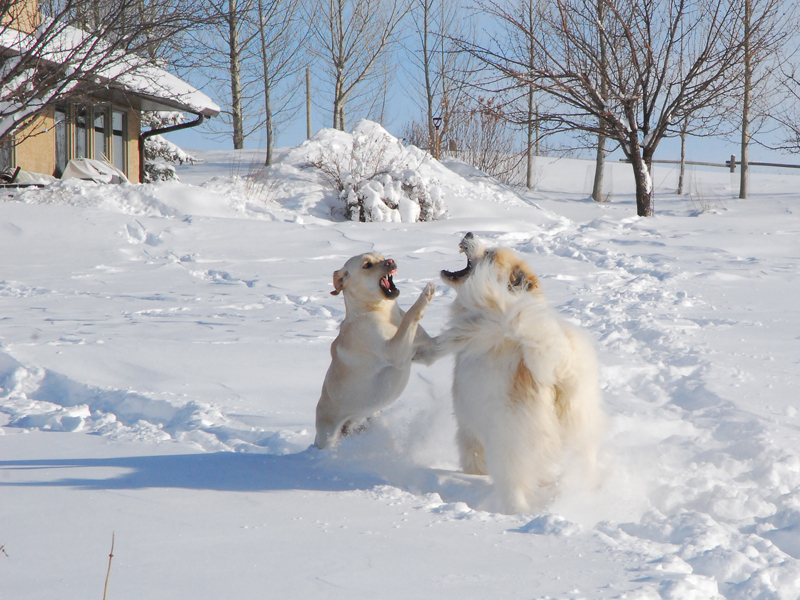 Big fight . . . . big play fight.
Willow, the smaller dog, is usually the dominant aggressor to these play battles.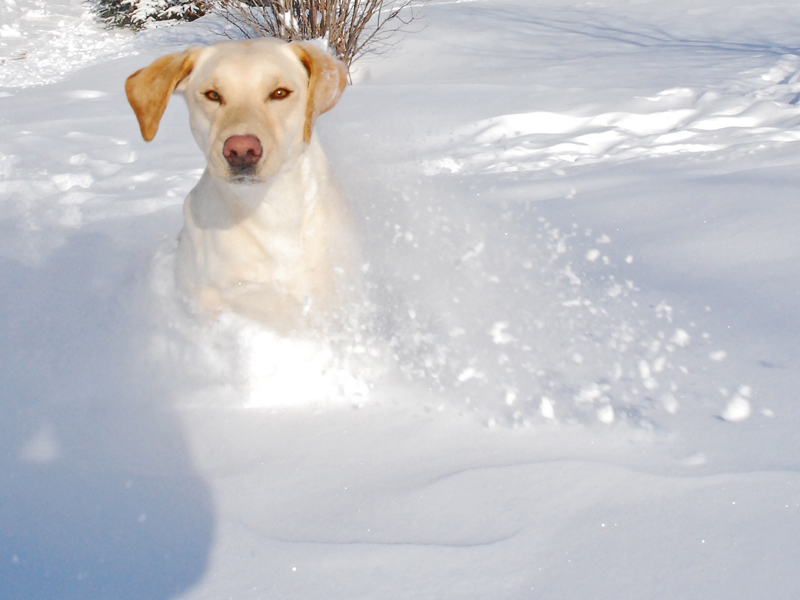 Willow at full charge
Another bitter winter . . . .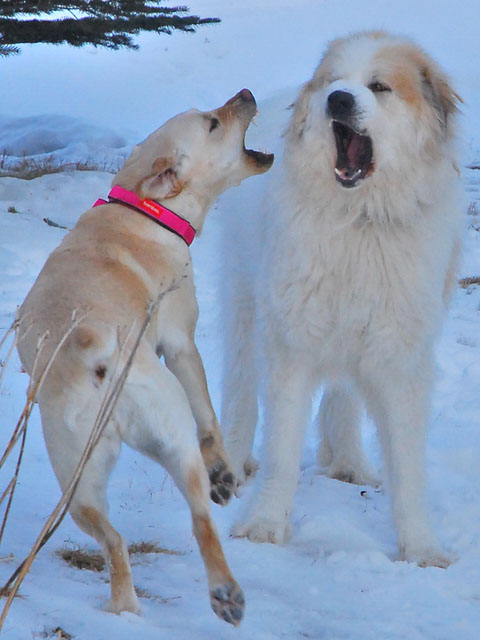 The week before, Willow and Otis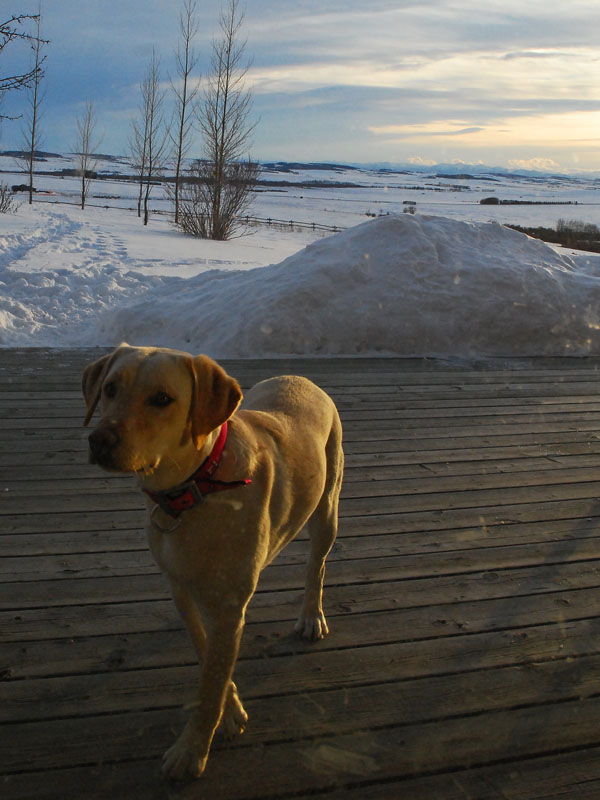 Willow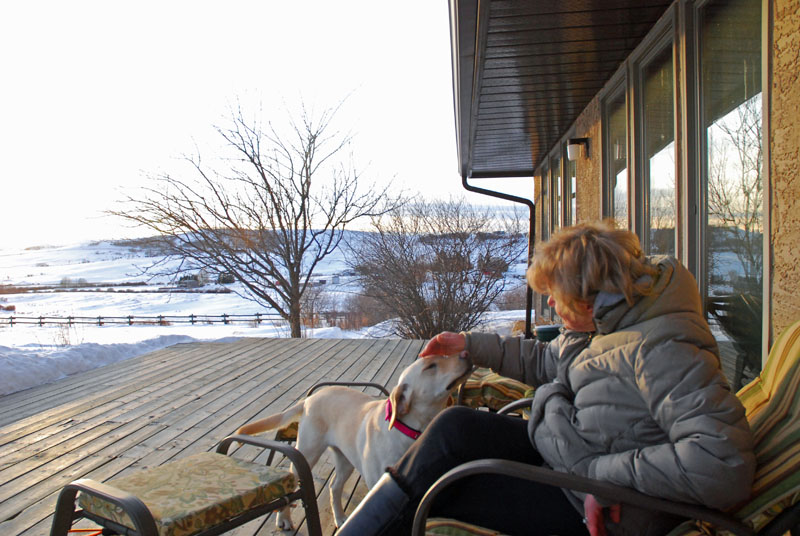 Carol and Willow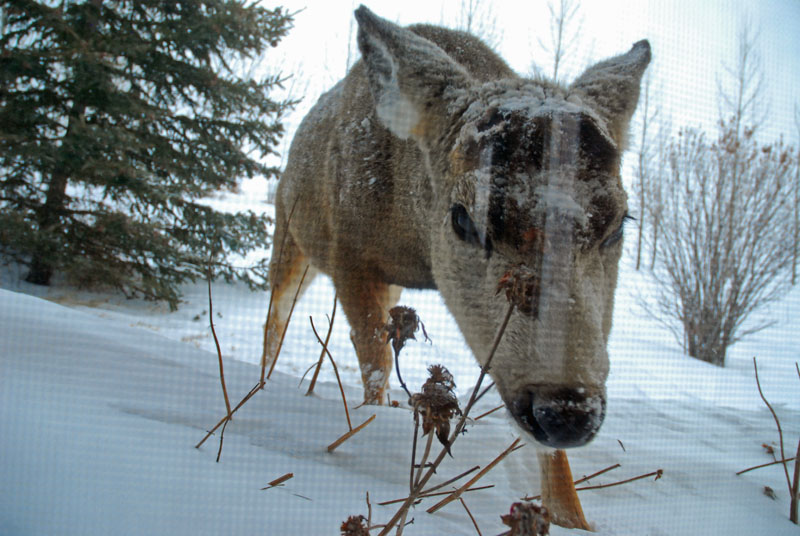 A hungry visitor on a stormy, very cold day
LINK TO GOLDENTALES.CA, THE HOME OF ABBY & KEEPER