Fresh bear tracks on a Pete & Ruby walk
Pete and Ruby live in the country and would prefer you e-mail them so they don't have to walk a mile to the mailbox to get any letters.
HOW TO CONTACT PETE AND RUBY
E-mail: millarvillefarmershalf@gmail.com
NOTES BY RICK:
Pete and Ruby live in the country. Although growing up in towns and cities earlier in their lives, they are starting to get used to the deer, elk, coyotes, bears, cougars, rodents and other critters around them.
Pete & Ruby's four acres are fenced, post and rail, and they cannot get out . . . . . but they have the four acres to run!!!
Deer sometimes come inside the fence, poking around the yard and looking in the windows to see what's on TV!!!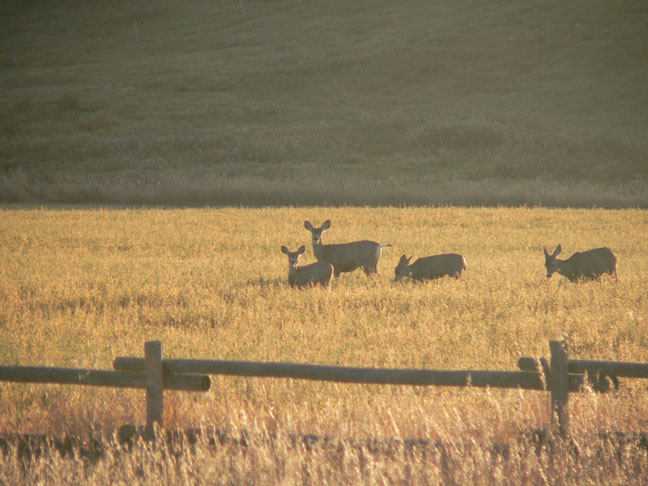 A golden field of deer at sunset.
It is a fact of rural life that raspberry patches, gardens, flower beds, young trees, etc, are deer magnets. Pete & Ruby will often chase deer out of the yard, usually in the morning.
Unfortunately, the occasional gopher - otherwise known as a Richardson Ground Squirrel - will stray inside our fence and the dogs, being far faster than ourselves, inevitably catch the poor creatures. Some gophers survive the experience, some do not.
We have moose in the area and sometimes one will wander right into the yard. Moose are usually unafraid of the dogs. Lots of barking and glaring but nothing much happens. Bears and cougars are rare in our area but do pass through.
Coyotes in packs of three or more are dangerous to the dogs. Pete and Ruby are a little smaller a typical coyote.
Female dogs in the country are often left alone by coyotes. A dog which chases coyotes, however, usually doesn't live long. Hence the fence surrounding the property, preventing Pete and Ruby from leaving and mysteriously, the coyotes never enter.
Ruby likes to chase cows away from her fence but cannot get close to them. They might chase her if she did!!!
A daring coyote near us when we were out in the mountains . . . .